The week that Kevin Pietersen was sacked... and English cricket became a running joke
The KP saga has been handled appallingly by the ECB but Thursday's muddled, embarrassing and ridiculous Whitaker 'interview' topped the lot
Stephen Brenkley
Friday 07 February 2014 00:31 Comments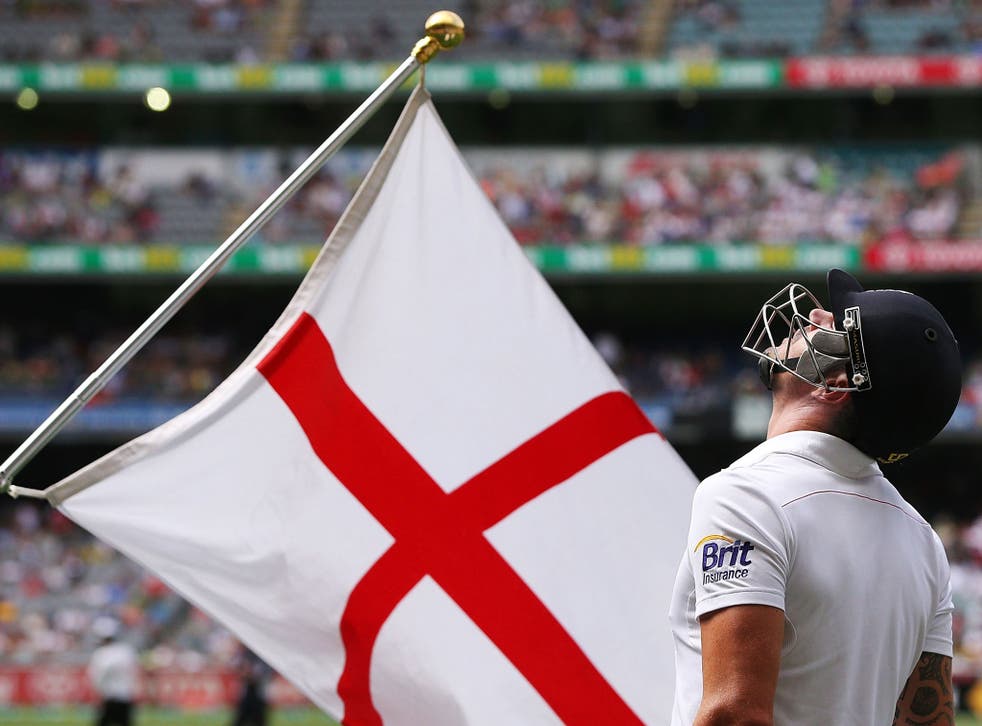 English cricket has become a laughing stock as Kevin Pietersen approached martyrdom. It was an unintended turn of events created by a combination of legal gagging clauses and the influence of social networking sites, but it left the game looking weak and rudderless.
The nadir was reached in an interview given by James Whitaker, his first as the new national selector, in which it was made clear he could not talk about Pietersen's sacking. Whitaker's interview on Sky Sports News – only rights-holders were allowed near him – began 35 minutes later than billed. Then his mobile phone rang just as he had been asked about the departing star, making him look hapless and his bosses ridiculous.
But it was hardly his fault. Confidentiality clauses, insisted on by Pietersen's lawyers and agreed by the England and Wales Cricket Board in the interests of terminating his central contract immediately, mean that the events leading up to his expulsion cannot yet be told. They will apply until his contract expires in October. The ECB feels it can only stand silently by, which shows how desperate it was to sever ties with its most troublesome player. This is all grist to Pietersen's mill and the myriad but unexplained reasons for his departure have been overwhelmed by those saying he was a maverick talent whom England ought to have managed better.
Whitaker, who replaced Geoff Miller last month, might have expected rosier circumstances to discuss the first squads selected under his aegis, for the tour of the West Indies later this month followed by the World Twenty20 in Bangladesh. Instead, he was speaking against a backdrop of events which have seen the team humiliated on the field, lose their coach, sack their star player and shed a couple of others along the way.
The fact that England had astonishingly selected two debutants to take part in the World Twenty20 was completely overshadowed. The absence of Pietersen was still what mattered, although he has appeared in only one of England's last 18 Twenty20 matches since February 2012 and then did not bat.
Whitaker, conceding it was a tricky decision, said: "The one-day international team and the England Twenty20 team has played a number of matches over the last 12 months or so without Kevin and, on occasion, performed very well, and I would hope that's the case going forward.
"It's still a surprise going to an ICC competition without one of your leading runscorers but the players and management are well rehearsed in coping without him." Perhaps, but they have won only eight of those 18 matches.
Whitaker touched briefly on the main question: "What I can say is this is a group of players who can look forward to re-energising the team going forward with different values, re-evaluate the culture of the team. Any team has certain values, sometimes written down, sometimes just forms of communication that good teams adhere to.
"Good teams will carry forward with them and England, over the last four or five years, have shown these good values. Over time they can dissipate a little but now is a good time to rewrite those values."
During an increasingly fractious tour of Australia, Pietersen's position became untenable after a players' meeting in the wake of the heavy defeat in the fourth Test at Melbourne. Far from being a mutinous gathering it was sanctioned and, indeed, suggested by the coach, Andy Flower.
In this frank exchange, Pietersen, who it was felt had been unhappy with Flower for most of the tour, raised the manner in which he was running the show. Matt Prior, the dropped wicketkeeper, intervened to say that it was nothing to do with Flower. It was the players' team, it was up to them to sort it out.
Pietersen, it was felt, had already gone too far in undermining Prior's position as vice-captain. It was Prior who was instrumental in effecting the rapprochement when Pietersen was dropped in 2012. Yet Pietersen's allies, led by the television celebrity Piers Morgan, were quick to brief against Prior on Twitter two days ago despite the confidentiality agreement.
Ultimately, England came to the view that Pietersen was as disloyal to Prior as he had been to Andrew Strauss, England's former captain, about whom he sent disparaging texts to South African opponents in 2012. They may wish they had not embarked on that process of reintegration.
Alastair Cook, England's Test and one-day captain, was perturbed at Pietersen's behaviour. When Cook could not find it in him to back Pietersen any longer it was probably only a matter of time.
But there was support for Pietersen from an unlikely quarter, based on what set him apart and made everything else worthwhile for so long – his batting. The Prime Minster, David Cameron, said on BBC local radio: "I am an enormous fan of Kevin Pietersen and I have had some of my most enjoyable times watching him tonking the ball all over the park.
"His average is remarkable. It is not often I have a sympathy for Piers Morgan but I thought he was making quite a powerful argument this morning on my radio. But I will let the England selectors pick the England team, I think I had better stay out of this one." He had already said enough.
Talking loud, but saying nothing
James Whitaker's interview was less than illuminating on Kevin Pietersen. Here are the highlights:
Tim Abraham [Sky Sports News] It would be fair to say for you and for Paul Downton this has been quite a baptism of fire as you announce your first squad.
James Whitaker Yeah, on review, on what happened in Australia, it was always going to be an interesting time for myself and Paul to develop the team and look at the personnel for the West Indies and the ICC World Twenty20 in Bangladesh.
TA You've left out one of England's highest-profile batsmen and all sorts has been said in the last couple of days. I know there are things you can't say but how big a decision was that?
JW Well the ODI team and the England T20 team have played a number of matches over the last 12 months or so without Kevin and on occasions performed very well and we hope that is still going to be the case going forward.
TA The burning question seems to be, James – why was the decision made to leave Kevin out?
JW Yes, well, that is a legal position that at the moment I'm not at liberty to say [at this point his phone rings]. What I can say is that there is a group of players there looking forward to re-energising this team going forward with different values, re-evaluating the culture of the team and it will start in the West Indies.
TA Something that was mentioned in the release was the ethics and philosophy of the team. Are those values lacking and maybe haven't really applied to Kevin?
JW Sometimes when performances go against us, we have to re-evaluate what is going on. No one is really privy to what goes on in the intricacies of the team working, but we have to review the various conversations with people and have to make decisions.
Register for free to continue reading
Registration is a free and easy way to support our truly independent journalism
By registering, you will also enjoy limited access to Premium articles, exclusive newsletters, commenting, and virtual events with our leading journalists
Already have an account? sign in
Join our new commenting forum
Join thought-provoking conversations, follow other Independent readers and see their replies