They used to giggle at Hashim Amla... but no one's laughing now
He looked out of his depth in the early days of his Test career but is now a world-class batter who will surely become the first Muslim to captain South Africa in Tests. He talks to Stephen Brenkley
Stephen Brenkley
Saturday 14 July 2012 02:33 Comments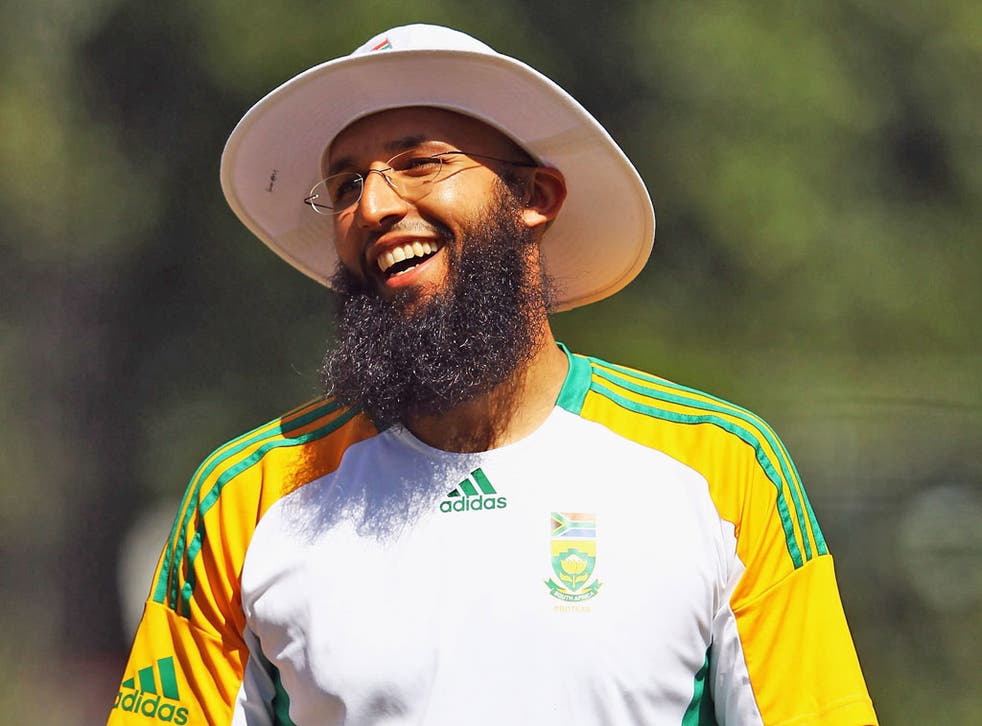 The first sighting of Hashim Amla in international cricket was bizarre. He crouched like Quasimodo at the crease, he shuffled about nervously as if waiting for a job interview, the bat came down in a parabola from somewhere in the region of point. And all this was executed with a grand, flowing beard appearing somewhat squashed under his helmet.
He had already played one unsuccessful Test match by the time England came across him in late 2004 and then he made 36 runs in four innings.
Despite the four centuries he had made earlier that South African domestic season, there was a barely suppressed suspicion that he was merely part of the quota system designed to ensure that the team at least partly represented the ethnic composition of the country.
Sympathy was tinged with an unkind laughter.
They are not laughing now. Amla, still with a method not necessarily preferred by conventional coaching manuals, has become one of the world's leading batsmen in all forms of the game. Perhaps it is his slight unorthodoxy, allied to vast powers of concentration, that has fooled bowlers.
"I was fortunate in that it took me some time," said Amla as the South Africa tourists gathered at Canterbury yesterday for their only first-class match before the Test series against England begins at The Oval next Thursday. "Sometimes people go in two ways – you find your feet pretty quickly or you fail and come back.
"I don't think much has changed for me as a batsman, but the experience I have gained over many years has added to the cricketer I am. To me the most valuable thing has been the experience, knowing how the international set-up works; it develops your game automatically and I've had that time to develop."
After his calamitous experiences in that losing series eight years ago against England, which might have finished some players, he waited more than a year until his next Test. This time he did not miss the opportunity and made 149 against New Zealand at Cape Town. He has been more or less an ever-present in South Africa's middle order since.
Amla is a thinking man's cricketer but he chooses not to give much away when confronted by the men with the notebooks and tape recorders, opting to speak in wide-ranging platitudes. Thus, his take on the imminent series between the No 1 and No 2 ranked sides in the world: "I think it will be a good series. Both teams are well matched.We have played some good cricket over the last few years.
"Obviously, the top two teams are always going to be the most dangerous teams. Fortunately, we get to face some serious bowlers in our net sessions so I think our guys will be well prepared in that respect. We do our analysis and we have faced most of the guys so we'll enjoy the challenge."
Amla is probably best recalled by English followers for his fighting innings at Lord's on the last tour when South Africa were forced to follow on. As part of the resolute rearguard action by the top order, Amla made one of three centuries, 104 from 242 balls, and on a pitch getting flatter never wavered.
These may be the circumstances he prefers. His finest hour as a batsman so far was probably in India early in 2010. He followed 253 not out at Nagpur, when South Africa won by an innings and six runs, with 114 and 123 not out in the innings defeat at Kolkata a week later. It made his average for the series 490.
Despite his wristy strokeplay he does not do flash in any way and it was the highest praise last week when an experienced South African observer suggested that he was the side's new Jacques Kallis.
All well and good, but two aspects of Amla set him apart from Kallis. A Muslim, he was the first South African of Indian descent to play for the Test team; and he has the tactical acumen and calm leadership skills to be their captain one day.
Not that Amla wanted to be enlightening on either of these points. Perhaps he sensed a trap; perhaps he simply prefers to keep his opinions within the dressing room; perhaps that is what works for him.
South Africa have come a long way since they re-entered mainstream sport in the early 1990s after being boycotted for two decades because of apartheid. They still need desperately to produce more non-white cricketers but the quota system whereby non-white players were given an official leg-up into teams has been at least partially replaced by meritocracy.
Amla would simply not have played for South Africa until 20 years ago but it is as though that was another age. He is completely relaxed about the system, his religion and the leadership of the team.
Once captain of South Africa Under-19s, he has led the one-day team three times in the absence of AB de Villiers last year. But he deflects questions about the captaincy.
"I try and contribute as much as I can as a vice-captain," he said. "But, better than that, I contribute advice as a player and if thoughts come into my head I share them. I didn't have time to get used to it when I did it when AB was injured. I think captaincy is something you need to get used to, play some cricket and develop a bit later. For me, I would prefer not being captain as yet so I don't have any aspirations."
Nor does he see anything remarkable in the possibility of a devout Muslim captaining South Africa of all teams. Maybe it really is a sign of their rapid development. Asked how significant it would be, he said: "I don't think I look at it that way. Fortunately, our country is pretty multicultural. It doesn't matter what ethnicity you have, if you're good enough to captain your country then so be it. But I don't have any particular ambitions to be captain. To play for your country is honour enough."
And finally his opinions on the vaunted England bowlers and where the series is going.
"Any given bowler can be the match-winner. There is a lot to play for from the rankings perspective. What we have to do is play our best cricket and if we do that everything else will take care of itself."
Taking time to settle: Amla's Test record
Tests 59 Runs 4,464 Average 46.98
Highest score 253 100's 14
Debut Dec 2004 v India, Kolkata.
* Dodgy start
Amla struck 149 against New Zealand on his fourth Test appearance in April 2006, but struggled for form overall – his first 15 Test matches resulting in 714 runs, at an average of just 25.5.
* Turning the corner
He had to wait 19 months and 12 matches for his next century, before scores of 176* and 103 during New Zealand's visit in 2007 changed his fortunes. In the 44 Tests since he has scored 3,750 runs at 55.97, including 13 hundreds.
* Amla's Test record against England
In South Africa, 2004-05
Second Test 1 0
Third Test 25 10
In England, 2008
First Test 6 104*
Second Test 38 Did not bat
Third Test 9 6
Fourth Test 36 76
In South Africa, 2009-10
First Test 19 100
Second Test 2 6,
Third Test 14 95
Fourth Test 75 Did not bat
Tests v England 10 Runs 622
Average 36.59 100s 2
Register for free to continue reading
Registration is a free and easy way to support our truly independent journalism
By registering, you will also enjoy limited access to Premium articles, exclusive newsletters, commenting, and virtual events with our leading journalists
Already have an account? sign in
Join our new commenting forum
Join thought-provoking conversations, follow other Independent readers and see their replies