'The face of England's batting': Virat Kohli hails Joe Root ahead of captain's 100th Test cap
'When we play England, Joe is always that vital wicket that we look to get early on'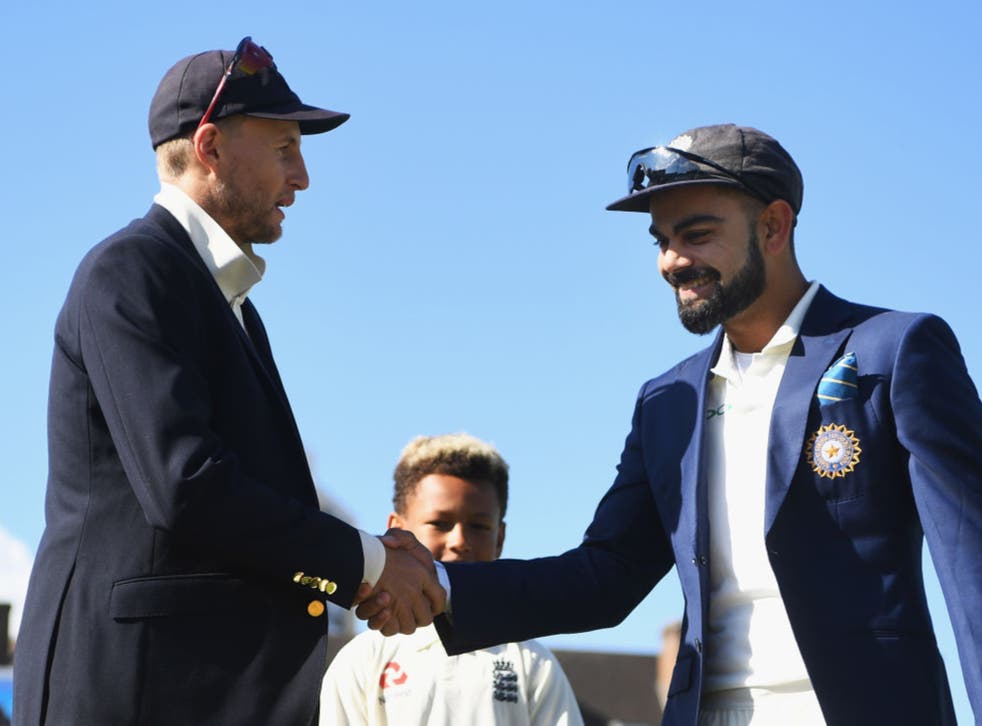 England captains are always marked out for special treatment ahead of any series. Ahead of a four-match encounter with India, this time will be no different. 
However, as Joe Root prepares for what will be his 100th Test captain, his opposite man Virat Kohli decided against calling him out, as is seemingly customary in these pre-showdown press briefings. Instead, he lauded the achievement of the upcoming milestone for a player who he has more or less run parallel with. 
Their careers have carried a degree of symmetry. Both were age-group starlets pegged as future skippers who began their Test journeys just over a year apart: Kohli in June 2011, Root in December 2012. They have since gone on to immerse themselves as the crown jewel of their respective batting line-ups. 
READ MORE: The perception and curse of being an England spinner
"A big congratulations to Joe, playing 100 Tests is no small achievement," said Kohli, who will move to 88 caps of his own with Friday's firsts Test at Chennai. "He can be very proud of being in this journey and still continuing to do so. He's got many years of cricket still left so huge congratulations on that.
"I have good memories of watching Joe come on to the international scene, he probably got off to a headstart compared to the other three in that group of four that you mention. He's someone who has really come out of England and become that face of England's batting over the years."
Kohli was there for the start of it all in Nagpur 2012 and he's been an ever-present so far. All of Root's 16 Tests against India have featured the 32-year old in the opposition, usually slotting in at the number four they both now reside at. As such, their head-to-head makes interesting reading. 
Root has the edge on averages, with 56.84 across these 16 appearances. Kohli, though, has the lead on runs – 1,485 to 1,421 – and five centuries to Root's four. But the match-ups to be made are ours and ours alone. 
For Kohli, the comparisons mean little. So too the well-worn talk of the "Big Four" Kohli, Root, Kane Williamson of New Zealand and Australia's Steve Smith. There was a time when the quartet were at a collective peak, scoring runs and fuelling discussion of who was the best of the best. Tests cricket's own "choose your fighter"  battle still fought on social media to this day.
When pushed to assess whether Root had lost his membership to the club after a lean run, characterised by a century-less 2020, Kohli had short-shrift for any such conversation. Though Root might have rectified that aberration with 228 and 186 at the start of the year against Sri Lanka, numbers were not the deciding factor on any of their worth. 
"The talk of 'big four' is all created by the media, but as an international cricketer you understand impact players when you see them and Joe has been one of them for a while now," said Kohli. "As opposition, you always try and disrupt the opposition batting plans. 
"When we play England Joe is always that vital wicket that we look to get early on in the innings. That is a compliment to his game, to the longevity, consistency over so many years. He's got a great game, understands the game very well, great understanding."
Kohli does hope he will be able to catch up with Root once the angst of the series has come and gone. Their relationship has evolved beyond competitors in the last five years, which is something the home captain wants to build on: "We have spoken a bit more in the last couple of series that we've played than we have in the past. Hopefully, in the future, we can sit down and have a nice long chat about how our journeys have gone on and playing each other over so many years." 
Beyond the pleasantries, Kohli's mind is focussed on building on a series win in Australia, the brunt of which was achieved without him. After playing the first Test, he returned home for the birth of his daughter, cheering from afar as an injury-ravaged India came from 1-0 down to claim the series 2-1 with a thrilling win in Brisbane. 
But the merriment of such a remarkable achievement has been tempered by talk that stand-in captain Ajinkya Rahane should now assume full-time control of the five-day side. His calmer demeanour, some say, creates a more fruitful environment for youngster and newcomers alike. 
This being Indian cricket, some of the opinions have been more vociferous, with whispers not quite of discontent but certainly that after 56 Tests as leader, Kohli may serve the team better by stepping aside. Naturally, the man in possession rallied against those claims. 
"Things are very different from the outside compared to what happens in the changing room," he said.
"I'd like to mention that Jinks fulfilled his responsibility in Australia with flying colours and it was amazing to see how he led the team to victory. It is evident on the field that we enjoy each other's company, it's a mutual respect.
"I discuss a lot of things with him to get more clarity and a different perspective. That partnership, that camaraderie will continue to be the same as it has been."
It was an exchange that served as a reminder the month ahead is serious business. Both sides have a shot at making the final of the World Test Championship Final this summer with victory in the series. While the reciprocated admiration will carry across these four Tests, the pleasantries will be put on hold from Friday. 
India versus England is one of cricket's marquee fixtures and this one, helmed by two modern greats, should be no different.
Join our new commenting forum
Join thought-provoking conversations, follow other Independent readers and see their replies