When Andrew Flintoff gave batting a thorough dressing-down
Caddick recalls drama of 2002 when Freddie marked victory by shedding his shirt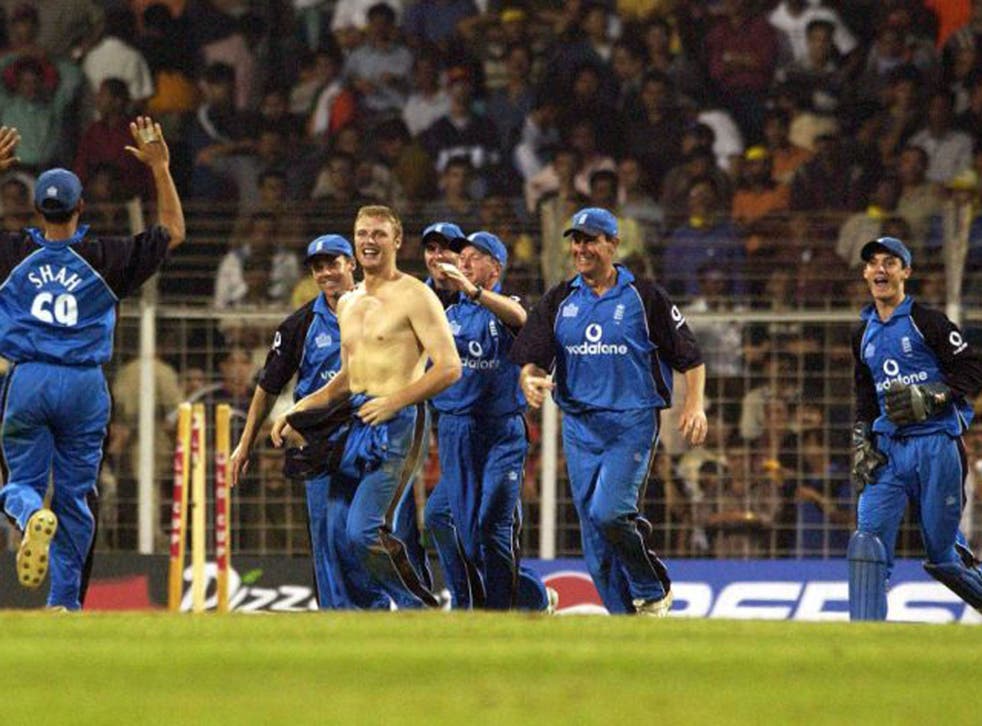 It began with some England players refusing to get on a plane and ended with Andrew Flintoff tearing his top off and charging round Mumbai's Wankhede Stadium like a man possessed.
In between, Nasser Hussain's side lost a Test series but pulled off one of the finest results in England's recent one-day history – a 3-3 series draw which should act as an inspiration to Ashley Giles' side as the Warwickshire man prepares for his first match as England's one-day coach.
England's recent one-day record in India looks incredibly similar to Aston Villa's goals against column during the Christmas period. In 16 matches since 2006, England have won just once, with their last two trips to India ending in humiliating 5-0 defeats.
Giles, though, at least knows how to compete in Indian conditions, having been part of that 2002 side on a tour that very nearly didn't take place.
In the aftermath of the 9/11 attacks, Andrew Caddick and Robert Croft had refused to travel to India, despite assurances regarding player safety. Caddick would later join the tour for the one-day leg but had no intention of travelling to India within months of the terrorist atrocities.
"It was an interesting time," says Caddick. "I had a lot of high-profile individuals that I knew – regardless of what the ECB was saying and what the British High Commission were saying – that were telling me they wouldn't travel to India if I gave them a million bucks.
"It was strange because, obviously, a lot of players didn't want to go and a lot of players that, if they're honest, will admit they were steamrollered into going."
Ultimately, only Caddick and Croft would refuse to travel for a three-Test series that England would lose 1-0.
When Caddick – confident that the situation had improved – returned for the six-match one-day series in the new year, he found a side hungry not to leave Indian soil empty-handed.
He also found a cricketer, in Flintoff, who had grown in stature as the winter had progressed.
"Freddie is a great character, someone who steps up to the plate on big occasions, and it was then he started becoming a really good player when it really mattered," says Caddick.
Jeremy Snape, now working in the Big Bash and IPL as a sports psychologist with Sporting Edge, was also on the tour. He recalls some of the lighter moments. "We were travelling to one match on a 1950s school bus with a rat on board," he says. "Goughie [Darren Gough] was trying to catch it to put in Ashley Giles' pads."
There had been precious little for the Barmy Army to dance about before England headed to Delhi for the fifth one-dayer – a must-win match for Duncan Fletcher's men and a game which would completely change the momentum of the series.
A century for Nick Knight and a 39-ball fifty for Flintoff helped England to post a score of 271. Giles then went to work, taking 5 for 57, as England scrapped home by two runs.
"That set it up for the final match," says Caddick. "It was win or bust, really."
What followed next has become the stuff of legend as England, batting first again, scored 255, with Marcus Trescothick hitting 95 and Flintoff smashing a quick-fire 40.
India looked well-set as Sourav Ganguly and Dinesh Mongia put them within sight of victory. Step forward Flintoff once more, as his late three-wicket burst drove India to collapse from 191 for 3 to 250 all out. He delivered the final blow by bowling Javagal Srinath – a moment that inspired a now famous impromptu striptease.
Now, 11 years on, Giles would give anything for a repeat of that result –he'll just hope the players keep their clothes on this time around.
Join our new commenting forum
Join thought-provoking conversations, follow other Independent readers and see their replies