'When I was under the most pressure in my career – I scored runs'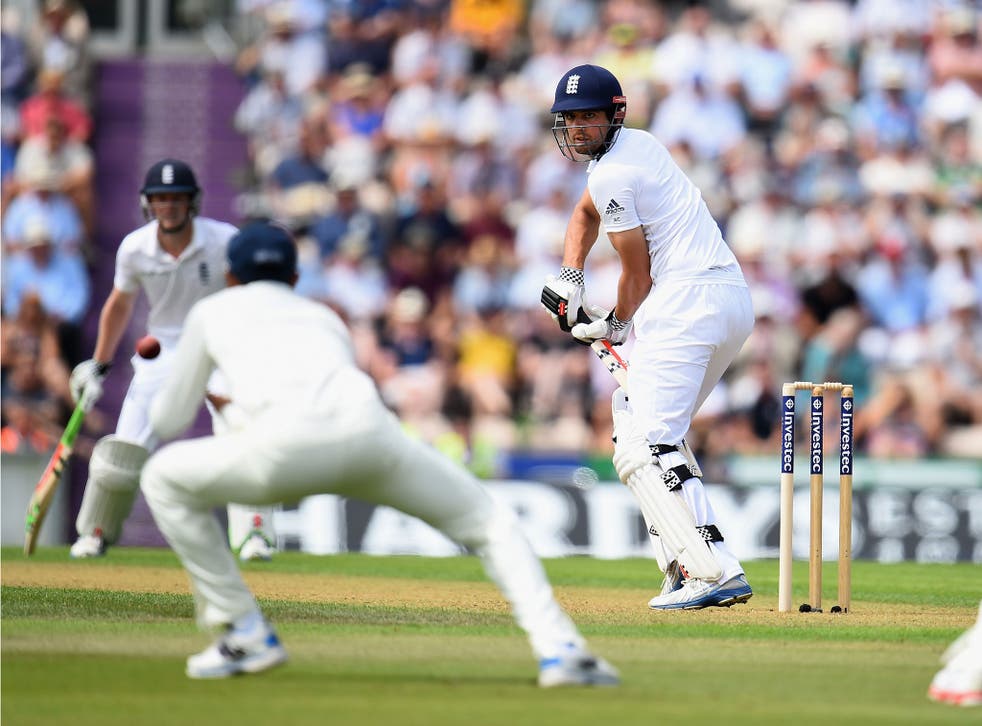 Alastair Cook revealed he had never felt such strain in his career in the moments before he managed to put a smile back on the faces of the England team – despite falling five runs short of a century.
A hundred for Cook would have been the perfect signal to send to a side who have not tasted Test victory for nearly a year. The England captain could not achieve it as he was undone by a long hop from the team's current nemesis, Ravi Jadeja, yet still it was clear that a burden had been lifted from his shoulders – especially as Cook was dropped by the same player when he had made only 15.
England closed on 247 for 2, with Gary Ballance unbeaten on 104. It was Ballance's third hundred of the summer but Cook's was the name on everyone's lips. "The most pleasing aspect is that when I was probably under the most pressure I'd ever been under in my career, when everyone was telling me to stop doing it, I scored runs, which is a nice place to be," said Cook.
"I would have loved those extra five runs, so people banging on about how many innings I've gone without a century would have had to have stopped and recounted.
"It's been a tough six months and it's still going to be tough, but I feel I've got a good attitude to the job and can smile through these times. I wanted to make sure that at least I would go down fighting.
"I've always fought throughout my career and sometimes you do need a bit of luck. I've not always had the best of luck at some times but you do earn a bit. I can't tell you how frustrating it is as a batsman when you're not scoring runs.
"Everyone is supporting you but you feel you're letting them down," Cook added, "so this has been a good day for English cricket. I've never experienced anything quite like the reception I got, with so many well-wishers."
The identity of the man who dropped Cook at third slip was not lost on the captain, either. Jadeja was fined 50 per cent of his match fee for an alleged incident in the Trent Bridge pavilion during the first Investec Test earlier this month, which also involved Jimmy Anderson.
The England bowler could learn his punishment – which might be a ban of up to four Tests – on Friday. It is clear England feel he should not face such censure. Cook added: "I think Jadeja dropped me so it's nice in one way that he did drop me, although he got the last laugh."
Cook would not, however, be tempted to comment on Kevin Pietersen, who suggested this week that Cook should consider his position as captain. Cook responded by moving past both Pietersen and David Gower into third place on the list of England's leading runscorers in Tests. When asked what that achievement meant, Cook was deadpan. "It's nice to get past Gower," he responded laconically.
Meanwhile, Cook and the India captain, M S Dhoni, have received a slap on the wrist from the world cricket authorities for their remarks about the row between Anderson and Jadeja.
Dhoni claims the fine was unfair; Cook hinted before the second Test at Lord's that India were simply trying to unsettle Anderson.
Anderson's fate will be decided by the International Cricket Council's judicial commissioner, Gordon Lewis. The ICC chief executive, David Richardson, said: "Alastair Cook and, more recently, Mahendra Singh Dhoni have made public comments relating to the alleged incident that took place during the first Test at Trent Bridge, the latter of which is critical of and undermines the ICC disciplinary process.
"In legal matters such as this, the ICC takes extremely seriously its duty as administrators of the game. Therefore, I request all stakeholders to respect the process, which remains ongoing, and remind them of their duties to the integrity of the process and the sport so that we can focus on the game of cricket itself."
Register for free to continue reading
Registration is a free and easy way to support our truly independent journalism
By registering, you will also enjoy limited access to Premium articles, exclusive newsletters, commenting, and virtual events with our leading journalists
Already have an account? sign in
Register for free to continue reading
Registration is a free and easy way to support our truly independent journalism
By registering, you will also enjoy limited access to Premium articles, exclusive newsletters, commenting, and virtual events with our leading journalists
Already have an account? sign in
Join our new commenting forum
Join thought-provoking conversations, follow other Independent readers and see their replies