Women's Cricket: Turning down Cambridge degree course was right for Heather Knight
At the time Knight made her decision she knew she was taking a risk. Women's cricket had not yet become professional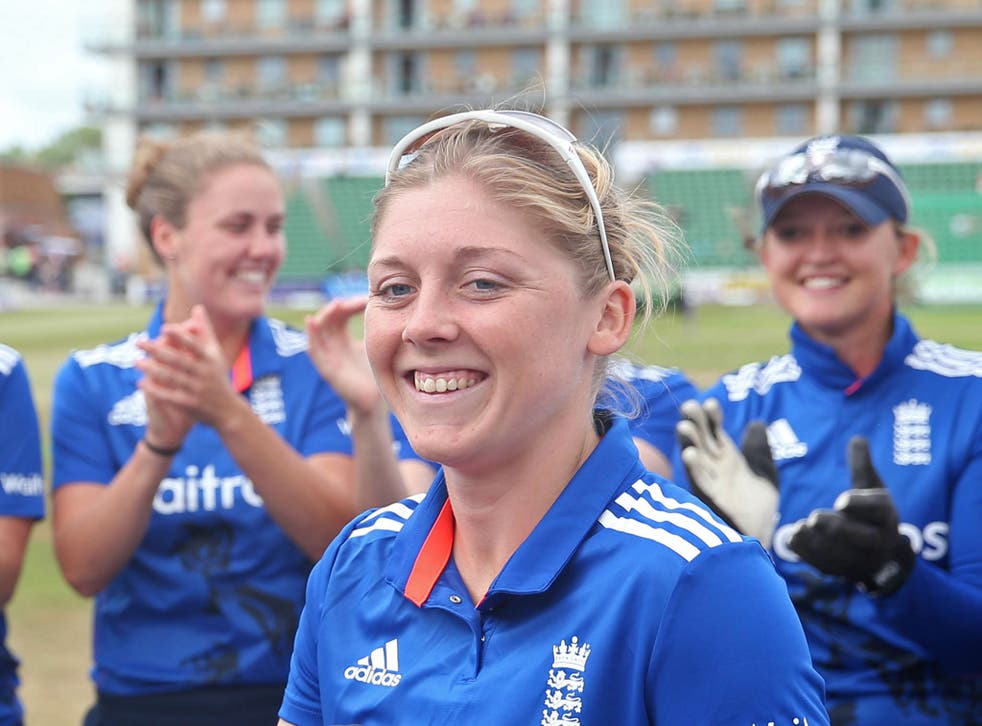 Cricket is a game of odds. A game of risk, judgment and skill – whether to play a ball or leave it, whether to hit out or defend, to bowl the shorter bouncer or that fuller delivery. However, for Heather Knight, England vice-captain – and many would say captain-in-waiting – it's not just on the field of play that she finds herself playing the probability game.
"I had an offer to study natural sciences at Cambridge University. I decided not to go," she said on Sunday as England's final one-day international of the Ashes series against Australia was postponed because of flooding here at Worcester.
"I went along to visit, of course. I think I only really applied to see whether I was good enough to get a place. I'd just turned 18 and had broken into the England Women's Academy. I knew that I wanted to play for England – that was my dream. I knew that it would be harder to achieve that dream if I went to Cambridge.
"I would have had to put my studies first and I wouldn't have necessarily been able to dedicate the time I wanted to training and to cricket, as well as have a healthy balance in my life with things outside cricket and work. So I went to Cardiff University instead, and it seems to have turned out quite well."
At the time Knight made her decision she knew she was taking a risk. Women's cricket had not yet become professional. There may have been a few part-time contracts available to players as ambassadors for the cricket charity Chance to Shine, but that was the only income available to a female cricketer in England. Tour fees and match fees were yet to be introduced. To reject a top-class education to pursue a dream with little stability, limited recognition and long-term uncertainty took some resolve.
"To be honest, I didn't think about the future that much," she added. "I'm more of a 'jump into things and think about it later' sort of person. I knew that I loved playing cricket and that I wanted to play for England, but I wasn't thinking at all that it was going to become a career – like it is now."
Happily, Knight's gamble paid off. Since last year, England women are fully professional and shortly after going full-time Knight was named vice-captain of her country, aged 23. The current captain, Charlotte Edwards, is 35, there are concerns about her knees and she won't be playing for ever; some believe the Women's World Cup in 2017 is likely to be her swansong. So does Knight see herself as the next captain?
She deftly side-steps the question. "It's dangerous to see yourself too much as captain-in-waiting because professional sport changes very quickly. I'll cross that bridge if I come to it.
"It's something that I'd love to do. Hopefully, if given the chance I could have a decent crack at it. There are some decent candidates in the team and – who knows? – Lottie [Edwards] could go on until she's in a wheelchair – it might be a long time yet!"
Knight may shy away from the suggestion, but her demeanour off the pitch, her input as vice-captain on it, and her ability to handle the contrasting characters in the dressing room, make her the bookies' favourite.
In her, England really have found an all-rounder. "Jack of all trades, master of none," offers Knight. Not a bit of it.
Join our new commenting forum
Join thought-provoking conversations, follow other Independent readers and see their replies