Charlotte Edwards on retirement, beating Australia and why women's cricket is in a better place than ever
The 'first lady of English cricket' has seen the game transform - from her first World Cup as an amateur to this year's multi-million dollar blockbuster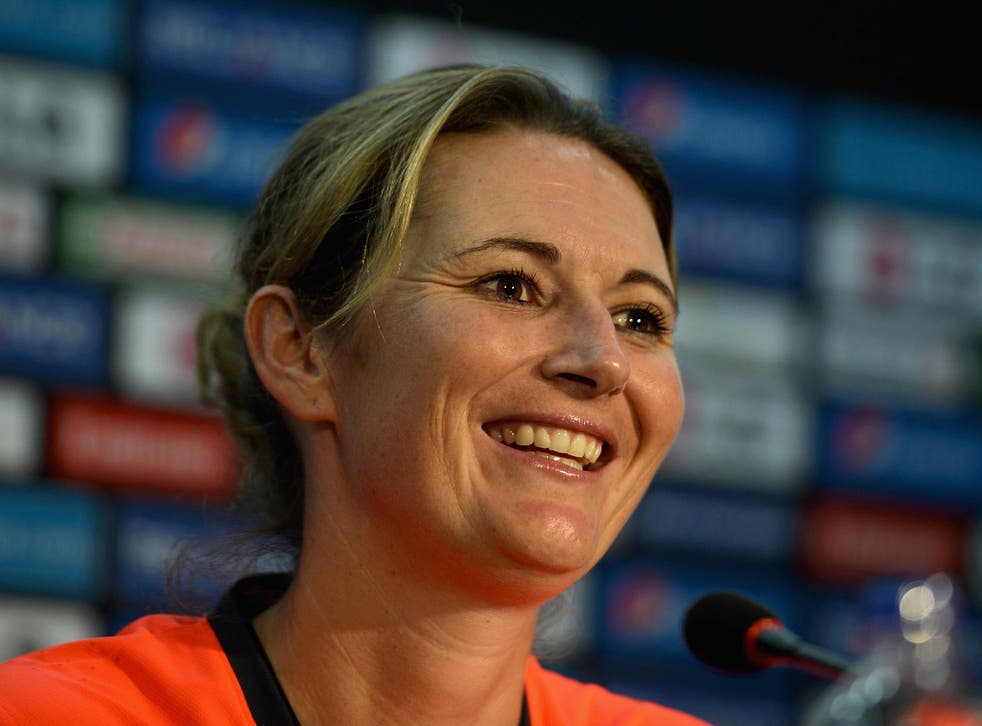 For a cricketer who scaled the heights in every conceivable sense, Charlotte Edwards is surprisingly jittery as she travels from Derby to Bristol and a date with the rigging of SS Great Britain.
"I said I wasn't that keen on climbing to the top of a ship but I think everyone thought I was joking," she tells The Independent. "I'll probably get there and find I'm live on Sky too."
You could easily forgive Edwards for wishing she was somewhere else entirely, namely in the England hotel waiting for the start of a home World Cup that begins when the hosts take on India in front of a sell-out crowd in Derby on Saturday.
Great Sporting Moments: Cricket

Show all 10
After calling time on her career last May, though, the former England captain – still widely regarded as the first lady of English cricket – says she has no regrets and insists that she's more than happy to watch Heather Knight's side's assault on glory from the stands rather than the slips.
"It has been nice to go around today seeing some of the old players I used to play against but there's not really any part of me that wants to be playing in the tournament now," she says. "A year is a long time and I've definitely done the right thing. I'm still playing club cricket domestically with Hampshire and in the KSL (Kia Super League) but I'm not good enough for this level anymore."
There will be more than the odd dissenting voice to that assertion. Edwards, after all, was England captain for 10 years, averaged 44 in Test cricket and scored over 5,000 runs in one-day internationals. She captained England to World Cup victory in Sydney against New Zealand in 2009 and, in 2013, led her side to back-to-back Ashes victories.
Her career also spanned two distinct phases for women's cricket, from an era that was entirely amateur, to one that now sees the world's best players competing for a prize pot of $2m this summer.
For a woman who had to buy her own blazer when she was first selected for England as a 16-year-old back in 1996, it has been quite some transformation.
"It has changed dramatically really," she says. "My first World Cup was in India in 1997 and I went there as a complete amateur – now the girls are fully professional and playing for a huge prize. That says it all, doesn't it?
"It has been quite a phenomenal ride but I hope it's one that keeps going because I think this tournament is going to be the best we've ever seen and is a huge opportunity to sell the game and promote it, not just in England but globally."
A successful tournament in terms of entertainment and revenue could also, she argues, open up a whole new world of opportunities for female cricketers in the future.
"That's probably the next step for the women's game – the domestic T20 tournaments and how much players can make from them," she says. "At the moment you can only really earn if you're an international player but Australia really leads the way in terms of paying their domestic players and I'm sure it won't be too long before England start paying in the same way.
"It's incredibly exciting. All we need is India to jump on board as well and I think we'll really see a massive difference."
The women's Big Bash in Australia has made a huge difference to the profile of the sport Down Under and seen the professional women's game make massive strides. It has also made household names of the likes of Meg Lanning and Ellyse Perry – two players that could well hold the key to the destination of the trophy by the time the tournament concludes at Lords on July 23.
England would hope and expect to be part of a final in front of a vociferous against the old enemy in North London. Edwards, though, is well aware that the Aussies are keen to banish memories of 2009, when they were knocked out of the tournament at the Super Six stage and had to watch on as England beat the Kiwis at the North Sydney Oval.
"I met with Ellyse Perry and Alyssa Healy this morning and they were saying they were going to get their own back and win it at Lords," she says. "Let's hope that doesn't come true."
There may be various opinions over Edwards' retirement but that view is one the whole country can agree on.
Register for free to continue reading
Registration is a free and easy way to support our truly independent journalism
By registering, you will also enjoy limited access to Premium articles, exclusive newsletters, commenting, and virtual events with our leading journalists
Already have an account? sign in
Register for free to continue reading
Registration is a free and easy way to support our truly independent journalism
By registering, you will also enjoy limited access to Premium articles, exclusive newsletters, commenting, and virtual events with our leading journalists
Already have an account? sign in
Join our new commenting forum
Join thought-provoking conversations, follow other Independent readers and see their replies