The Independent's journalism is supported by our readers. When you purchase through links on our site, we may earn commission.
Writing is on The Wall as legend Dravid quits
Robin Scott-Elliot
Friday 09 March 2012 01:00 Comments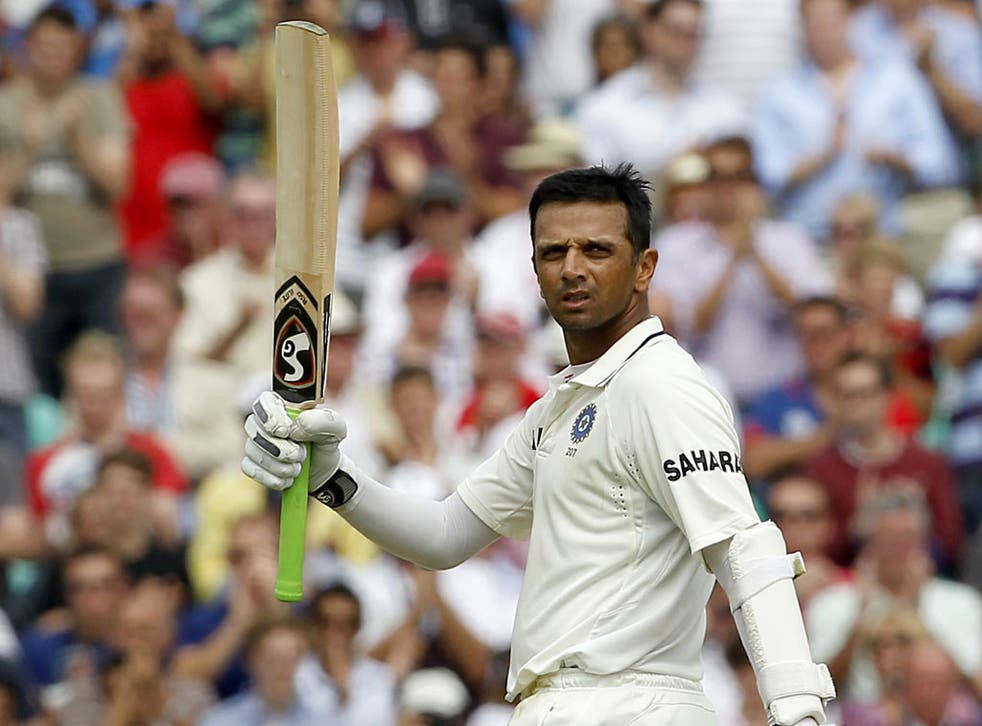 Taunton has long been a ground for the biggest of the big hitters, from the days of Harold Gimblett through Botham and Richards to Marcus Trescothick. Rahul Dravid would not feature on anyone's list of cricket's great long swords but he did once bat with a dash of Taunton fire and brimstone that would have impressed any of that fearsome foursome.
It was in the 1999 World Cup that Dravid flayed a Sri Lankan attack including Muttiah Muralitharan and Chaminda Vaas all over Somerset to score 145 from 129 balls, which only goes to show you should not judge a wall by its cover.
This morning in his home town of Bangalore, where he grew up playing cricket in its streets while his father managed a local jam factory, Dravid is set to call time on his international career. It is not unexpected; for a player with his formidable reputation to be bowled six times in eight innings and haunted by as modest a performer as Ben Hilfenhaus on the recent disastrous tour of Australia suggested the writing was on the wall.
Dravid will be remembered as the man in the middle of India's great triumvirate. VVS Laxman and Sachin Tendulkar may have performed feats more easy on the eye, but what that uncharacteristic innings at Taunton 13 years ago demonstrates is that Dravid is the ultimate team man. If it meant dropping anchor, down it went and there it stayed. He is the most steadfast player in the modern game. Equally if a different tempo was required, Dravid did his utmost to deliver.
He played 508 Tests and one-day internationals for India over 15 years, and a solitary Twenty20 match. That came in England last summer after India's hammering in the Test series, where Dravid's three graciously obdurate centuries provided lonely resistance. India turned to Dravid after a two-year absence from the limited-overs side. During the T20 at Old Trafford, Dravid hit Samit Patel for three successive sixes, the last a slog-sweep over midwicket, a shot that it is almost impossible to imagine him playing. It was what the situation demanded.
That is not how he will be remembered. Dravid made his Test debut at Lord's in 1996 alongside Sourav Ganguly. Ganguly walloped an arrogant century, Dravid dug in for 363 minutes to score 96. "I wouldn't say I'm defensive," he said, "but sometimes the situation demands that I put down a solid foundation for the strokemakers to follow. I enjoy that. I enjoy batting for long periods. I enjoy frustrating people."
Any frustration opponents felt was mixed with admiration. Dravid was a stylist, the type of player a coaching manual could be written around. "Great player, great person and a credit to the game of cricket," said Alec Stewart, who squatted behind the stumps for all six hours of Dravid's debut innings.
A near flawless technique was mixed with consistent form and fitness: he did not miss a Test from his debut until December 2005. India were fortunate to have the careers of three great batsmen coinciding, as well as the emergence of a feisty leader in Ganguly. It helped transform cricketing history in India and to that end there is one game that stands out. "It was a defining moment for Indian cricket," said Ganguly. Dravid was at its heart.
It was the second Test against Australia in 2001 at Eden Gardens. In the first Test Steve Waugh's side had won a record 16th consecutive Test. In Kolkata they continued as per script. On day three Dravid joined Laxman at the crease. The home side were following on and still trailed by 159. No more wickets fell that day and none on day four. Laxman and Dravid batted and batted. Laxman made 281, Dravid 180 and their partnership was worth 376. India declared on 657 for 7, Australia were exhausted and collapsed to defeat. India went on to take the series, a result that imbued the players with self-confidence.
Now they began to win abroad, and Dravid's presence was crucial. He averages more in Tests outside India and 21 of his 36 centuries have come away from home. There was a double hundred in Adelaide, in a series in which he averaged over a hundred, a Test century in Johannesburg and six centuries in England. But it is those two and a half hot and dusty days in Kolkata for which Dravid will always be revered in India. "It's very special," he said when asked to recall the innings, "but I probably don't understand the full significance of it. When I'm retired I might." That time has come.
Dravid: Facts and figures
36 Test tons (fourth on list) from 13,288 runs (second to Tendulkar).
210 Total catches in Tests – a record bettered only by wicketkeepers.
55 The 39-year-old has been bowled a record 55 times in Test matches.
Register for free to continue reading
Registration is a free and easy way to support our truly independent journalism
By registering, you will also enjoy limited access to Premium articles, exclusive newsletters, commenting, and virtual events with our leading journalists
Already have an account? sign in
Join our new commenting forum
Join thought-provoking conversations, follow other Independent readers and see their replies