Alex Dowsett hour record: Pure delight as British cyclist displays his hour class
An impressively calculated performance netted Commonwealth Games champion Alex Dowsett one of cyclng's most prestigious prizes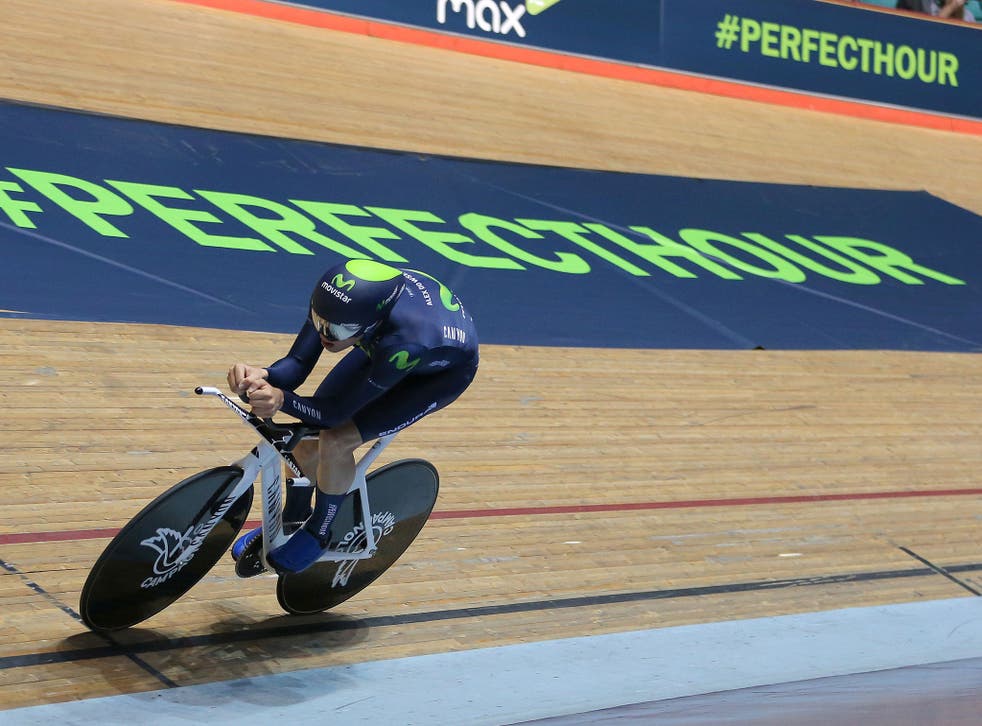 An impressively calculated performance netted Commonwealth Games champion Alex Dowsett one of cyclng's most prestigious prizes on Saturday as he broke the world hour record at the Manchester Velodrome. The Movistar rider extended the previous top distance ridden in 60 minutes by nearly 500 metres to 52.937km from the 52.491km set by Australian Rohan Dennis.
The fourth rider to break the record in eight months, Essex-born Dowsett returned to his sporting roots to clinch the title, riding in front of a capacity crowd on the track where the 26-year-old used to train as a junior.
Dowsett's original record attempt was postponed from 27 February after he broke his collarbone while training. But yesterday there was no sign that the Briton was anything but his most measured best throughout his 212 laps of the velodrome. Indeed, so calculated had his energy output been throughout his effort that Dowsett even had the strength afterwards to raise his bike over his head in celebration just a few minutes after finishing.
"I wish people hadn't told me it was going to be so hard. Compared to what I had expected it was easy," he said. "I was expecting it to be horrific but it was just terrible."
Dowsett had warned that the period between 35 and 40 minutes could be the hardest, but in fact the roughest patch seemed to come slightly earlier, mid-way through his effort, when he was eight seconds behind the split times set by Dennis.
However, Dowsett began chipping away steadily at the deficit in the second part of his attempt, despite his laconic prediction before starting that "that's when everything in my body will be screaming with pain". By minute 51, a huge roar went up in the arena as the Movistar rider moved ahead of Dennis' split times for the first time, with Dowsett finally chalking up nearly 53km as the clock stopped.
"The coaches gave me a plan which I didn't like that much but deep down I knew that it was the right plan. We'd ride at an easy pace, which would put me behind Rohan for 45 minutes and I wasn't too keen on it," Dowsett explained.
"But at the halfway point I knew that I had more left in the tank."
A haemophilia sufferer himself, Dowsett's hour record challenge was aimed at raising awareness of the condition.
His triumph will be followed by Sir Bradley Wiggins making his own challenge for the record on 7 June, while Dowsett says he "hopes to have another crack later in the year" – thereby raising the enticing prospect of an ongoing British battle for hour record supremacy.
On a notable day for British cycling, Mark Cavendish racked up his ninth win of the season in the Tour of Turkey and a strong performance by Chris Froome in the Tour of Romandie's toughest mountain stage, finishing seventh, moved the Sky rider into third overall. Froome is poised to take the highly prestigious Swiss race outright in today's final time trial.
Meanwhile, in the three-day Tour de Yorkshire, Moreno Hofland, of the Netherlands, won yesterday's bunch sprint into York. Sky's Lars-Petter Nordhaug, of Norway, remains in the overall lead.
Register for free to continue reading
Registration is a free and easy way to support our truly independent journalism
By registering, you will also enjoy limited access to Premium articles, exclusive newsletters, commenting, and virtual events with our leading journalists
Already have an account? sign in
Register for free to continue reading
Registration is a free and easy way to support our truly independent journalism
By registering, you will also enjoy limited access to Premium articles, exclusive newsletters, commenting, and virtual events with our leading journalists
Already have an account? sign in
Join our new commenting forum
Join thought-provoking conversations, follow other Independent readers and see their replies