Brian Cookson beats Pat McQuaid in election to become UCI president - but not before a morning of embarrassment for cycling
The contest was bitterly fought right up until the election of the Briton
Robin Scott-Elliot
Friday 27 September 2013 13:42 Comments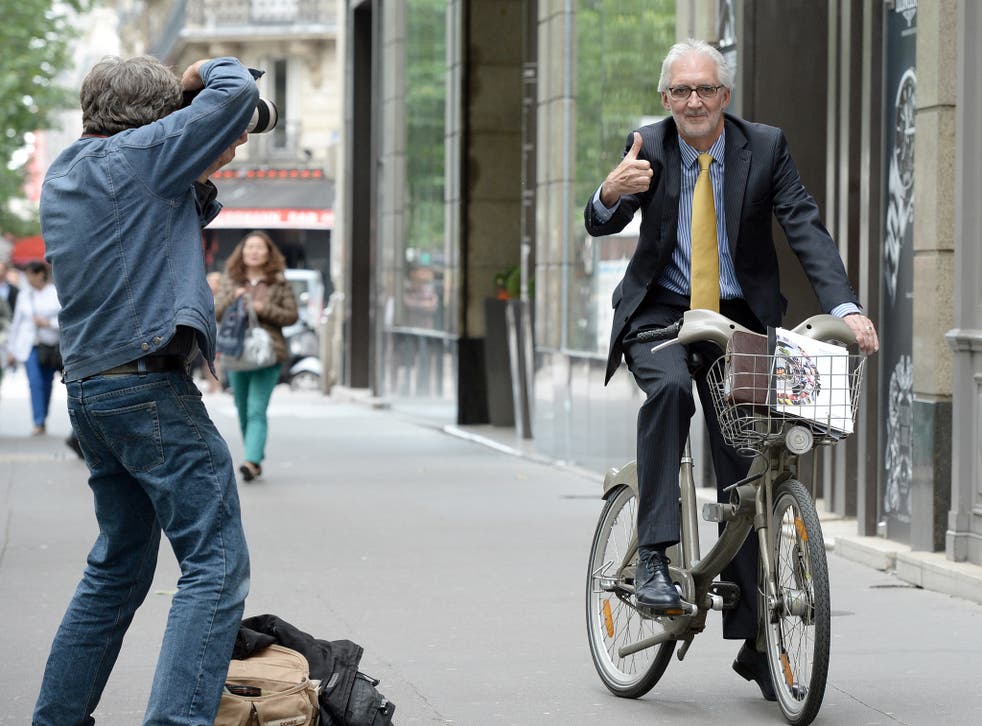 Britain's Brian Cookson emerged victorious from a morning of high farce as the bitter battle to govern cycling ended with his election as president of the International Cycling Union, the sport's governing body.
After more than four hours of chaotic, occasionally angry and frequently confusing toing and froing among the delegates over whether Pat McQuaid, the incumbent president, was eligible to even stand again for office, Cookson dramatically stood up and declared he had had enough and the vote should proceed. The bold move appeared to pay off as the UCI's voting delegates ousted McQuaid and elected Cookson in his stead by 24 votes to 18.
Cookson has promised a new broom and he faces a tough task after a morning which leaves the sport deeply embarrassed ahead of what is supposed to be the highpoint of the UCI's year, this weekend's world road championships which will culminate in Chris Froome's bid to add a rainbow jersey to his Tour de France title on Sunday. Instead the crisis of governance that has gripped cycling since the revelations surrounding the Lance Armstrong doping scandal was magnified as McQuaid and his allies struggled desperately to cling on to power.
Inside the Palazzo Vecchio, Florence's magnificent crenelated town hall from which Machiavelli once worked, delegates from around the cycling world argued over the election process and, at one stage, even over the method of voting, taking a vote on whether the next vote should be made in secret. There were regular interruptions as lawyers rushed off stage to consult the International Cycling Union's constitution.
The first hiccup came when Pieter Zevenbergen, the head of the UCI's ethics commission, ended a rambling, inconclusive report into allegations of impropriety against both candidates, including claims the Greek federation was offered €25,000 to support Cookson. Zevenbergen appeared to suggest the election should be postponed.
A first vote on an amendment that would have confirmed McQuaid's ability ended 21-21, which meant it failed to achieve the necessary majority. It was followed by further debate and legal opinions – the International Chess Federation was even referenced at one stage – over whether the Irishman was a member of the Thai and Moroccan federations and if that then allowed him to be nominated. Cookson has been nominated by British Cycling under the belief candidates had to be backed by their own countries. Ireland withdrew its nomination of Cookson, as did the Swiss – McQuaid lives in Lausanne where the UCI is based.
Cookson said: "The campaign to get to this point has been intense but I am under no illusion that the real work starts now. So I call on the global cycling community to unite and come together to help ensure that our great sport realises its enormous potential.
"I have said throughout my campaign that we must embrace a new style of governance and a collegiate way of working so that a new era of growth and commercial success for the UCI and our sport can begin. My first priorities as president will be to make anti-doping procedures in cycling fully independent, sit together with key stakeholders in the sport and work with Wada to ensure a swift investigation into cycling's doping culture."
Register for free to continue reading
Registration is a free and easy way to support our truly independent journalism
By registering, you will also enjoy limited access to Premium articles, exclusive newsletters, commenting, and virtual events with our leading journalists
Already have an account? sign in
Join our new commenting forum
Join thought-provoking conversations, follow other Independent readers and see their replies