BT Sport Action Woman of the Year: Downhill route takes Rachel Atherton to the top
Rio is now in the sights of World Cup champion who has capped a highly successful year by being named the first BT Sport Action Woman of the Year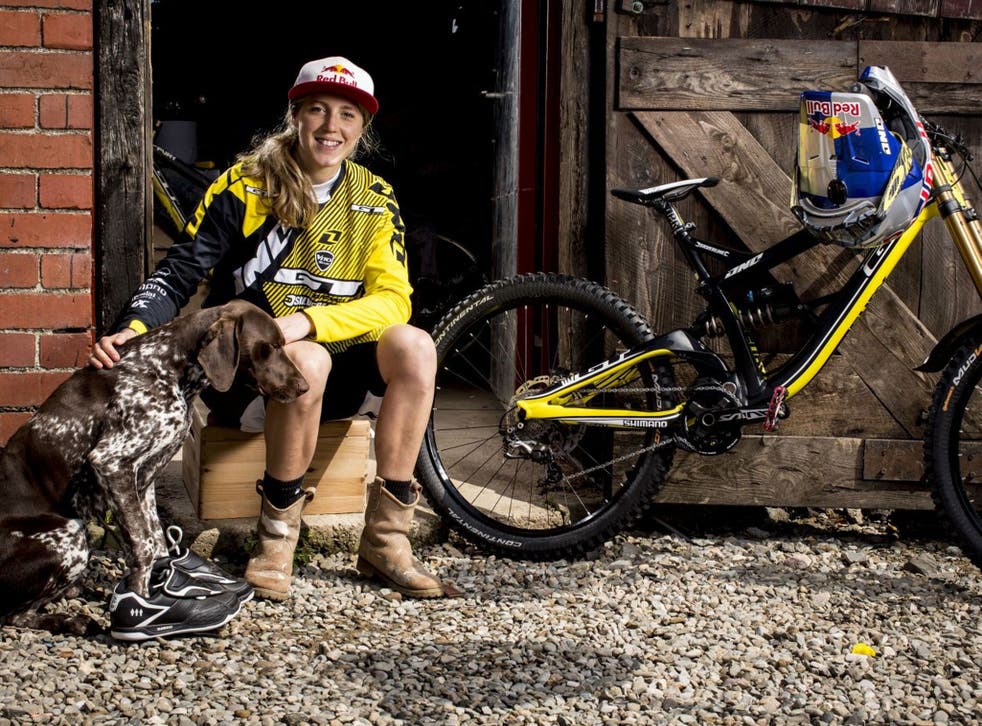 Every athlete has bad days. "I went completely arse over end on these rocks. My bike flew into the crowd and hit some guy holding a baby carrier..." It's just that some extreme sports have extremely bad days. See above. Or like the time Rachel Atherton, the world's dominant female downhill mountain biker, dislocated her shoulder. And did it again. And again, etc, necessitating seven different surgeries. And then there was the occasion she was hit by a truck.
On the other hand, she has great days. Many of them in 2013 when she won the World Cup series and World Championships in a near- perfect performance of brute force and ballet precision, blowing away the opposition, taking 4 minutes 28 seconds to make a precipitous descent that a rambler might ponder for half a day, and even then resort to crampons and guy ropes.
For these uninhibited feats, Atherton has just been crowned the BTSport Action Woman of the Year, aptly receiving the trophy not in the television studio with Clare Balding but having just toppled off a testing bike in a laboratory. Warm-weather training has begun for another season and the 26-year-old athlete has new heights to climb. Retaining her World Championship is one of her ambitions. Eyeing the track for Rio may just be another.
In the meantime, she is thrilled by the recognition the sport she loves has just received. "It does make you feel bloody strong and fearless. You're proud to do something that hard. To put your body through such a sport, you've got to have skill, power, technique and a pin-sharp mentality even when your knackered near the end of the race, when your heart's up at 195 and the lactic acid's burning.
"My weakness is always the last minute of a race. I'm very powerful but I struggle to keep it going. I know I have to go like an absolute animal at the top so I can afford to lose time and still win. Sometimes it works, sometimes it doesn't." Mostly in 2013, it worked.
Crucial to her success has been the family unit. Specifically the two elder brothers she lives with in a miasma of testosterone and bike oil. Both are competitors, Dan in enduro and Gee as a world champion downhiller himself. They build tracks in Snowdonia National Park. For fun, they race motorbikes. From some descriptions, it sounds like Wuthering Heights on wheels.
For all the adventuring, they are professional enough to know this can be a dangerous sport. "We've had friends who have had injuries or been paralysed," explained Atherton. "My brothers worry about me. We worry about each other. I hate watching them race. Then I remind myself they know what they're doing.
"They worried about me a lot more when I was younger, I used to be a bit headstrong. I just wanted to win at all costs. I kept crashing, I had a lot of injuries and now I've learned where my limits are."
These limits are dramatically illustrated when she tells stories about dislocating her shoulder in a crash in Austria and then demanding a random person in the crowd "just yank it!" to restore its position. Everyone refused except an equally DIY-happy fellow biker.
"I've done it for Gee. The boys have done it for me," she said calmly. "We are, in many ways, quite brutal to one another. They take the mick out of me and when Gee gets above himself – he's an elite male athlete so he can be very self-centred – Dan and I just tell him not to be such a dickhead and chill out.
"But I notice that if I'm around my brothers a lot, it's such a male environment that suddenly I need to be a girl for a bit. For a woman, it's an interesting balance to maintain." Her boyfriend, Ben Reid, a fellow biker and team manager from Ireland, has to remind her to turn down the testosterone levels.
"He's sometimes like: 'You've been too fierce, too blunt with me.' I've got to be careful that I give my feminine side a little run out. When you do such an adrenalin-pumping sport as this, being girlie and in love with someone refuels you. It allows you to express the completely opposite side of your character. Sometimes it's a bit difficult. You have to be selfish as an athlete. But you can make it work if you compromise. You have to remember: it's not just about you."
Except now perhaps. Atherton plans to put her Action Woman victory to the purpose of introducing young women to the sport. She passionately believes in its ability to give youngsters a taste of adventure, the outdoors and a sense of their own budding strength.
For those concerned it may be a little extreme, travelling at 60kph is not compulsory, unless you're pelting down the virtual cliff-face of a World Championship course. And for anyone still worrying about that battered baby carrier, good news – it was empty.
The winner of the inaugural BT Sport Action Woman Awards, in conjunction with The Independent, was announced last night on The Clare Balding Show, with England football international Natasha Dowie runner-up and World Triathlon Champion, Non Stanford, in third place. For full details, visit: www.btsport.com
Register for free to continue reading
Registration is a free and easy way to support our truly independent journalism
By registering, you will also enjoy limited access to Premium articles, exclusive newsletters, commenting, and virtual events with our leading journalists
Already have an account? sign in
Join our new commenting forum
Join thought-provoking conversations, follow other Independent readers and see their replies