Dai Greene & gold: Brit aims to rule the world after Olympic agony
Dai Greene finished fourth twice in London last summer after being hit by injury. The pain will never go, he tells Matt Majendie, but will be eased if he can defend his world title this summer
Matt Majendie
Tuesday 07 May 2013 14:27 Comments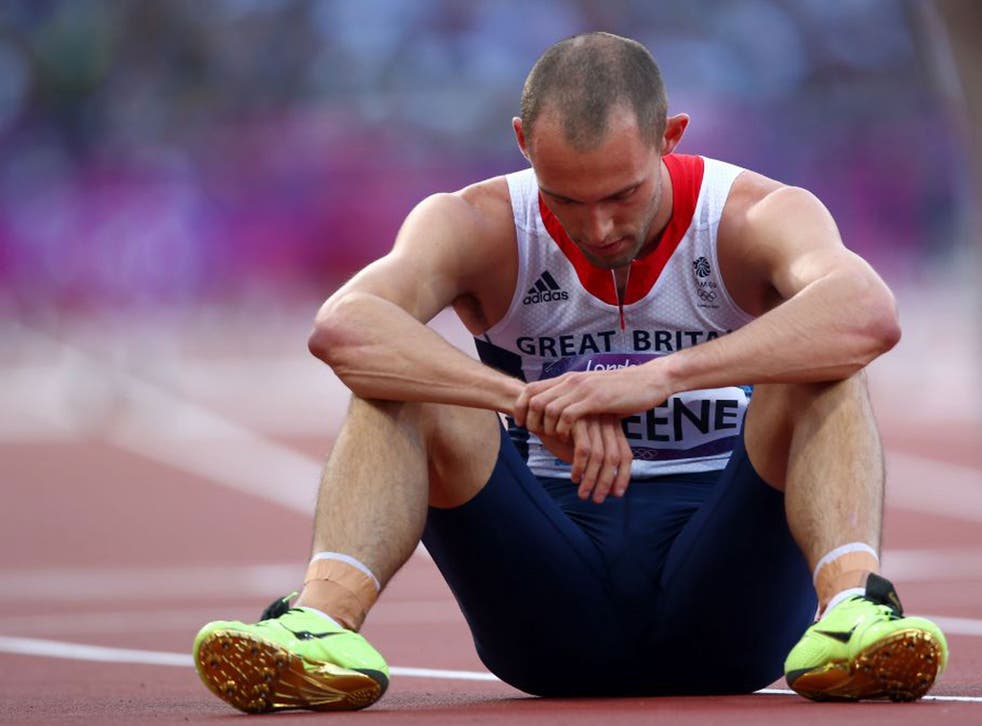 So many British Olympic and Paralympic medals were won last summer – 185 in all – that those who missed out were almost forgotten, mere footnotes to the golden Games.
Dai Greene was just three-tenths of a second from winning medals in both the 400 metres hurdles and the 4x400m relay but, in the end, was left with two agonising fourth places.
As one of only two current athletics world champions – the other being Mo Farah – the Welshman is far from the forgotten man of British running after what he described as the toughest year of his life in 2012. Knee surgery over the winter had cost him large chunks of intense training time and, when it came to that Olympic final, he had neither the form nor fitness quite to match his rivals.
Greene is utterly determined to ensure that history does not repeat itself after undergoing further surgery in mid-March – a double hernia operation, which he is adamant should not curtail his ambitions of bringing that world title home from Moscow in August. "I'd like to think I can defend it," he says when I visit his new home, a barn conversion in Wiltshire.
On his most recent surgery, he adds: "The problem appeared in January but I still ran indoors in Glasgow. To start with I thought it was a bit of tightness but, come February, I was really struggling with the intensity of training.
"So I went to see the UK Athletics doctors in Loughborough and was told I had a hernia and there were two options – to operate straight away or put it off until the end of the season. There was no point doing that as I was already struggling, let alone with another five months of training and competition."
His progress back has been quite remarkable. A week after the 19 March operation he was back running on a treadmill, a week later he was on the track again. He admits he is still not quite 100 per cent and is not able to push himself quite to the limit as in the past – "the scar tissue is slightly holding me back".
As a result, his initial plan to open up his season in Doha on Friday has been cancelled and he aims either to compete for the first time at the Diamond League in New York on 25 May or, more likely, Rome on 6 June, when Usain Bolt will also be making his European debut.
"I don't think it should affect my ambitions for the season," he says, which is centred on a successful title defence. "I certainly have more confidence than 12 months ago. I'm definitely in a better position than last year."
For an athlete, who once had to fund his athletics ambitions by working at McDonald's and whose progress earlier in his career was curtailed by a litany of injuries and a battle with epilepsy, there have been some tough seasons in the sport.
But looking back at 2012, he says: "I've had tough seasons before but I've not been in that situation before when going for an Olympic medal. It was the hardest."
The doctors and physios warned that his chances of being in medal contention after knee surgery would be tough. Greene didn't listen. At a pre-season training camp, he had up to five hours of physio a day just to get through the pain and ensure he could train.
"It was hard, hard work," he recalls. "I really had to push them. They were understandably worried about my physical condition but I was like, 'It's my career, it's my dream, this is what we're going to do'."
He and the physios looked to have pulled off a minor miracle when he set a personal best at his last pre-London race in Paris, a time of 47.84sec to finish second behind Javier Culson. But on reflection, he had peaked, a winter of hurdles having caught up with him, to the extent that he very nearly missed out on qualifying for the final in London.
"I'd always talked about the gold but, after that Olympic semi-final, I would have just been happy with a medal," he admits. "I remember when I finished, I didn't know what position I was in as I was dipping for the line. I remember the crowd were pretty quiet which I didn't think was a good sign. But I thought maybe I've got third, I wasn't sure.
"I looked up at the board thinking, 'Please give me third', but it came up with fourth. It was odd, as in some ways there was relief that this nine, 10, 11 tough months were finally over.
"I was disappointed immediately but it didn't hit me until the warm-up track. There were a few tears. It was such a massive occasion, the stress levels were pretty high. I had a cry to myself but not much – more just tears in my eyes. But I was massively sad and didn't want to speak to anyone."
Not long after the event, he went off on holiday with his girlfriend Sian and her family to France, where talk of the Olympics was essentially off limits and he was able to start getting over the disappointment.
Looking back, he is glad he pushed himself to get to that point, even though there is no medal to show for it. "Would I rather have given everything and finished fourth or sat on my arse and achieved nothing at all?" he asks. "I remember coming back to training after six weeks and Malcolm [Arnold, his coach] gave me a pat on the back and said, 'We did the best we could', and that was how I felt after a few weeks of training."
The Olympics are not quite forgotten – for one he will return to Stratford for the Sainsbury's Anniversary Games at the end of July. Then, he is determined to have his say inside the Olympic Stadium but, regardless of the result, he says, "Nothing will make up for it".
But the focus for 2013 is a few thousand miles away in Russia, and that world title. He may have missed out on the glories of the summer of 2012 but there's still gold out there for Greene to chase.
'It's scandalous. it doesn't feel like the fight against drugs is being won'
The spectre of drugs looms large over athletics at the moment. Currently 38 Russian athletes are banned from competing, hardly an ideal situation for the host country for the World Championships later this summer.
The situation led to the former British long jumper Jade Johnson to argue that Moscow did not deserve to get the honour of hosting the Championships.
Greene's stance is not dissimilar: "Of course, you ask the question, do these countries deserve to hold Championships if they're so irresponsible with their athletes? I'd rather run in another country. Similarly, I don't want to run in Spain with everything that happened in the Fuentes case."
Last week, a Spanish doctor, Eufemiano Fuentes, was given a one-year suspended sentence for endangering public health in his role in supplying blood transfusions to professional cyclists. An order to destroy 200 frozen blood bags was also given, blood thought to implicate other sports, and sportsmen and women.
Of the court ruling, Greene says: "It's scandalous. It's a massive cover-up of sorts and you just don't know who's involved in it. The best analogy I can come up with is that someone has killed someone and got away with it, and all those that held that person as he was killed have also got away with it."
Of the wider issue of doping in athletics, he adds: "It doesn't feel like the fight is being won. Cycling's had its low point and it's moved on, it's better as a result of everything that's happened.
"We're getting more and more people banned in athletics but I don't think the sport has had its moment yet. It's going to get to a point where one or two really big names are going to come out as having failed tests, people who are high-profile, that have won major medals. It's inevitable.
"You look at Russia and all these athletes failing tests, and you think that situation is improving there. But you don't know what's happening in other countries where there aren't really any failed tests. But it feels like that moment is coming for athletics."
Register for free to continue reading
Registration is a free and easy way to support our truly independent journalism
By registering, you will also enjoy limited access to Premium articles, exclusive newsletters, commenting, and virtual events with our leading journalists
Already have an account? sign in
Join our new commenting forum
Join thought-provoking conversations, follow other Independent readers and see their replies