The Independent's journalism is supported by our readers. When you purchase through links on our site, we may earn commission.
Emma Townshend: 'How I fell madly in love with the Tour de France'
Of all the sports our correspondent has ever fallen in love with, professional road-racing turns out to be the keeper. But will the Yorkshire stage hold as much appeal?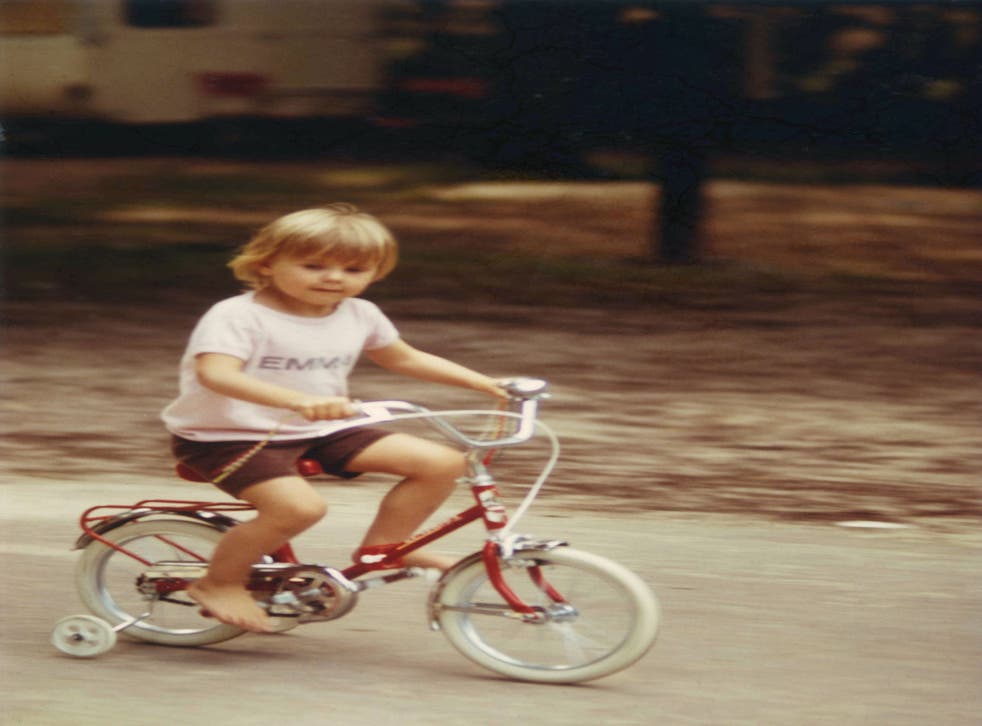 Here's the thing: I love professional road-racing. Of all the sports I've ever fallen in love with, this one turns out to be the keeper. Farewell synchronised swimming, you were just a teen crush; Premiership football, when you shacked up with Murdoch, it was the end for me. But cycling! Deep romantic sigh. My passion shows no signs of flagging, either. I feel like one of those irritating people who boasts that they still really fancy their husband. Cycling, I would like to declare publicly, I will always fancy you.
Looking back, things first really got hot between me and the men in shorts one July – it must have been around 2003 – during a proper French heatwave. On holiday with my dad in the South of France, trying to shelter indoors, I discovered he'd paid for all the TV channels. What kind of man buys all the sports channels, when he doesn't really watch sport? I'll tell you: the kind who wants his kids to spend the holiday making up jokes about how they've just seen a line of men in bright Lycra cycle past the oldest thatched church in France.
I can enjoy at length the Giro and the Vuelta, the national races of Italy and Spain; possibly even the Tour of California. But bike-racing for me is best when it comes home to the winding roads of France, where the nation's Sunday is not complete without a load of old men from the local cycling club ambling along in spandex.
In France, cycling is an unavoidable sport, and from the Race to the Sun, which finished last Sunday in Nice's spring sunshine, to the pre-Tour test of the mountainous Critérium du Dauphiné, its bike-racing shows off the world's greatest country at its most seductive.
On French telly, there are farmers and cheese-makers waving from fields, and the curiously informative commentary pointing out local architectural points of interest. Now add in their curious pre-Tour walnut-cooking competition and my heart bubbles up with love in a way that even I have trouble really explaining.
I suppose I could blame my dad. He was the kind-hearted soul who packed my red bicycle (favourite occupation of the four-year-old Emma T), still with stabilisers, into a camper van and drove us all to the South of France, circa 1973. I rode around our campsite in the hot summer air, under the smell of pine needles; cycling and France for me, in that evocative moment of early childhood, were undetachably glued together.
In contrast, and I know it sounds terrible, I'm not sure I can be bothered to go and watch the Tour de France when it starts in England this summer. I love that they're doing it (small boy in French lane last summer, "Papa, qu'est-ce que c'est, Le 'Yorkshire'?"). But the conjunction of Peter Sagan, green-haired Slovakian racer boy, and Bettys tea room, that's just weird. For me, the Tour 2014 will begin in Le Touquet, once they've crossed the Channel.
Yes, OK, I concede that Grand Tour road races are the most complicated sport in the entire world to understand. Perhaps that is part of the attraction. For a start, the scoring! Having gone to a hippie 1970s school, how lovely to find a competition where everyone gets a prize: the fastest individual; the fastest team; the best youngster; the one who's best at climbing mountains; the best at sprinting to the line; the fighting-spirited individual with the most "combativité". For every category, a different coloured jersey and a different cuddly toy, awarded by a different pretty girl. And many of these prizes are awarded daily, as well as over the whole competition, thus tripling your trouble to work out exactly how your fantasy team is doing at the end of each day's racing. (Even the guy who comes in last gets a "Lanterne Rouge" to celebrate his non-achievement, likely to earn him bonuses in appearance fees in post-Tour races.)
And the drugs! There's literally months' worth of messageboard subject matter there for the socially challenged. Even in the first years of my enthusiasm, the sport was already tainted; in fact, it had reached the absolute high-water mark for the necking of illegal performance-enhancers. Look at the graphs of race power outputs for noughties stars such as Ivan Basso, Jan Ullrich and Richard Virenque, not to mention Lance Armstrong: all off the chart as far as possible human achievements are concerned. But somehow, turning up to a party where you already knew everyone was caned didn't seem quite as shocking as one where you'd been expecting virginal behaviour.
But drugs, cheating and accidents requiring serious skin grafts aside, for me road-racing offers a sporting spectacle like no other. I yell with joy at the ferocious tactics of the downhill overtaker descending faster than a car; the teeth-grinding pain of the uphill "grimpeur", finding from somewhere an extra burst to take him past a hated rival. And weep at the desperate pain of the newcomer, out ahead of the field all day, finally overtaken with 2km to go.
Of course there are certain moments in life where you ask yourself, how exactly did I get myself into this? Four summers ago, it was, in my case, catching the telly coverage on a grubby sofa while I was nursing my tiny baby during a heatwave, watching more men in Lycra heaving their way up mountains on bikes. This time in French. (I'd paid for the installation of French telly, hoping to stem the postnatal brain atrophy everyone had cheerily promised me.)
While breastfeeding and watching TV, I was also balancing my computer on the other arm of the sofa and answering a steady stream of translation requests from a friend of mine who had been posted to France by his newspaper to cover the Tour. For me, 2010 remains a summer of legend: the first summer I watched every single day of the Tour de France. With a heatwave, my four-month-old baby, and my mate's linguistic frailties. Strangely, love was what ensued.
Is it wrong to fall in love with a sport based mostly on sitting on the sofa? I don't think so. For road-racing, more than any other sport, is one thing on the telly, and something completely different in person. Watching road cycling live means months of scouting online forums and reading TripAdvisor reviews of B&Bs; it means reading map gradients to find a place where the riders may be marginally climbing, slowing the pace so you have a few more milliseconds to cheer your heroes; it means planning sandwiches and distractions for a three-year-old to last all day; it means hours of entertaining yourself on an empty country road while you periodically climb into a hedge to fish out free packets of madeleines thrown by shouting girls on lorries (part of the entertainment that precedes every stage).
All for the 35 seconds when the cyclists flash past, unidentifiable in a seething, colourful mass. "Why couldn't I see Cav?" you wonder. Because the Manxman was wearing his World Champion's shirt rather than that of his team, you realise while looking at the photos later – yet another colourful variation on the endless jerseying around.
But I love the democracy of spectating at the Tour. I love that it's free. And I love that it's a bit bonkers. To bagsy a town seat, I've eaten three meals in a row outside the same Algerian bakery; to bagsy a country-lane spot, I've pushed my baby in a buggy a mile uphill and made him spend four hours standing next to some barbed wire: for a minute, maximum, of actual race gratification. I now possess a child for whom "bicycle race" were among his first words, who supports the BMC team – not out of respect for their Tour winner, the Australian Cadel Evans, but "because they are red".
And every year there are new pleasures. And old foes. My white-hot hatred of Alberto Contador, a slick operator who will never miss a chance for some dodgy cycling. (Tour de France winner in 2007, he was stripped in 2010 for drug offences he's still blaming on some steak.) And I quietly continue my devotion to the Jens Voigts and George Hincapies, the superdomestiques who ride back and forth with sandwich bags and drinks for their team-mates; and the Bernie Eisels and the Mark Renshaws, the lead-out men, who have the job of racing the team towards the line to see the main sprinters safely over it in pole position, but who never cross it first themselves.
Most of all, it is moving. There is something extraordinary about a bike race: the effort involved is beyond anything I can imagine. And I cry a lot. Heroic uphill efforts by title no-hopers generally reduce me to blubbering. But last summer, in a first even for weepy old me, I cried about the post-race analysis.
I was watching the two-hour discussion show that follows on French TV when suddenly David Walsh came on screen. Walsh is a distinguished sports journalist and one of Lance Armstrong's most unremitting pursuers, one of the very few prepared to accuse him in public and to continue doing so after legal action and threats. He has been single-minded in his pursuit of evidence against drug-takers in the sport. He sat on a sofa and explained to the French TV interviewer that he'd spent the previous two months with Sky (the British team who gave us the past two Tour winners, Bradley Wiggins and Chris Froome) after many fans thought their results too impressive to indicate a clean bill of health. Walsh declared he was now as sure as he could be that Sky was a totally drug-free team.
Without even realising it was happening, I felt tears start to roll down my face; then I started to sob, slightly uncontrollably. You mean this might all have been real, after all? I didn't realise until then how reluctant I'd been to invest in Chris Froome's win; liking both him and team-mate Richie Porte, yet enormously doubtful about things such as their Monaco-based lifestyle and their odd bursts of speed on the hills.
I switched off the telly and stood on the doorstep, looking out at the evening sky falling dark, still very emotional. And that's when I realised that I and cycling, who for a long time I just had the hots for, had taken the plunge and finally tied the knot. Because when you get married, you can't ever know how it will turn out. You take a leap on faith alone. Love, hope and faith: from now on, bicycle race, till death do us part.
The Tour de France begins this year in Yorkshire on 5 July (letour.com)
On the road: Emma's three favourite racers
Thomas Voeckler
Apparently incapable of putting on sunscreen with any kind of uniformity, leaving him tiger-ish in appearance on hot days, the 34-year-old Frenchman updates his fans regularly on Facebook with detailed accounts of his ailments. His uphill gurning has to be seen to be believed, but TV coverage reveals him to be one of the most modest and sweetest of cyclists, always delighted to see his kids.
David Millar
The 37-year-old Scot's frank 2011 account of his own career, Racing Through the Dark, documented in convincing fashion his fall from grace and rise again as "reformed former drug cheat". But my favourite Millar Moment was 13 July 2010: after being dropped on the first climb of the day, the poor fecker cycled 180km on his own not knowing if he would arrive outside the disqualification time.
Jens Voigt
Born in 1971, he is the oldest professional cyclist still winning things. He is a "rouleur", an all-rounder, with a cheerfully Germanic sense of having a go at pretty much any event. For some reason, he has carved a place in my heart for keeping going. Plus, I once saw him cycle back to his hotel from a race, which endears pretty much any international sports star to you, frankly.
Register for free to continue reading
Registration is a free and easy way to support our truly independent journalism
By registering, you will also enjoy limited access to Premium articles, exclusive newsletters, commenting, and virtual events with our leading journalists
Already have an account? sign in
Register for free to continue reading
Registration is a free and easy way to support our truly independent journalism
By registering, you will also enjoy limited access to Premium articles, exclusive newsletters, commenting, and virtual events with our leading journalists
Already have an account? sign in
Join our new commenting forum
Join thought-provoking conversations, follow other Independent readers and see their replies