Lance Armstrong dilemma: Liar and a cheat...but also an inspiration
THE LAST WORD: Armstrong is a good bad-news story. We, the media, were drawn to him like carrion crows, to the disgust of the peloton
Michael Calvin
Sunday 19 July 2015 10:28 Comments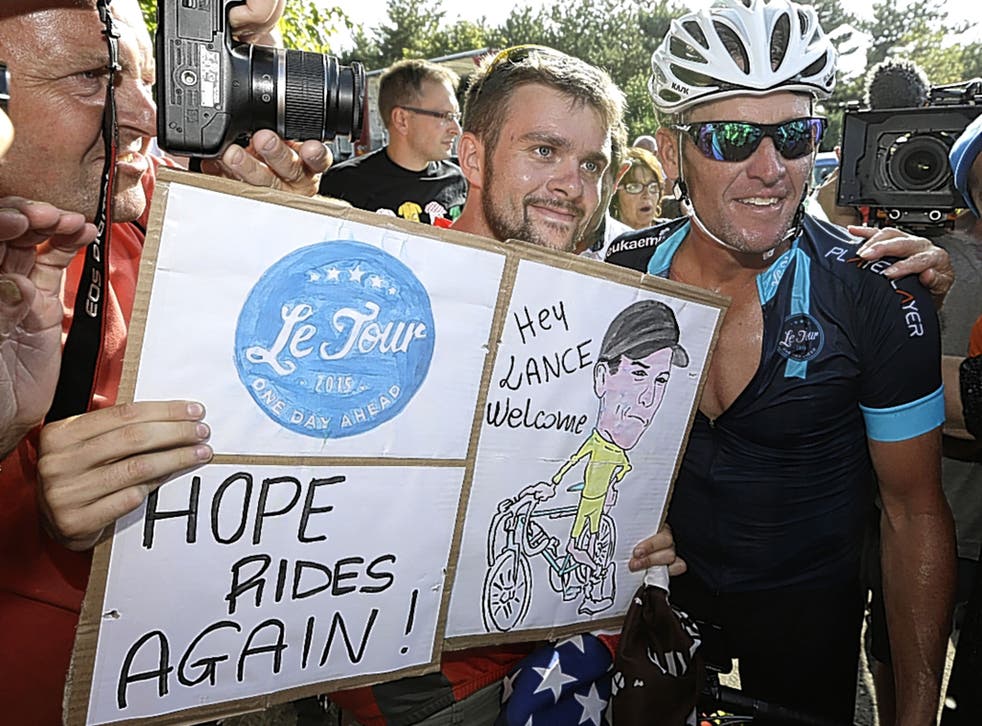 Lance Armstrong lied, cheated, intimidated. He was amoral, manipulative, vengeful. His contrition invites cynicism, and his bitterness remains corrosive. Judged by any standards of common decency, he has forfeited the right to forgiveness.
He is the ghost which refuses to rest, the spectre which stalks the Tour de France and by extension cycling, the sport he dominated for a decade and continues to divide. He seeks to rehabilitate himself through the ubiquity of drug use in the generation he represents.
Since Armstrong used his charity work for cancer to soften his image when he was attempting to wreck the lives of those who dared challenge his cover story, his two-day sojourn on the Tour route, as part of a fundraising ride for leukaemia research headed by the former England footballer Geoff Thomas, generated understandable suspicion.
Armstrong is a good bad-news story. We, the media, were drawn to him like carrion crows, to the disgust of the peloton. His asides about the legitimacy of Chris Froome were disingenuous and dangerous, since they will assist those who seek to undermine the British rider with innuendo and retrospective, pseudo-scientific analysis of performance data acquired in an unauthorised manner.
Tour de France 2015 - in pictures

Show all 13
Armstrong's legacy is sullen scepticism and mistrust of extraordinary achievement. Team Sky, dedicated to securing Froome's second Tour win, are unpopular because of the astringency of their approach. Punches have apparently been aimed by spectators at his team-mate Richie Porte.
Rationalising the issue is an acutely personal process. For what it is worth, I believe Froome is riding clean, a faith based on dealings with Sky's team principal, Sir Dave Brailsford, whose personal integrity is complementary to his professional rigour in exploring the boundaries of the rules in pursuit of marginal advantage.
I have never forgotten the look of horror in his eyes, or the timbre of his voice, when he shared his experience of being with David Millar when the latter was arrested by three plainclothes policemen from the Paris drug squad. If he was acting, in an attempt to influence debate, it was an Oscar-winning performance.
Since he operates in a manifestly imperfect world, Brailsford's belief in the power of Millar's eventual redemption begs an uncomfortable question. If Millar can be rehabilitated as an advocate for clean competition, why should Armstrong be denied the chance to pay his spiritual debts?
Sanctimony is a simple stance, because the depth of Armstrong's duplicity highlighted malignant aspects of his character. Instinctively, I have always argued for his exclusion from all aspects of sport to be a lifetime sentence. His pariah status is fully merited.
Yet, having articulated those thoughts on a radio show on Thursday night, something surprising happened, which offered pause for thought. Messages started coming through on social media from cancer survivors, who described him in heroic terms. They were simple, moving, testimonies of individuals who were inspired by him to live, despite the imminence of death. Others highlighted the importance of Livestrong, the charity from which Armstrong was forced to resign in disgrace, in providing fertility assistance for women prior to their cancer treatment.
These people were the human shields Armstrong used to protect himself from scrutiny. They had every right to be outraged, as victims of his callous expedience. Yet they professed his fundamental importance, as someone whose resilience in repeatedly beating cancer remains inspirational.
The use of performance-enhancing drugs shreds the fabric of sport, since it is the ultimate betrayal of a fellow competitor. But what is more relevant: Armstrong's seven tainted Tour wins or the millions who found in him a reason to believe?
There is no easy answer. Armstrong has aged rapidly under strain, but even if he loses everything as a result of court cases which leave him facing financial ruin, he will still have something left to give, through the power of his personality. Used constructively, for the common good, it is a gift. It may appal many, but it will also mean the world to some.
Bianchi's sad reminder
The news came through, with awful symmetry, at 2.22 Saturday morning. Jules Bianchi, the French Formula One driver, had died from head injuries sustained in a high-speed collision at last year's Japanese Grand Prix. His family spoke of "immense and indescribable" pain following the end of a nine-month vigil at his bedside, first at Suzuka, and latterly in his home town of Nice. He was 25.
At the start of the week, his father, Philippe, had spoken hauntingly of the inherent uncertainties of the coma into which his son had descended. Jules occasionally grasped the hand of those standing next to him, but no one knew whether it was a conscious act or an involuntary reflex action.
Only those who grieve have the right to make a judgement call on whether death was a merciful release. The sport which enshrined Bianchi as a promising Ferrari protégé is paying due homage to its first fatality in 21 years. Formula One has sought to learn the lessons of his accident, in which he careered into a mobile crane seeking to remove Adrian Sutil's Sauber, which had crashed one lap earlier in murky, wet conditions.
Certain races now start earlier, to ensure optimal light. Stewards have the option of allowing a "virtual safety car" to oblige cars to proceed slowly to the pit lane. Everyone has been reminded of the limits of mortality, which are too often disguised by technology.
Woods must light the way
The symbolism of Tom Watson being guided home by the lights of the R&A clubhouse was irresistible. The grace and dignity with which he sloped off to the endless 19th mirrored his enduring contribution to a game which reveals character and revels in tradition.
Watson's place in the pantheon is assured but what, one wonders, awaits Tiger Woods when he makes that last, long walk? Respect, undoubtedly, even though it is currently diluted by sympathy. The level of admiration may ultimately depend on the authenticity of his response to adversity.
Register for free to continue reading
Registration is a free and easy way to support our truly independent journalism
By registering, you will also enjoy limited access to Premium articles, exclusive newsletters, commenting, and virtual events with our leading journalists
Already have an account? sign in
Join our new commenting forum
Join thought-provoking conversations, follow other Independent readers and see their replies