Lance Armstrong banned from any official or guest role by Giro d'Italia after announcing plan to travel to Israel
The disgraced former cyclist's settlement with the US government and whistleblower Floyd Landis means he is freed up to attend the Giro next month as well as the Tour of California
Jack de Menezes
Tuesday 24 April 2018 09:26 Comments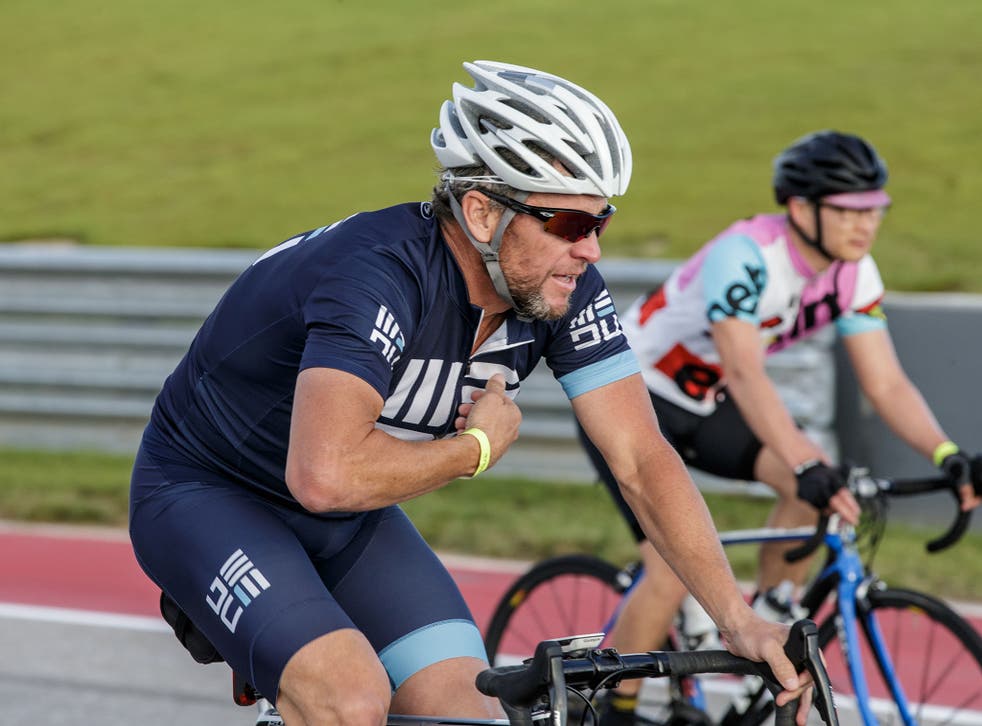 Lance Armstrong will not be allowed to be accredited as a guest or podcaster at the opening stages of the Giro d'Italia after announcing his plans to travel to Israel for the Grand Partenza, having reached a settlement deal with the United States government and former teammate Floyd Landis over the 'whistleblower' lawsuit.
The disgraced former cyclist agreed to pay the US government $5m and $1.65m to Landis after being accused of "actively concealing the [US Postal Service] team's violations of the agreements' anti-doping provisions".
Following the settlement, Armstrong revealed plans on his 'The Forward Podcast' to travel to both the opening stages of the Giro d'Italia in Israel and also the Tour of California, where he will record his cycling podcast.
But Cyclingnews have revealed that Armstrong will have any accreditation request rejected due to his lifetime ban from cycling for doping, which saw him stripped of all seven Tour de France titles in what remains the biggest scandal ever seen in cycling.
"Lance Armstrong has not been invited by the organisers of the Giro d'Italia," RCS Sport told Cyclingnews in a statement. "Because he is banned by the UCI means he cannot have an official role at a UCI sanctioned event and cannot be accredited by the organisation."
However, despite his lifetime ban from the sport, Armstrong will be allowed to watch the race from the side of the roads as organisers have no jurisdiction over regular viewers outside of the Giro's designated watching areas.
The statement added: "Anyone can watch a race from the roadside outside of the official areas. The direction of the Giro d'Italia has no comment about Armstrong' past or present in cycling."
Armstrong was expected to spend the majority of next month in a Washington DC courtroom as part of the lawsuit, with 50 witnesses due to provide information about his doping activities before and after he was diagnosed with cancer. However, the settlement – which is "neither an admission of liability by Armstrong nor a concession by the United States or Relator that their respective claims are not well founded" according to the agreement – means that he will be free to travel to the two cycling tours scheduled to take place in May and continue to record his podcast, which he announced in its most recent episode that he plans to give more attention to.
"The chance to go to a place like Israel to cover an iconic event like the Tour of Italy is insane," Armstrong said.
The lifetime ban given to Armstrong by the United States Anti-Doping Agency [Usada], which has been confirmed by the Union Cycliste International [UCI] means that the Texan is not allowed to work for either tour in any official capacity.
Register for free to continue reading
Registration is a free and easy way to support our truly independent journalism
By registering, you will also enjoy limited access to Premium articles, exclusive newsletters, commenting, and virtual events with our leading journalists
Already have an account? sign in
Join our new commenting forum
Join thought-provoking conversations, follow other Independent readers and see their replies