Marcel Kittel selfie: David McCarthy apologises for taking picture with collapsed cyclist
McCarthy's selfie resulted in a storm of criticism over his actions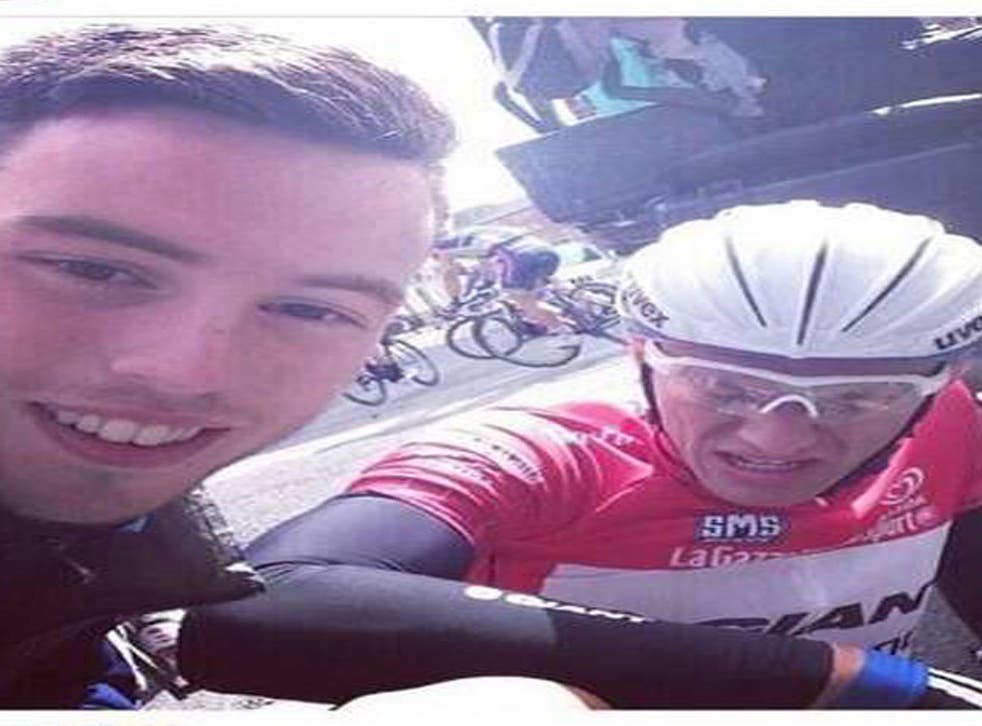 A junior cyclist has apologised for taking a selfie with German sprint specialist Marcel Kittel when he collapsed to the ground with exhaustion immediately after his Giro d'Italia stage win in Dublin.
David McCarthy faced a barrage of criticism after posting the picture on his Instagram account, with the caption: "Kittel collapsed after the line today so instead of giving him a hand up I took a selfie".
After taking the picture McCarthy, a member of the Nicolas Roche performance team, found himself in the midst of a twitter storm, which included an unimpressed tweet from Irish star Nicolas Roche himself.
Roche appeared to soften his view on the photo however, later adding: "He is a nice kid. He has just send me this post to tweet" followed by a picture of the apology.
McCarthy's message reads: "To Marcel and the people I offended by taking the selfie I apologise. I did not think the photo would cause such hate towards me and cause offence.
"I got excited after the finish to see Marcel and wanted a photo and in hindsight looking back I understand the time and place was complete wrong. My sincere apologies."
Kittel replied over Twitter: "Guess you learned your lesson. So did I when my Grandma found me playing with fireworks next to our barn full with dry hay. Oh and remember: social media can be mean… ;)".
Register for free to continue reading
Registration is a free and easy way to support our truly independent journalism
By registering, you will also enjoy limited access to Premium articles, exclusive newsletters, commenting, and virtual events with our leading journalists
Already have an account? sign in
Register for free to continue reading
Registration is a free and easy way to support our truly independent journalism
By registering, you will also enjoy limited access to Premium articles, exclusive newsletters, commenting, and virtual events with our leading journalists
Already have an account? sign in
Join our new commenting forum
Join thought-provoking conversations, follow other Independent readers and see their replies