Sir Chris Hoy defends British Cycling against 'upsetting and sad to read' bullying accusations
Hoy acknowledged that British Cycling has fallen short in several areas, but has claimed that he does not recognise allegations of bullying from his long racing career
Matt Slater
Friday 07 April 2017 14:11 Comments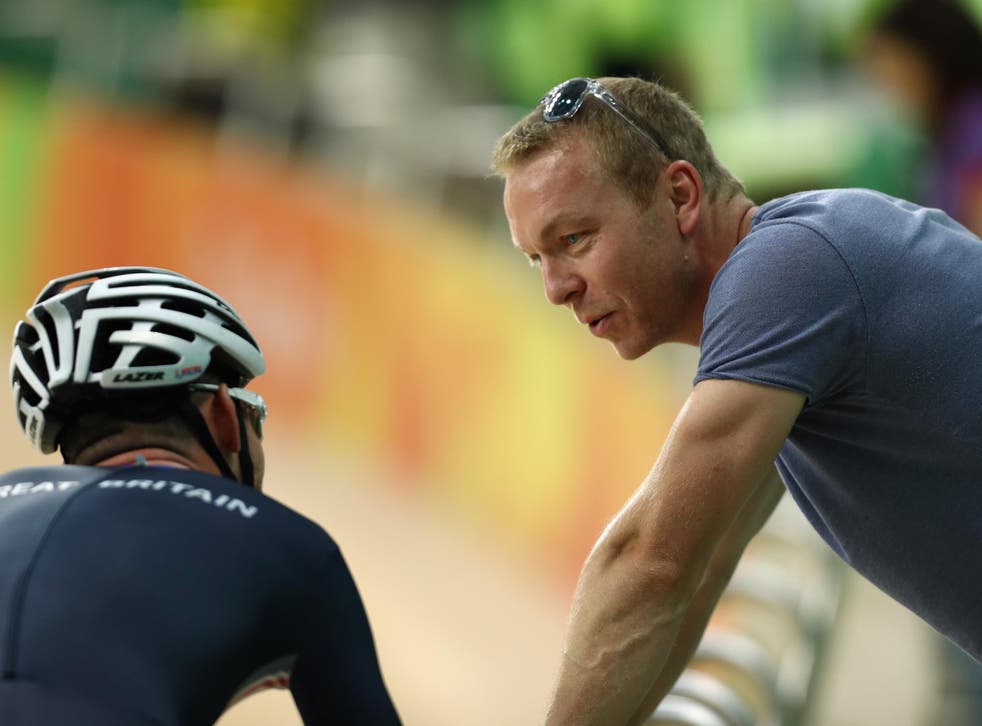 Sir Chris Hoy has described the allegations of bullying and discrimination at British Cycling as "upsetting and incredibly sad to read" but has claimed he does not recognise them from his long racing career.
The 41-year-old Scot was part of the Great Britain cycling squad from 1995 to 2013, winning six Olympic gold medals and 11 world titles as British Cycling's Manchester base became known as 'the medal factory'.
But the headlines have been less impressive over the last year as UK Anti-Doping has strongly criticised British Cycling's medical record-keeping and an independent review has investigated the sport's "culture and climate".
That review was sparked when former GB rider Jess Varnish accused ex-technical director Shane Sutton of sexism last April, with several other former riders coming forward with similar claims.
But in a statement posted on his personal website, Hoy wrote: "I've sat by and watched the media reports unfold regarding the serious allegations relating to the treatment of riders within the team.
"It's upsetting and incredibly sad to read, but I feel bound to say, these are not experiences I recognise from my time at British Cycling.
"It feels terrible to think that anyone has ever experienced bullying or discrimination during their time with British Cycling.
"Hundreds of riders have come through the system over the past 20 years. As members of the British Cycling squad, we've all had the same network of support around us. Clearly a small percentage of the team felt that support didn't meet their expectations at all times during their careers.
"Each and every one of those riders has the right to be respected and for their grievances to be heard. Every organisation has a responsibility to stamp out bullying and/or discrimination.
"I believe this very public mud-slinging and media coverage has been sensationalised in many ways, however one very important upside is that those riders know they are now being listened to."
He continues by acknowledging British Cycling has recognised it has "fallen short in a number of areas" but points to the announcement of a 39-point action plan to improve athlete and staff welfare as a big step in the right direction.
"This will not only protect the riders but must equally importantly also protect the coaches and support staff too, whose own reputations have been damaged irreparably over the past 12 months," he wrote.
"Some may argue (it is) too little too late, but even for those who did feel let down by British Cycling in the past, it's encouraging to know that British Cycling is now engaging with those riders. I don't doubt for one second that every single person involved in this process has the interests of our sport at heart."
Hoy's intervention comes as the wait for the publication of that independent review enters a fifth month.
A draft version, which was completed before Christmas, was leaked to the Daily Mail last month and it was scathing in its criticism of the coaching culture within the GB team and British Cycling's leadership.
But since that version emerged several former riders, of whom Hoy is only the latest, have spoken out to reject the idea that British Cycling obsessed about medals to the detriment of athlete welfare or that its coaches were bullies, sexist or biased against para-cyclists.
The vast majority of those riders, however, did not respond to the independent review's request for contributions, although it is understood that Hoy did and was surprised to read that his views were not represented in the leaked draft report.
Register for free to continue reading
Registration is a free and easy way to support our truly independent journalism
By registering, you will also enjoy limited access to Premium articles, exclusive newsletters, commenting, and virtual events with our leading journalists
Already have an account? sign in
Join our new commenting forum
Join thought-provoking conversations, follow other Independent readers and see their replies