Sir Dave Brailsford: British Cycling performance director credited with successes at 2008 and 2012 Olympics steps down to focus on Team Sky
Brailsford has overseen Great Britain's most successful ever period in cycling but will now focus on his Team Sky and Tour de France commitments
Robin Scott-Elliot
Friday 11 April 2014 16:24 Comments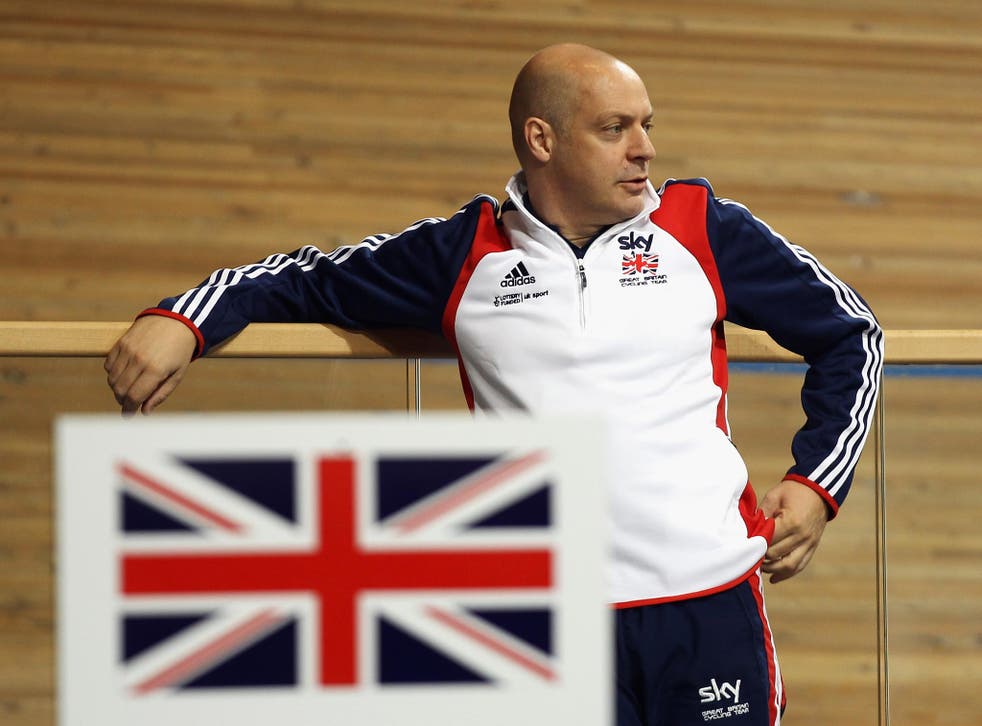 Sir Dave Brailsford has stood down as head of British Cycling, ending one of the country's most successful sporting tenures. The 50-year-old Welshman has decided to focus exclusively on his role in charge of Team Sky as they seek a hat-trick of Tour de France titles this summer.
Brailsford oversaw a decade of unprecedented success for British Cycling, including winning eight gold medals at the Beijing and London Olympics. Allied to his success in creating Team Sky and then steering Bradley Wiggins to Britain's first yellow jersey and then Chris Froome to another last year, it has established Brailsford as one of this country's leading sporting figures.
But the demands of juggling his performance director's post with being principal at Sky has finally proved too much. Britain's men struggled through a grim track world championships in Colombia, the worst of his time in charge. Brailsford did not make the trip to Cali and Shane Sutton, his longtime No 2 and now his successor, was forced to defend Brailsford's role.
Britain's failure at the worlds led to British Cycling conducting an internal review and Brailsford has decided to concentrate on his role with Sky – there remains a sizeable crossover between the two organisations – with Sutton taking on the role of preparing the national team for the Rio Games two years from now.
"This is a big step but it is the right decision for the team and for me," said Brailsford. "Since London 2012, we have worked hard on succession planning and that has meant we've got to a point where I can move on, knowing the team will go from strength to strength.
"I'll still be available for support if they need it and my role at Team Sky will mean we'll still work closely and support the aims of British Cycling."
Sutton, formerly head coach, has been appointed Technical Director while a new Head of Performance Support will be sought to assist Sutton. Steve Peters will also step down as the team's psychiatrist. Peters, another key figure, has been gradually cutting his workload at the Manchester Velodrome as he takes on more opportunities elsewhere, notably with Liverpool and England. A statement from British Cycling said Peters will "support the development and implementation of a new support system for the team in this area before his departure."
One of Brailsford's strengths was the appointments he made around him, although a number of key men have left since London. Matt Parker went to work with Stuart Lancaster, an acknowledged admirer of Brailsford's methods, at the Rugby Football Union and Dan Hunt joined the Premier League – although Hunt has already been linked with the new position back at British Cycling. There has been the increasing sense of looming change at British Cycling, and the end of an incredible era, with Sutton saying that he felt the set-up needed freshening up and suggesting a more "hands-off" role for himself.
They are huge shoes to fill. Brailsford joined British Cycling in 1997 and took over as performance director when Peter Keen, who was to oversee UK Sport's successful blueprint for the London Games, left in 2003. It was Brailsford who appointed Peters and along with Sutton the trio revolutionised the sport and made Britain the world's track cycling powerhouse through the likes of Chris Hoy and Wiggins.
The success continued with Sky, overcoming a difficult first year, to see Wiggins take yellow in 2012 – Brailsford's recruitment of Tim Kerrison, an Australian swimming coach, to work with Wiggins was another example of his unique ability to spot talents that could be transferred to his sport. Froome is set to lead the bid for a third win in this year's Tour which begins in Yorkshire and with Sky's focus also broadening across the road season it has become impossible for Brailsford to juggle the two top jobs in British cycling any longer.
"I have some extraordinary memories – not just from Olympic Games and World Championships but also just day to day seeing cycling go from a fringe activity to a mainstream sport," said Brailsford. "I've always said that, more than any of the medals, the transformation of cycling in Britain is the single thing I'm most proud of having helped achieve."
Register for free to continue reading
Registration is a free and easy way to support our truly independent journalism
By registering, you will also enjoy limited access to Premium articles, exclusive newsletters, commenting, and virtual events with our leading journalists
Already have an account? sign in
Join our new commenting forum
Join thought-provoking conversations, follow other Independent readers and see their replies