Tour de France 2014: Brian Robinson - the Tyke of the Tour who blazed the trail for British cycling on the Continent
Brian Robinson was the first UK rider to finish the Tour de France. He tells Alasdair Fotheringham it is fitting the race is coming to his native Yorkshire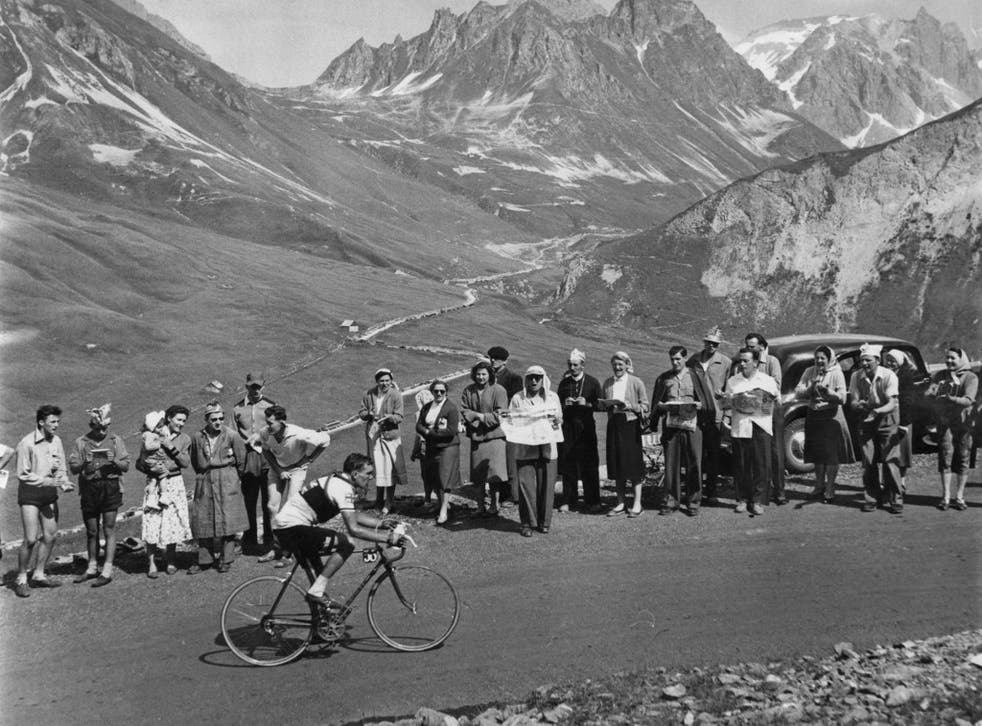 When the Tour de France kicks off in "God's own country" this July, the most important homage it can possibly pay is to an 83-year-old former pro living in the small Yorkshire town of Mirfield who blazed the trail for British cycling on the Continent half a century ago.
Before Brian Robinson finished 29th in 1955, no Briton had completed the Tour de France or made even a minor impact on racing on mainland Europe - and only two had tried. Tony Hoar also finished the '55 Tour, in last place, but Robinson was the only GB rider to race cycling's blue riband event the following year - and for a further six - and he was the first British Tour stage winner, too.
Mild-mannered and quietly spoken, Robinson's pioneering spirit is not immediately obvious. But former team-mates have often paid testament to his steely inner drive and as Robinson tells me when we share a pot of tea in his front room of his Yorkshire home, as soon as he was in his late teens racing abroad and the Tour had become a firm objective.
"My brother Desmond was also a racer and in the early 1950s he'd been over to the Continent in a training camp held for top amateurs by Simplex [a components company]," Robinson says. "When he came back with stories of what it was like and glossy French magazines full of pictures of cyclists I was hooked."
The gulf between cycling on the Continent and in Britain at that time cannot be overexaggerated. A complete ban on stage racing until 1942 meant the speciality was still in its infancy in the UK in the Fifties - Robinson himself recalls racing round airfields in Britain - and most British riders focused on the country's bulging calendar of time trials.
Add in cultural, geographical and linguistic divides, not to mention a lack of funds, and taking part in events like the Tour de France or the Classics was simply not done by British riders.
Thus, Robinson and the nine other members of the GB team were taking a massive step when they rode in the '55 Tour. This breakthrough was due to an invitation that only materialised, Robinson believes, as "the result of a drunken night somewhere, maybe the World Championships", when the Tour organisers generously handed out invites to small fry like Great Britain.
Coming from an inexperienced cycling nation, as Robinson graphically put it in an interview a few years back, "we were riding on the britches of our backsides. We just read all we could, learnt what we could before we went. There was nobody with any experience of racing at that level in our country."
"This [the UK] was one world, and that [the European racing scene] was another."
Robinson had a head start in some ways. He had taken part in the Route de France, a top amateur stage race, in 1952. "We were like little lads amongst big men, it was a real learning curve... a couple of pairs of shorts each and no equipment," he recalls. "But barring one lad who bust his spleen, we got through.
"It wasn't just like a step up from what we knew in Britain, though: they were so fast, it was more like going up an entire storey of flats."
While an exceptionally hot summer in 1955 led several of his team-mates to abandon the Tour with heat exhaustion, others fell victim to poor tyres and a never-ending series of punctures. Robinson's own biggest problem, he tells me, was not physical, or technical but the hullabaloo surrounding the race, something he didn't experience when he practised on the roads across the Dales that the Tour will use this summer. "It was the noise," he says. "People running alongside you and yelling and screaming in the mountains stages, that was very hard. 'Boom-boom-boom' in your head. You don't get that in the Yorkshire Dales - although you might this summer."
There was a huge degree of uncertainty in the British camp about how far each of them could get in the race, given none of them had ever raced more than a week. "Each night, we'd be looking at each other round the dinner table, wondering who would go [abandon] next. We were like the 10 green men, hanging on the wall. The uncertainty was the worse."
But when Robinson rode into Paris, one of two British finishers, he had no sense, he says, of making history. "It was a job to do, and you got on with it. The better you did it, the better you got paid," he says.
For the record, this was £20 a week plus expenses in 1955 - far less, in relative terms, than he would make as a Sky rider now, but still better than the £12 13s 6d he would have got as a builder, his winter job.
Robinson's 29th place was good enough for him to return alone to race a full season on the Continent the next year, and an eighth place in the Tour of Spain gained him a spot in the 1956 Tour in a squad made up of mixed nationalities. He secured his highest finish, 14th, and from then on until 1961 Robinson never missed a Tour.
Stage win No 1 for Robinson, and for Great Britain, came in the most roundabout of ways after he found out over dinner one night in 1958 that the rider who had finished ahead of him that afternoon - and initially won the stage - had been disqualified.
"It was disappointing to take it like that, although I put that right the next year," - with his second stage victory. But while aware he was steadily opening up a new, much more prestigious, category of racing for Britain, Robinson says again: "Winning that stage didn't make me think it was special for my country, I wasn't that patriotic. It just meant my money was a bit better the following year."
The second victory, however, in 1959, was taken in style. "It was a classic stage for a rider like me to win," he recalls. "I knew the favourites would be saving their strength for a time trial the following day and I made sure I had everything prepared as best I could." This came right down to a special light bike and wheels "which nearly punctured on one rough descent, but I got through".
Living on the Continent for seven or eight months a year, with wages comparatively low for most riders, at one point he had to sell his car in order to continue racing. "But I never got homesick," he says proudly. "I never missed Yorkshire pudding, though the first thing when I got home each autumn was to go down the fish and chip shop."
After retiring in 1961 he went back to building and, as he puts it, in terms of his cycling achievements, "I got buried for 40 years. Once I retired, there was no publicity about cycling, particularly for guys whose careers were finished.
"Now [with the Tour start in Yorkshire] whenever I go to the supermarket, it's: 'Hello, Brian.'"
Thanks to Robinson, the British trail to European cycling, in any case, was blazed. By the time he completed his Tour racing, little groups of British riders inspired by his example were crossing over to the Continent to try their luck, although a Tour win itself, by Sir Bradley Wiggins in 2012, would have to wait for another half-century.
Is he proud of what he achieved? He looks almost embarrassed at the suggestion but then says: "Yes, I am." And while no one would dispute that the sport was much harder back in his day, he is delighted at what Britain's cyclists have achieved since his time.
"I'm pleased they've got so far, really pleased. We've evened things out now, although it's taken us 60 years. The conditions may be better, but it's still bloody hard riding a bike, no matter what's behind you. The moment of truth is still there, you've got to ride your bike."
So says Britain's first Tour de France hero.
Join our new commenting forum
Join thought-provoking conversations, follow other Independent readers and see their replies