Tour de France 2015: Chris Froome feels in fine form to win Tour's battle of the 'galacticos'
This year's race is widely seen as a fight between the Big Four but Briton says he is not feeling the pressure
Alasdair Fotheringham
Friday 03 July 2015 23:58 Comments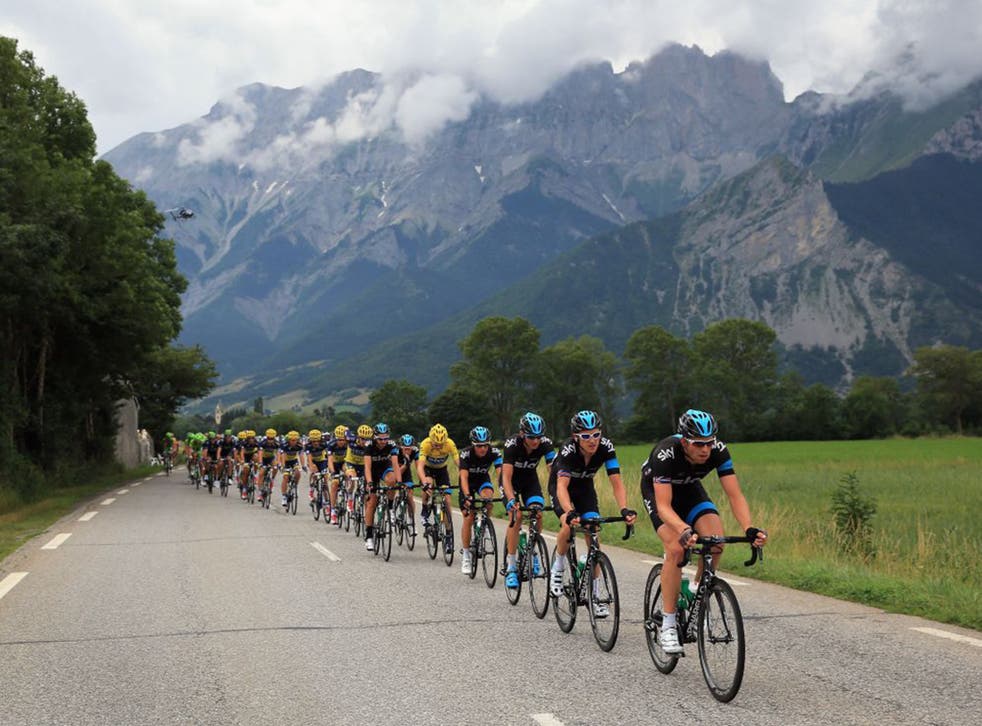 Just hours before he was to roll down the start ramp of the opening Tour de France time trial here, British contender Chris Froome insisted he is in "perfect condition" to fight for his second title in cycling's flagship event.
The runner-up in 2012, and the winner in 2013, the 30-year-old Team Sky leader recognised in Friday's pre-race press conference that what he called "the journey" to top condition "started a year ago" when he crashed out of the 2014 Tour's first week in dramatic style.
One advantage compared to 2014 was born out of that misfortune, he argued, in that as he was no longer defending champion, he felt under considerably less pressure: "It's a big factor in how I'm feeling… I've got everything to race for in this year's Tour."
Another consequence is rather than a single standout favourite, as Froome was in 2013, the 2015 Tour sees Froome take on the other three members of the Big Four or "galacticos" – as some have dubbed them – of Vicenzo Nibali, last year's winner, Alberto Contador, the recent winner of the Giro d'Italia and the Colombian climber Nairo Quintana on more or less equal terms.
None of the top names lack chinks in their racing armour, however. Froome's recent victory in the Critérium du Dauphiné, the crucial warm-up race for the Tour, theoretically places the Briton in pole position for this Tour, just like when he won the Dauphiné in 2013. Yet his uneven 2014 season and equally patchy start to 2015 makes the Briton less of a safe bet than in 2013, when he seemed so certain to step up to the plate – and duly did so – after finishing as runner-up to his team-mate Sir Bradley Wiggins in the Tour the year before.
With such a hard-fought, tense battle likely to ensue in 2015, every second could count by Paris, starting with those garnered in the short opening time trial in Utrecht.
The best images from the 2014 Tour de France

Show all 53
"It's certainly a starting point, it's just under 14 kilometres, but there can be time gaps of up to 20 seconds, it's important," said Froome, who certainly has personal experience to back up that particular claim, given he lost one Grand Tour, the 2011 Tour of Spain, by just 13 seconds.
There is also the question of how Froome will handle the Tour's first week, which is likely to be even more nerve-shredding than in 2014. Froome may be vulnerable on stages like tomorrow's run along the exposed coastal roads of the Netherlands – the same kind of flat, open, terrain where he needlessly lost a minute to Contador when the Tour peloton split in the crosswinds in the 2013 Tour.
Monday's summit finish at the Mur de Huy in Belgium, a short, punchy and ferociously steep climb where positioning is crucial, could be even more challenging and Tuesday's stage across the cobbled back roads of northern France may put Froome, who crashed out on the equivalent stage last year, at risk of losing time.
By common consent, the favourite most at home in such an arduous first week, widely compared in its difficulty to a non-stop series of one-day "Classic" races, will be defending champion Vincenzo Nibali. The Italian seized both the stage and the Tour lead on hilly, technical terrain at Sheffield last year, similar to stage three's trek through the northern Belgian Ardennes. Then on last year's stage five, which again featured a fair share of cobbled back lanes, Nibali managed to gain time on all the other favourites.
"I wouldn't settle for a second place in Paris now but in Italian cycling, you have to go back to [1924-1925 winner Octavio] Bottechia to find an Italian who won two Tours in a row, which makes you understand how difficult it is to win the Tour de France," the ever-cautious Nibali argued yesterday. "We're here to seize our opportunities, [but] you have to take this Tour day by day."
Froome and Sky have done their utmost to minimise the risks in the first week. The Briton is surrounded in the Tour by a phalanx of Sky's Classics experts, including Welsh all-rounder Geraint Thomas, Londoner Ian Stannard and Tour rookie Luke Rowe, eighth in this year's Paris-Roubaix. Froome also took part in this year's Flèche Wallonne, a one-day race in April with an identical finale and ascent of the Mur de Huy to the 2015 Tour's stage three, partly to check out the ground for July – although, unfortunately, he ended up crashing late on. That did not stop him, though, from checking out the cobbled sections of the 2015 Tour's stage four in nearby northern France the following day.
When the race hits the Pyrenees in the second week on stage 10, Froome will arguably be on more solid ground. But so, too, will Quintana and Contador, both of whom took part in their last warm-up race in the Pyrenees, the Route du Sud, just two weeks ago – with a narrow victory for the Spaniard against the Colombian. Then after a rapid three-day trek across to the Alps, a further four Alpine summit finishes await the riders, where Froome – and his most talented climbing challengers – could shine again.
Froome's supporters would argue that the Kenyan-born Briton won the 2013 Tour de France by hammering his rivals (including Quintana and Contador) on the mountain stages and that after defeating Nibali on the climbs of the Critérium du Dauphiné, it will be the other contenders, not Froome, who could be in trouble when the road steepens.
This, though, is precisely where the whole interest of the 2015 Tour's battle for the overall classification lies. While Froome had more than the measure of the opposition in the 2013 Tour, his crashing out of the race in 2014 has led to the number of potential contenders mushrooming. This year, with an extra complex route, the plot has thickened even further.
"I hope there'll be a lot of suspense in this year's Tour, the parcours has no more mountains than usual, but the mountains are really packed into one area," the race's director, Christian Prudhomme, points out.
"It's a 'two-part' route with two very different segments, plus the Big Four [contenders] are all very good climbers, so that gives them a lot to play for – just like in 2012 when we had a route with a lot of great time trials and a great time trialist [Sir Bradley Wiggins, Tour winner] too.
"We're always hoping for a showdown right the way through… It's good we have riders like Contador and Nibali. They are attackers who ride on their nerves, who are strong tactically and will go for it anywhere.
"The race is a lot more open, it's not just a two-horse event," pointed out Froome. "Instead, this is going to be a Tour where once we're up in the mountains, you can't just watch one guy, there are eight possible contenders you've got to watch and whom you'll have to follow if they attack. This is going to be a much more contested race than other Tours – and that's going to be one of the beautiful things about it."
Brailsford says Team Sky will protect leader during opening week's challenging stages
Team Sky riders have been primed to protect Chris Froome through the first nine stages of the Tour to avoid a repeat of his crashes in last year's race and see him safely though to the mountains.
Froome was forced to abandon last year's fifth stage after breaking his hand and wrist in three falls in 24 hours, and this year's opening week appears even more treacherous, with one cobbled stage, three short but sharp uphill finishes and a threat of crosswinds on coastal stages all awaiting the riders.
Sky's general manager Sir Chris Brailsford told Sky Sports: "The first half of this race, the first nine stages, are going to be very challenging. They are more like one-day Classic races than a traditional stage race.
"Everybody in the race knows you have to stay out of trouble, you don't want to crash, and all the teams will be trying to ride at the front of very narrow roads. They will all be skirmishing to try to get those front positions, which is inevitably dangerous.
"The thing is to be ready and willing to use maybe a little bit more energy of our helper guys to keep Chris well-positioned and out of trouble and get him through the first week."
Can Froome win again? Tour pros and cons
Three things in his favour
1 Chris Froome is coming into Tour form exactly on time, winning the Critérium du Dauphiné, the Tour's key warm-up race, last month, but not, crucially, by destroying the field. Rather, he had room for further improvement.
2 In Sky, Froome has the strongest Tour team, designed to protect him when he is most vulnerable, on the cobbled roads of stage four, and for the big climbs. The team time trial, where they flopped recently in the Critérium, is the only doubt.
3 Froome has beaten all his main rivals before in the Tour – Vincenzo Nibali in 2012, Alberto Contador and Nairo Quintana in 2013.
Three things against him
1 The Tour's first week features stages with cobbles, crosswinds and short, sharp, uphill finishes and is set to be one of the tensest of recent years. It is potentially a nightmare for someone with Froome's inexperience in Classics racing and his crash-prone past.
2 Quintana was able to beat him twice in the third week of the 2013 Tour, and the Colombian climber is even stronger now. Froome and Quintana have barely crossed swords this year, but Quintana will be in his element on such a mountainous course.
3 After his dream 2013 season, Froome had a roller coaster 2014 – and this year has been more of the same. Ideally, he will have improved since the Critérium. But if he hasn't..?
Register for free to continue reading
Registration is a free and easy way to support our truly independent journalism
By registering, you will also enjoy limited access to Premium articles, exclusive newsletters, commenting, and virtual events with our leading journalists
Already have an account? sign in
Join our new commenting forum
Join thought-provoking conversations, follow other Independent readers and see their replies