Tour de France 2015: Geraint Thomas hitting the heights as new Chris Froome
Team Sky are keeping it under their helmets but the Welshman is busy moving mountains to become next British contender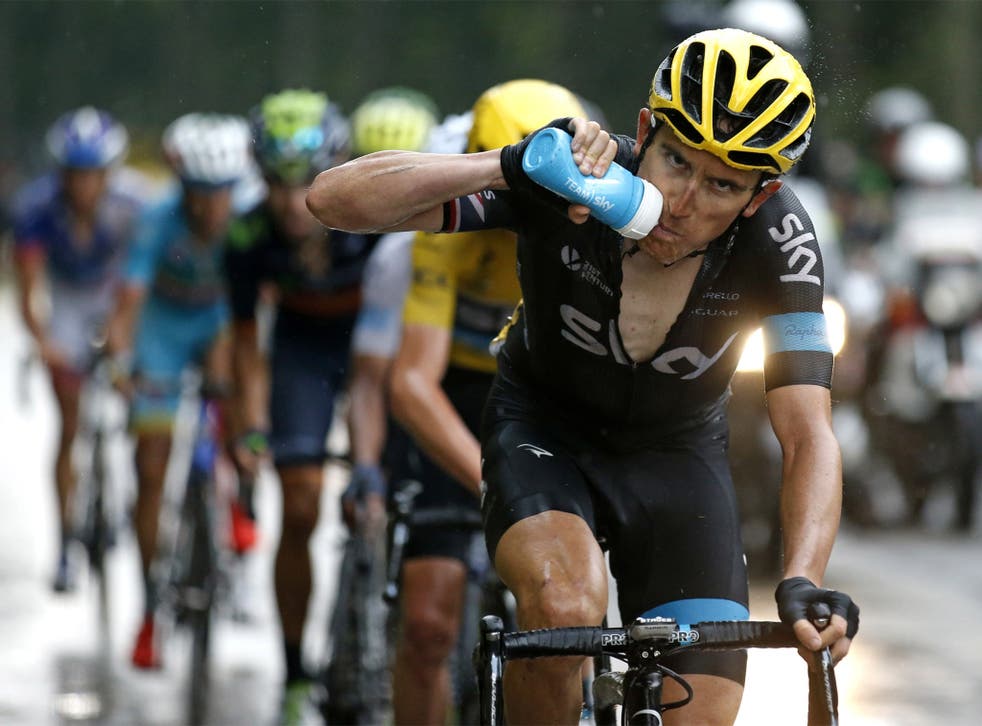 Last week, Tour de France leader Chris Froome let slip an intriguing idea – that Sky team-mate Geraint Thomas, arguably his key domestique in this year's race, might even go on a mountain attack on his own account.
There are only four days to go to Paris now, and with Froome leading and Thomas in sixth place overall, for the 29-year-old Welshman to make his own challenge for success would probably be little more than a diversionary tactic.
But in the future, could Thomas contend for victory in a Grand Tour? As Sky's team manager, Sir Dave Brailsford, put it at the start of the Pyrenees, the chances that Thomas could one day vie for that kind of success are increasingly likely. There is rising speculation that Thomas could succeed Froome as the team's Grand Tour contender.
The departure of Sky's long-standing "Plan B" for Grand Tours, Richie Porte, at the end of this season is another argument in his favour. And for all that Sky are preaching caution, with Thomas passing every mountain challenge in this Tour so far with flying colours, his future as a general classification (GC) rider looks increasingly plausible.
"The good thing is he's really enjoying the Tour this year, gaining more and more confidence," Sky's performance manager, Rod Ellingworth tells The Independent. "He's doing so well and to see him moving on like this, fair play to him – he's worked flipping hard for it."
Ellingworth emphasises that Sky's Plan A, B and C for this Tour is all about Froome, but points out that Thomas has got the chance to progress even within that context. And that, in turn, will provide serious indications of what Thomas can achieve in future.
"Everybody's come here to ride for Froome, and Geraint is not going to have protected rider status. I don't think for a second Geraint wouldn't work for Chris, he'll jump on the hand grenade if needed, and that's his attitude all the way. But at the end of the day, when they're riding so well, they will stay up there for GC."
Ellingworth is at pains not to put pressure on Thomas, as he builds to what would – if he maintains his sixth place – by far his best performance in a Grand Tour. Apart from anything else, Ellingworth warns that unforeseen obstacles and rivals can arise at any point. And not all are of the two-legged kind, either.
"We're taking it day by day with him, I don't think you can or should do more. There's the physical side of it, but there's all the other stuff, like those cows" – who wandered across the road in a Pyrenean descent last week, almost taking out two riders. So you never know. But the good thing is he's really enjoying it. And they're all fighting together."
A week ago, when Thomas was asked if he could be going for the podium in this Tour, he strongly denied it. And he continues to rule that out. But even he could not deny that he has been climbing more strongly than ever in this year's race and, after a narrow escape from injury when he crashed on Monday's dangerous downhill, fortune has also been on his side.
"I am pretty surprised to be where I am, sixth after everything that's happened, the crash and so on," Thomas said. "It's fantastic individually to be there.
"The Pyrenees went really well for me, and I said coming into here that I wanted to keep improving on the climbs, be there towards the finishes for Froomey, and I certainly have done that. My confidence and morale are really high, I'm feeling good, you know Froomey's feeling good and that spreads within the team. Everybody rides off that."
But if Thomas appears to be the rider most inspired by Froome, that was not what sparked him to dedicate himself more fully to the road. As he told the BBC, it was seeing Sir Bradley Wiggins – who like Thomas focused on the track in the early part of his career – winning the Tour in 2012 that spurred the younger rider on.
A hugely gifted double Olympic gold medallist on the track, he certainly seems to have Wiggins' versatility as one of his strongest characteristics – or perhaps even more. Wiggins and Thomas are both talented time trialists and week-long stage racers. But if Wiggins has a vastly superior palmares, the latter has already outstripped the Londoner in one area: one-day racing, taking Sky's biggest Classic win to date, at the notoriously difficult E3 Harelbeke in Belgium.
Thomas has been with the Sky team since their inception in 2010, and part of the British Academy for track racing in the early noughties, and Ellingworth says: "He's been right through our system, he's done a bloody good job, and we're very proud of him." At this rate, there will be even more reasons to be so – only this time on the roads of the Tour de France.
No doubting Thomas: Geraint's career
Born 25 May 1986, Cardiff
2007 Makes Tour de France debut, finishing 140th riding with Team Barloworld
2008 Takes team pursuit gold at Beijing Olympics
2010 Wins National Road Race Championships
2011 Finishes top of points classification in Tour of Britain
2012 Again wins team pursuit gold at London Olympics
2014 Commonwealth road race gold and time trial bronze. Finishes 22nd in Tour de France
Register for free to continue reading
Registration is a free and easy way to support our truly independent journalism
By registering, you will also enjoy limited access to Premium articles, exclusive newsletters, commenting, and virtual events with our leading journalists
Already have an account? sign in
Register for free to continue reading
Registration is a free and easy way to support our truly independent journalism
By registering, you will also enjoy limited access to Premium articles, exclusive newsletters, commenting, and virtual events with our leading journalists
Already have an account? sign in
Join our new commenting forum
Join thought-provoking conversations, follow other Independent readers and see their replies