Tour de France 2015: Sky release Chris Froome data in an attempt to silence doping claims
The speculation surrounding the race leader has partly arisen from the hacking and wildly varying interpretations of some of his data documents
Alasdair Fotheringham
Wednesday 22 July 2015 16:12 Comments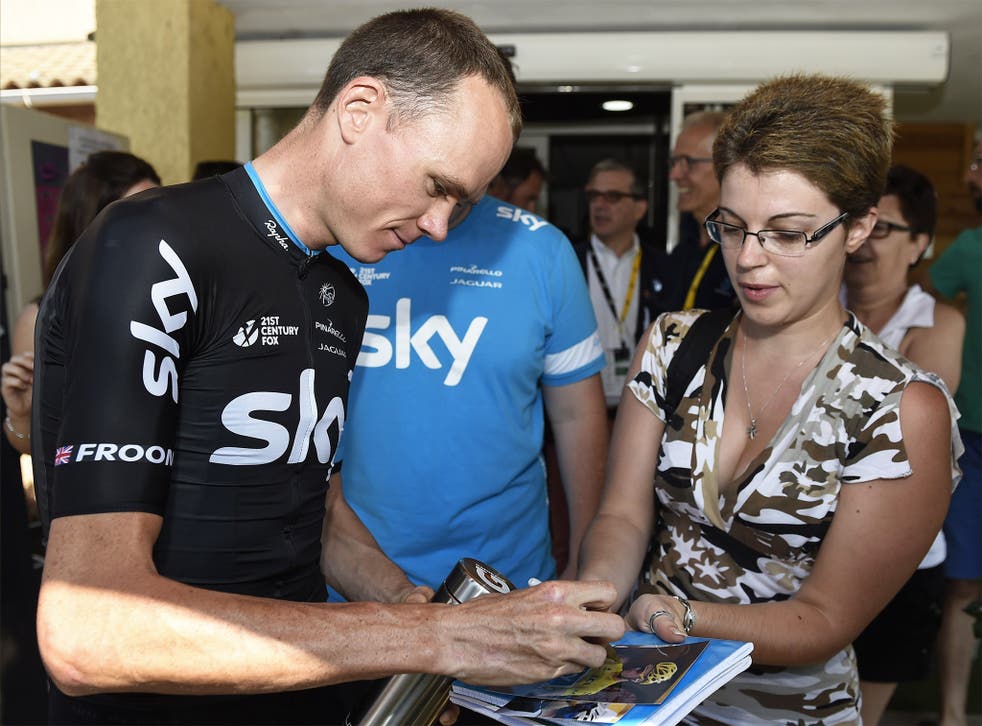 Team Sky have taken the remarkable and unprecedented step of releasing some of Chris Froome's performance data in a bid to stem the stream of doping speculation surrounding the Briton in this year's Tour de France.
The toxic atmosphere at the Tour has reached the point where the French sports newspaper L'Equipe accused a sector of the media "from the other side of the Channel" of "fuelling a pseudo British-French war". The personal attack on Froome came to a head when urine was thrown over him in Saturday's race by someone shouting "doper".
The speculation surrounding the race leader has partly arisen from the hacking and wildly varying interpretations of some of Froome's data documents from several of his most high-profile performances, going back to the Mont Ventoux victory in 2013.
The day after that, Froome – who has never tested positive and insists he is racing clean – was subjected to a volley of doping questions at his rest-day press conference. Fast forward two years, and Sky have radically attempted to increase access. Although some riders have released blood data – such as Bradley Wiggins in 2009 after his breakthrough top-five finish in the Tour – the decision to release so much data is – as far as The Independent can establish – groundbreaking in professional cycling. But Sky clearly feel it is worthwhile.
Two days ago, Sky's team manager Sir Dave Brailsford was "ambushed" in a live debate on the television channel France 2 by a dubious interpretation from physiologist Pierre Sallet of Froome's big ride this year on stage 10 in the Pyrenees, in which he estimated that the British rider was generating a suspiciously high seven watts per kilogram of power.
"We're not going to get caught up in endless debate. We'll give you info, carry on racing and then address it after the Tour if necessary," said Brailsford. "I just think that in particular what France 2 did by putting out that big headline of the seven watts per kilogram with a picture of Lance Armstrong, and I think Jan Ullrich, was so wildly wrong on so many levels. We thought we should correct that and give concrete facts and evidence, so hopefully people will judge for themselves. That's what drove my decision."
In stark comparison to the 2013 Tour rest day, when Tim Kerrison barely spoke to the media, the Sky sports coach sat alongside Brailsford and Froome for nearly an hour to reveal a wealth of data for the Pyrenean climb. The key fact they presented was Froome's power output of 5.78 watts per kilo – much lower than the French estimate.
Froome said: "I'm not sure if numbers are going to fix everything, but certainly I feel as a team and myself, we're definitely trying to be as open and transparent as possible."
Kerrison agreed: "With great power comes great responsibility. If you have the power to influence what millions of people are thinking about a situation, you have the responsibility to make sure that your facts are accurate."
The Independent asked Michael Hutchinson, a former professional racer and author, to look at the figures and he concluded: "It's a very plausible set of data that all hangs together. They're well within the parameters I'd have expected, because the performances Chris has been putting in, with his weight, are not unbelievable. They're just very, very good."
But asked if it would help Sky's case of beating back the speculation, he remained cautious: "I don't think so, because there's very little you couldn't work out yourself. We haven't really got any honest-to-God new information, we've got their exact numbers which tally with a lot of numbers which a lot of people have already worked out."
It remains to be seen whether other top teams will follow Sky's example, although Albert Contador, fifth overall and one of Froome's most tenacious rivals, said: "I wouldn't have any problem [with my team publishing data]". However, he warned that "there are so many variables that your watts [power output] can be estimated and it has nothing to do with reality".
Contador's team manager and coach, Steven de Jongh, was more cautious about the possibility of Tinkoff-Saxo following suit, telling The Independent: "It's their [Sky's] decision to release data, and we are not planning on releasing data."
Asked if he was surprised by Sky's actions, he said: "Yes, in one way. I can't say much about it. It's their decision… as soon as you release data, a lot of people interpret data differently and there are so many variables."
With four tough days in the Alps to come, starting Wednesday with the ascents to Allos and Pra Loup, De Jongh and Contador refuse to believe the battle for the overall race is over. "If we're fighting for the podium, then we're fighting for second and fighting for first," De Jongh said. Contador added: "I'm never one to settle for what I've got."
Register for free to continue reading
Registration is a free and easy way to support our truly independent journalism
By registering, you will also enjoy limited access to Premium articles, exclusive newsletters, commenting, and virtual events with our leading journalists
Already have an account? sign in
Join our new commenting forum
Join thought-provoking conversations, follow other Independent readers and see their replies