Meet Peter Sagan: The larger than life world champion disqualified for ending Mark Cavendish's Tour de France
Sagan has been disqualified for his role in Cavendish's crash, but the larger than life world champion is known as one of the most popular riders in the sport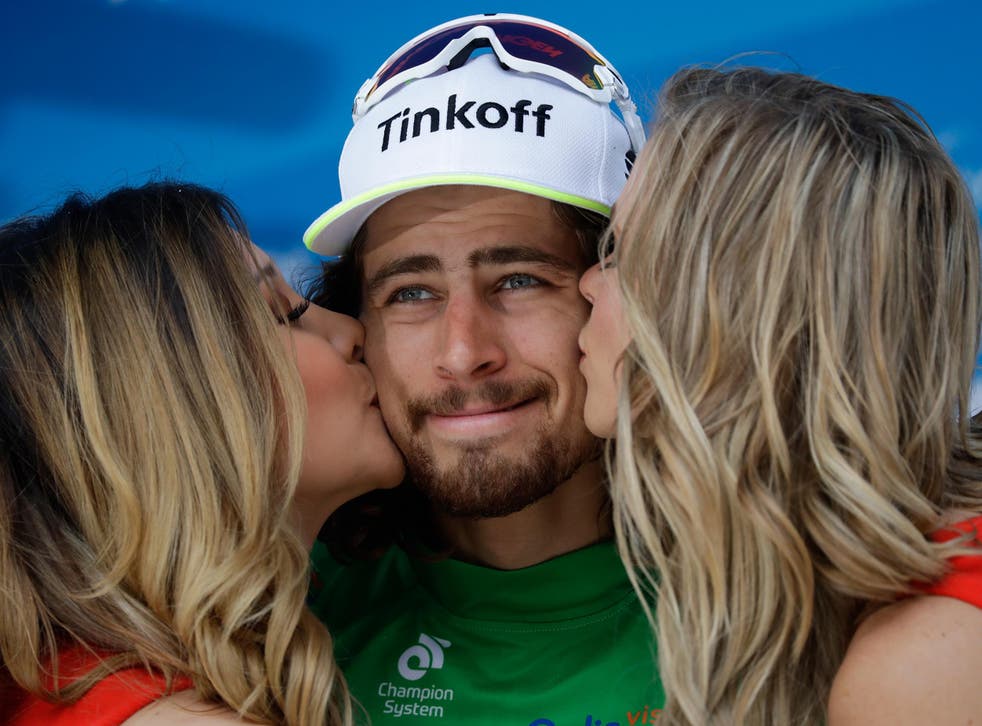 Mark Cavendish was forced out of the Tour de France on Tuesday after suffering injuries in a serious crash caused by world champion Peter Sagan, who was disqualified.
The British rider sustained hand and shoulder injuries in the crash, and was taken to a hospital for checks. He said he was "not optimistic" about his prospects, before his team confirmed his withdrawal shortly afterward.
About 50 meters from the end of the stage, Sagan elbowed Cavendish, who was squeezed against the barriers to his right, out of the way. Cavendish slammed into the barriers and two other riders ploughed over the British sprint specialist, a winner of 30 Tour stages.
Immediately after the crash Sagan defended himself, telling reporters "In the sprint I didn't know that Mark Cavendish was behind me." But the UCI jury nevertheless saw fit to disqualify the sprinter.
Tour de France 2017

Show all 11
Here, we take a look at Sagan's career and profile the Slovak sprinter.
Background
Sagan, who is considered one of the greatest talents in cycling, was a junior cyclo-cross and mountain bike champion, before moving into road racing in 2008, at the age of 18.
Known for his larger than life character, Sagan first hit the headlines when he arrived at the Slovak Cup as a teenager riding a bicycle borrowed from his sister.
He had mistakenly sold his own and was not provided with a spare from his sponsor in time for the race. So, he entered the highly competitive race riding his sister's supermarket bike. The brakes barely worked and it only had limited gearing – and yet he still won the race.
Sagan's older brother, Juraj, is also a professional cyclist riding in the Tour de France for the Bora–Hansgrohe team.
Achievements
Sagan has won a number of cycling's biggest prizes. He has won two World Championships, two Paris-Nice stages, seven Tirreno–Adriatico stages and a record fifteen stages in the Tour de Suisse.
He has also won a number of Classics, which are the most prestigious one-day professional cycling road races in the international calendar. He has won the Tour of Flanders, two Gent–Wevelgem races and E3 Harelbeke.
Sagan is a consistent performer in the Grand Tours, having won four Vuelta a España stages and eight in the Tour de France.
Tour de France history
At the relatively tender age of 27, Sagan is already a Tour de France record-breaker.
He has won the points classification no fewer than five times – in 2012, 2013, 2014, 2015 and 2016. Sagan's five-years of success saw him become the first rider in the history of the 114-year-old race to win the classification in all of his first five attempts.
He is already just one win behind the record haul of six points classification titles, set by the German rider Erik Zabel. He had hoped to equal the record this year, although will now have to wait until 2018.
Character
Sagan is one of the most popular riders owing to his exuberant personality. He quickly began to build a reputation for his outrageous attacks and podium antics, and is well known for his frequently hilarious post-race interviews.
He is also known for his luscious locks – and even owns a hair salon with his sister, Daniela. He has even been known to help out in the shop on occasions.
Sagan also raised eyebrows when he recently decided to stop shaving his leg hair, refusing to honour one of cycling's time-honoured traditions. "Who came with this style?" he said when asked about his decision to grow out his leg fuzz. "Nobody knows, and yet everybody is shaving their legs."
And then there was the time he inexplicably decided to carry out a painstakingly accurate shot-by-shot re-enactment of You're The One That I Want from Grease, with his wife Katarina in the Olivia Newton-John role. He's yet to fully explain why:
Nicknames
Sagan has accrued plenty of nicknames throughout his career, including 'Peter the Great' (predictable), and 'The Hulk' (slightly less so).
But he is best known as 'The Terminator', because of his tendency to absolutely thrash his bikes during his early career.
Join our new commenting forum
Join thought-provoking conversations, follow other Independent readers and see their replies