Tour de France: Britain's female cyclists can conquer the Alps too
They hope their Olympic successes can help them to catch up with the men's sport
Susie Mesure
Tuesday 23 July 2013 13:11 Comments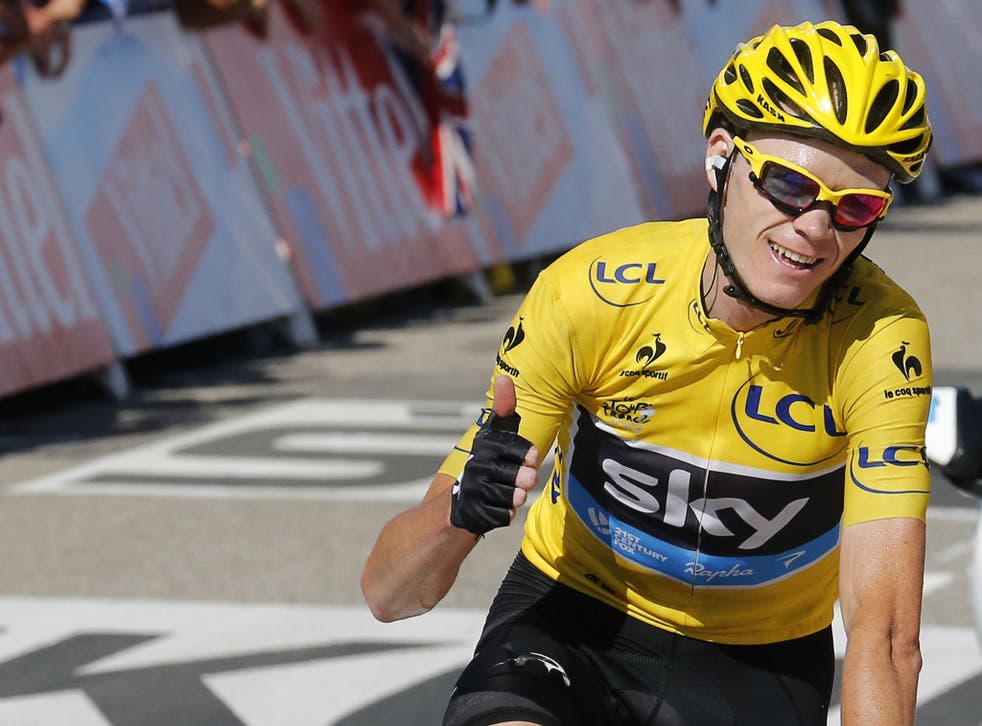 There's only one way that Chris Froome could have done any more if he nails his first Tour de France victory today – and that's to have been a Christina. At least that is the belief of some of the biggest names in women's cycling, who are fighting to get their own version of the world-famous event.
Britain's former world champion and one of its many Olympic medallists Emma Pooley is spearheading a campaign along with Olympic champion Marianne Vos to convince race organisers ASO to include women in the Tour de France as early as next year. By Friday evening, 55,000 people around the world had added their voices to their cause, signing a petition calling for equality for road cycling.
Dani King, another Olympic gold medallist on the track, told the Independent on Sunday that having a women's Tour "would be brilliant" for the sport, which lags its male counterpart in every possible way, from the number of races held to the amount of prize money up for grabs.
And as for television coverage, or sponsorship; forget it. There is, for example, no women's version of the fantastically successful men's Team Sky, which has done so much to transform British cycling over the past few years.
Pooley wants women to ride the same Tour course as the men each day, passing through earlier and giving cycling fans, who wait all day just to see their heroes whizz past in mere seconds, something else to watch. She said last week she was "sure I could finish [the race]. I know I could do the distance." Current rules governing world cycling prevent women from cycling as far as men in a single stage.
King, who rides for Wiggle Honda, one of the very rare women's professional cycling teams, is happy to have shorter stages and thinks the whole race could potentially be less than three weeks. "But having it alongside the men's would get it on television, and show that our racing is just as exciting as the men's. That would attract sponsorship, so it there would be a snowball effect."
A women's Tour is not a new idea. A race called the Tour Feminin was held intermittently from 1984 to 2009, but the event was fraught with disasters including unpaid prize money, poor sponsorship, and even a legal battle over its name. The latest person to win the event was Emma Pooley.
Humphrey Cobbald, chief executive of the online cycling retailer Wiggle, which struck a three-year sponsorship deal last December to support the professional women's team, is among those backing the petition. He said a women's version of the Tour would provide the crucial "anchor event" the sport needs to help raise its profile. "Women's cycling cannot start to move towards achieving its potential until it has an anchor event, and it can't have an anchor event until it has greater financial resources, recognition, and success."
The differences between men's and women's road racing are stark. The longest stage race for women in 2013, Italy's Giro Rosa, was 778.5km long, with a prize pot of just 460 euros. This compares to the 3,043-km Tour de France, with its 450,000 euro top reward.
Rochelle Gilmore, another Wiggle Honda rider, said the fact that female cyclists "do not earn the rewards, fame, income or careers they deserve for being so talented" put women off from pursuing cycling as a career.
Although women's cycling in Britain is growing, the pace of change is slow and at the amateur level the sport is still very male. Race organisers often struggle to attract enough female entrants to events. And even popular ones, like the Prudential RideLondon-Surrey 100 on 4 August, which retraces the Olympic road route, attract just one woman for every five male riders. 
There are, however, a number of efforts to get more women on to two wheels, including a handful of female-focused cycling clubs, such as Kent Velo Girls, which has 140 members.
Bee Gregory, who started the group in 2008, said a big, televised women's road race would inspire more people to get on their bikes.
Meanwhile, Rapha, the men's cycling clothing brand, launched an initiative called the Women's 100, to encourage women to ride 100 km on 7 July, the day of the Etape du Tour, which was set up to allow amateur cyclists to complete one of the great race's mountain stages. The clothing label took 70 female cyclists to Annecy in France, the site of this year's challenge.
Simon Mottram, Rapha's co-founder and chief executive, said: "We're in a huge boom for women's cycling and with the Tour being the pinnacle of road racing, it's important that [the women's Tour] is reinstated so that women have the same race and platform as the men."
Register for free to continue reading
Registration is a free and easy way to support our truly independent journalism
By registering, you will also enjoy limited access to Premium articles, exclusive newsletters, commenting, and virtual events with our leading journalists
Already have an account? sign in
Join our new commenting forum
Join thought-provoking conversations, follow other Independent readers and see their replies