Nine questions for football in 2017: Will anyone stop Chelsea and where next for Wayne Rooney?
Also, can European football hold off the lure of China's mega money? Will Arsène Wenger call time on his reign in north London?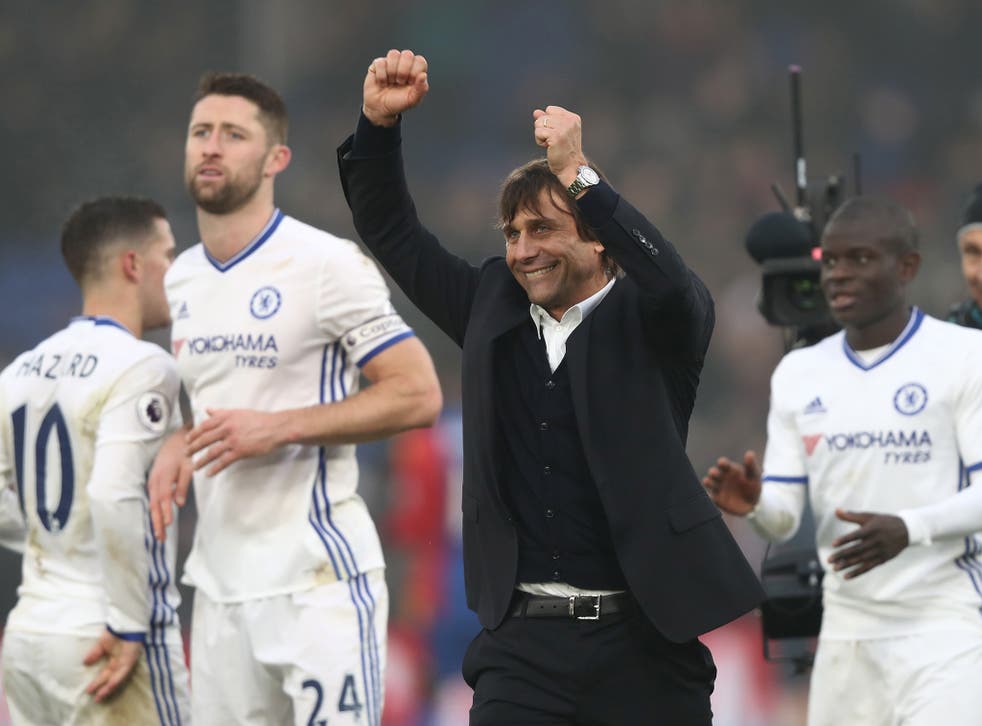 Can anyone catch Chelsea?
Chelsea are already running away with the Premier League title and it will take a dramatic collapse to stop them. They do not have any draining two-legged Champions League ties to distract them, and the attendant help of extra time to stay fresh and focused.
Leicester showed last year, and Liverpool nearly did in 2014, how important that is over a title-chase. Only an injury crisis, costing them Diego Costa and Eden Hazard, could stop them now.
Who will finish stronger: Mourinho or Guardiola?
Both Mourinho and Guardiola have been caught off guard by Antonio Conte's Chelsea this season, but both will be desperate to put up a fight and find some momentum for next year's title push.
Mourinho needs new defenders and hopes that he can drill his team until they are as efficient as he needs them to be.
Guardiola has a bigger job, learning about the Premier League, while teaching his players about his complex concepts. But his City team have a higher potential level, one likelier to reach Chelsea's in 2017. If only Guardiola can get them there.
Will Ancelotti lose another league title?
Carlo Ancelotti is a great cup manager but not a great league manager. That is why he has only won three titles in 20 years of the top of the game. His PSG team lost a title to Montepellier, his Real Madrid side to Atletico Madrid, his sides are good but rarely relentless. So could this be the year for a giant-killing in the Bundesliga?
If his Bayern Munich side cannot summon the intensity they had under Pep Guardiola, RB Leipzig could pick them off in the second half of the season, especially if they are distracted by the Champions League.
Will Wayne Rooney stay at Manchester United?
Rooney still has another 18 months on his current Manchester United deal, but as he slips in and out of Jose Mourinho's side, it feels less plausible that he will be offered the extension he wants.
There are open offers for him from China and from Major League Soccer, but it would still be a very brave United manager and chief executive who said goodbye to the man who will surely by then be their top-goalscorer as well as captain and most recognised name. Even if it is a case of managing his decline and departure, that is not an easy thing to do.
Will better players to go play in China?
When the transfer window re-opens Oscar and Carlos Tevez will go to the Chinese Super League, a better calibre of player than any who has gone before. The genius of the CSL has been to realise that even top players start to think about money alone far sooner than Major League Soccer thought they did.
That is why players like Alexis Sanchez, still in his 20s, is such an important target now. If he goes then the rug could be pulled from underneath the European game quicker than anyone expected.
Will Arsène Wenger stay at Arsenal?
There is a two-year contract extension on the table for Arsène Wenger, but only he knows if he will sign it or when he will decide. He would dearly love to go out in victory, as Sir Alex Ferguson did in 2013, but in reality that is looking decreasingly likely as his team stumbles. But what sort of a second half of the season would force him not to sign?
Anything that looks like progress will surely be pounced on as a reason to sign until 2019. But what if Arsenal come fourth, or fifth, and Wenger has to struggle with the sad fact that this team is not improving but simply treading water? It would be the hardest decision of his career.
Will an English team reach the Champions League final?
No English team has reached the Champions League final since Chelsea's smash-and-grab job in Munich in 2012. This year the final is in Cardiff, and none of Europe's big three are exactly looking formidable. So Arsenal and Manchester City, if not Leicester, should feel that if they can get past their tricky last-16 ties, they could be there at the Millennium Stadium in June.
But how much will they want to be? The predictability of the Champions League has made it a far less appealing competition than the Premier League, and if English sides continue to struggle, it could drift further out of our consciousness.
Will Russia host the Confederations Cup smoothly?
As the security fears over the 2018 World Cup grow by the day, attention will turn to the Confederations Cup played in four Russian cities, including Moscow and St Petersburg, in June.
The readiness of the stadiums and the professionalism of the security will be the two biggest questions, even if no preparation can adequately prepare the country for the scale of a 32-team World Cup that they will host the following summer. But if anything goes wrong then there will be a year of stories about whether teams can go with anything like enough guarantees on security.
Will there be a Leicester or Chelsea next season?
This season, like last one, looks to have been seized by a team who can focus only on the Premier League, with no European distraction. Next season, though, Chelsea will be back in the Champions League and will lose that advantage.
The question, then, is which teams will have no European football at all next year, and whether they can take advantage of that to push for the 2017-18 title. Could it be Tottenham? Manchester United? Arsenal? Liverpool? Not everyone can qualify for Europe, and there could be a blessing there for the best side who does not.
Register for free to continue reading
Registration is a free and easy way to support our truly independent journalism
By registering, you will also enjoy limited access to Premium articles, exclusive newsletters, commenting, and virtual events with our leading journalists
Already have an account? sign in
Register for free to continue reading
Registration is a free and easy way to support our truly independent journalism
By registering, you will also enjoy limited access to Premium articles, exclusive newsletters, commenting, and virtual events with our leading journalists
Already have an account? sign in
Join our new commenting forum
Join thought-provoking conversations, follow other Independent readers and see their replies