Ange Postecoglou says Tottenham will give support to troubled Richarlison
The Spurs boss also insisted 'nothing has changed' regarding the situations of Hugo Lloris or Eric Dier.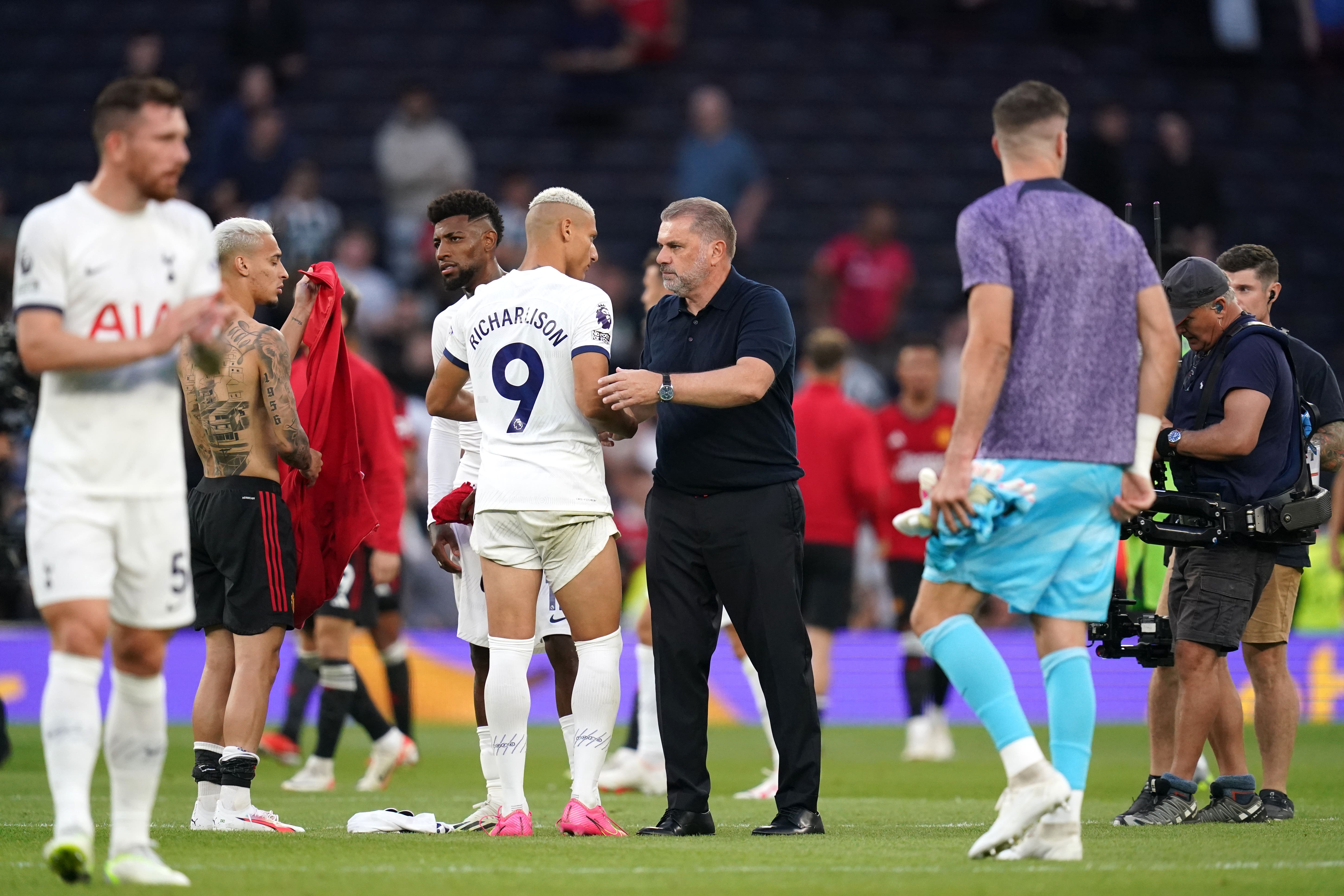 Ange Postecoglou has promised Tottenham will give Richarlison whatever help he needs after the forward revealed on international duty he would seek "psychological help" upon his return to club football.
Richarlison has endured a difficult year since he completed a £60million transfer to Spurs in the summer of 2022, scoring only once in the Premier League last season and he described his debut campaign as s*** in March.
The Brazil forward has not found the net for his country since the World Cup and was emotional following another blank on international duty during this past week with Richarlison speaking candidly in an interview with O Globo about a "turbulent time" for him off the pitch.
Ex-Everton striker Richarlison admitted he would "seek psychological help" on his return to England and while Postecoglou has vowed to give the 26-year-old the support he needs, the Australian also pointed out no one has a perfect life.
Speaking ahead of Saturday's visit of Sheffield United, Postecoglou, who this week received the Premier League manager of the month award for August and was shortlisted for FIFA's best men's coach of 2023, said: "Whatever Richy needs, we'll help him get to the space he wants to.
"From our perspective he's put it out there because he was quite emotional after the game and we'll give him the support he needs, but we do that with all players and I think most professional clubs do.
"What I will say is that no one has a perfect life. Sometimes we look at footballers and they do things well and we think they have all the money they need and that's a perfect life, but that doesn't make you immune from life itself.
"I'm sure that every player in our dressing room is dealing with something. I think sometimes players fall into the trap of thinking their lives should be perfect because of the position they're in but that's not how life works.
"Who in their life doesn't have something that is stressful? I have lived 58 years now and there has never been a time in my life where everything is perfect.
"I lost my father three years ago and he should have been here for the journey, so I have got to deal with it. That is me talking personally but everybody in this room, there will be something.
"It could be a family member, a health issue, a financial issue because there is always something and footballers are not immune from that."
Meanwhile, Postecoglou insisted nothing has changed regarding the situations of former captain Hugo Lloris and Eric Dier.
Both were expected to leave Spurs before the end of the summer transfer window after not being involved in the club's opening fixtures to this season, but they remained and were listed in Tottenham's 25-man Premier League squad on Wednesday.
"It was a fairly fluid situation. We weren't really sure what was going to happen with Hugo. Eric was never out of the squad," Postecoglou explained.
"I obviously had decisions to make around the 25-man squad. Obviously on the last day we had (Sergio) Reguilon moving to Man U, then (Tanguy) Ndombele and (Davinson) Sanchez out, so that's three foreigners.
"If one of them had stayed it would have been a different decision, but once we got to the end of the window, we knew the numbers we had. Hugo and Eric were still with us so we had room to put them on the list.
"I haven't felt the need to speak to them individually about anything. They are Tottenham players, they are available for selection and have been since the first day. Nothing has changed."