'I was sitting in London and we didn't know': Harry Kane opens up on Bayern Munich transfer saga
Kane has endured a whirlwind 72 hours since Spurs agreed a fee with the German club on Thursday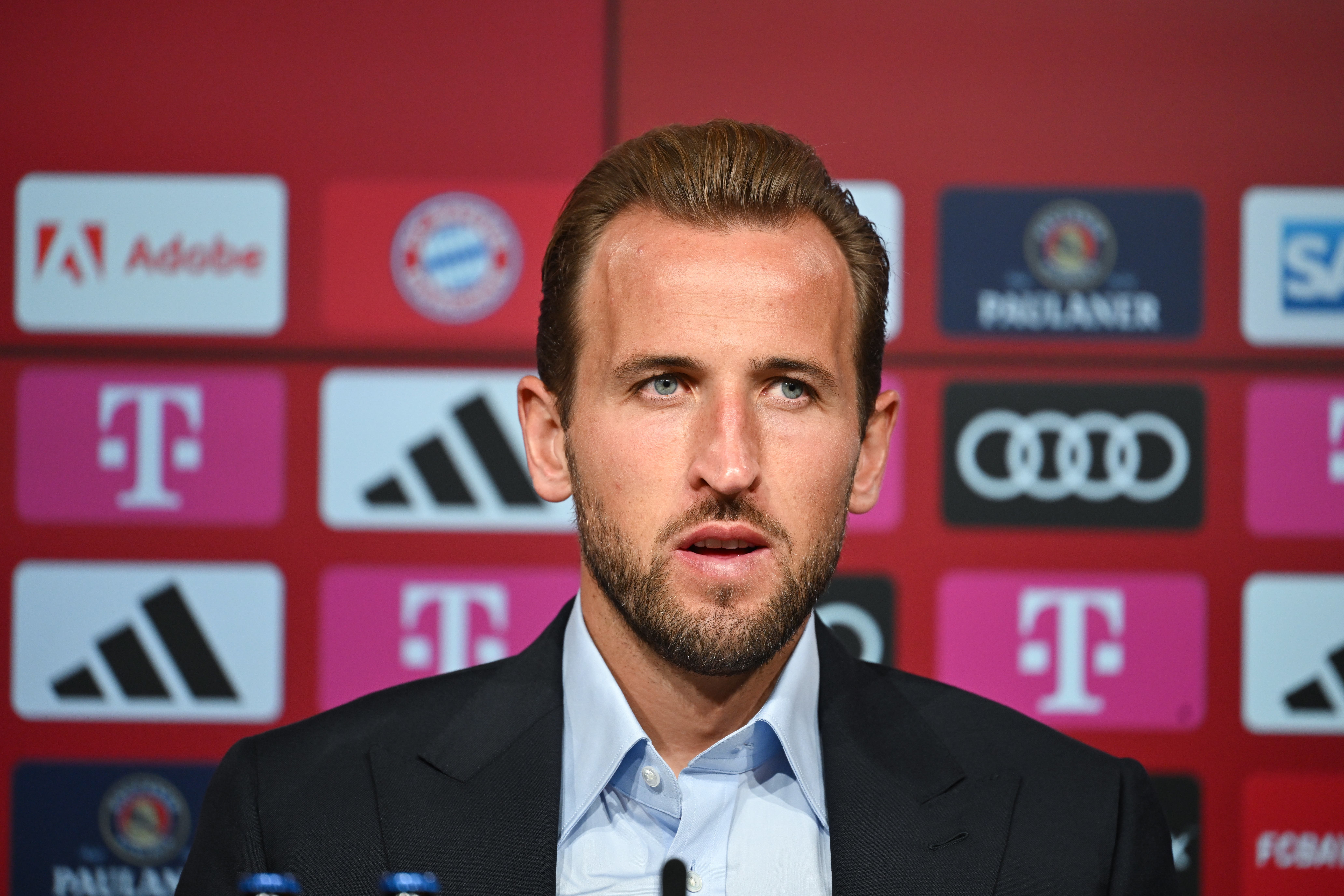 Harry Kane did not know if his transfer from Tottenham to Bayern Munich was going to go through after a "roller coaster" two days.
Kane has endured a whirlwind 72 hours since Spurs agreed a fee with the German club on Thursday, which culminated in the England captain being unveiled before the press on Sunday lunchtime.
He had already made his debut by then, coming on as a substitute in the second half of the DFL-Supercup, but his wait for the first silverware of his career goes on after Bayern lost 3-0 to RB Leipzig.
It was a race against time for Kane to be registered in time to play after his flight to Germany and subsequent medical was delayed after Spurs went back to the negotiating table at the last minute.
The £100m deal eventually got done, though Kane admits he was left sweating for a while.
"It was obviously a busy couple of days, a busy week, this is my first transfer that have been involved in, it was an up-and-down experience for sure, but I am happy to be here now," he said. "I wish Tottenham all the best, I wish Daniel Levy all the best, but my focus is here now and trying to help this team and I am just happy we managed to do it and am excited to get started.
"Talks have been ongoing for a couple of months ago and I always said if there was a deal that suited all three parties then we could do it. Going into the last year of my contract I didn't want it to be a distraction for the new manager and team at Tottenham. I was excited to come.
"The last 48 hours of the deal was pretty up and down, a bit of a roller coaster, but I was just really happy when we got over the line. Two days ago I was sitting in London and we didn't know how it was going to go."
The 30-year-old, who broke Tottenham's all-time goalscoring record last season, departs a club he joined as an 11-year-old and one where he was desperate to win silverware.
It became apparent over the last few seasons that he would not be able to fulfil his ambitions at Spurs and, with one year left on his contract, knew it was time to move on, even though he did not get the chance to say goodbye.
"It is always going to be a tough decision, I was at Tottenham for 19 years of my life, everyone knows the club is connected with me and my heart," he said. "I'm professional and always pushed myself to my limits. I just felt like the time was right, I needed to be playing at the highest level, in the Champions League, trying to win titles every year. When I thought about it and Bayern got in touch it was a decision I wanted to make.
"I didn't get the chance to say goodbye, I sent the group a text that I was leaving and when I get the chance to go back, I'll go in and say goodbye properly. Not just the players, but the staff, the chefs, the kitmen, the physios, people I have spent 15 years of my life with. I didn't have that time because it was so up and down, but for sure over the next few weeks I'll get some time."
Kane leaves the Premier League only 48 goals shy of Alan Shearer's all-time record, but hinted at returning one day in a bid to surpass the former Newcastle and Blackburn striker.
"People will talk about Shearer but I have got plenty of football left in my career," he said. "For now I am just trying to concentrate on trying to achieve things here, trying to push myself and push the team to try and reach new levels for this club. That is what my focus is on now."
Kane's move to Germany is complicated that his wife Kate is heavily pregnant with their fourth child. She will return to London on Monday with the rest of their young family, with Kane saying a decision will be made on where she gives birth.
"My wife Kate was really supportive, she wants the best for me and my career so she said to push, she wants me to be playing and happy and that is why we made the decision," Kane added.
For Bayern to get Kane represents a big statement of intent as they try to conquer Europe against after a couple of lean seasons in the Champions League. But their biggest victory might have been in successfully completing cordial negotiations with Spurs chairman Levy, an achievement a host of clubs have failed at.
CEO Jan-Christian Dreesen got on so well with Levy that he intends to buy him dinner.
He said: "Daniel and I got closer in the last couple of weeks, that is for sure. It was quite a tough negotiation, Daniel is a very friendly person but he knows what he wants. So two people who knew exactly what they wanted came together and that is why it took a bit longer.
"But in the end both of us do have good feelings and that is why I will pay for dinner with him."
Back at Spurs, new captain Son Heung-min believes Richarlison can help the club fill the gap left by Kane's departure.
Son told Sky Sports before their Premier League match at Brentford: "We've lost one of the best strikers in the world, but I think we have a good player to replace him.
"Obviously H (Kane) has scored so many goals, so every attacking player should take a big responsibility to score some goals."
Join our commenting forum
Join thought-provoking conversations, follow other Independent readers and see their replies