Bruno Fernandes gives Manchester United's season lift-off with stirring comeback against Forest
Manchester United 3-2 Nottingham Forest: Fernandes created one and scored another as the hosts came back from two goals down to claim all three points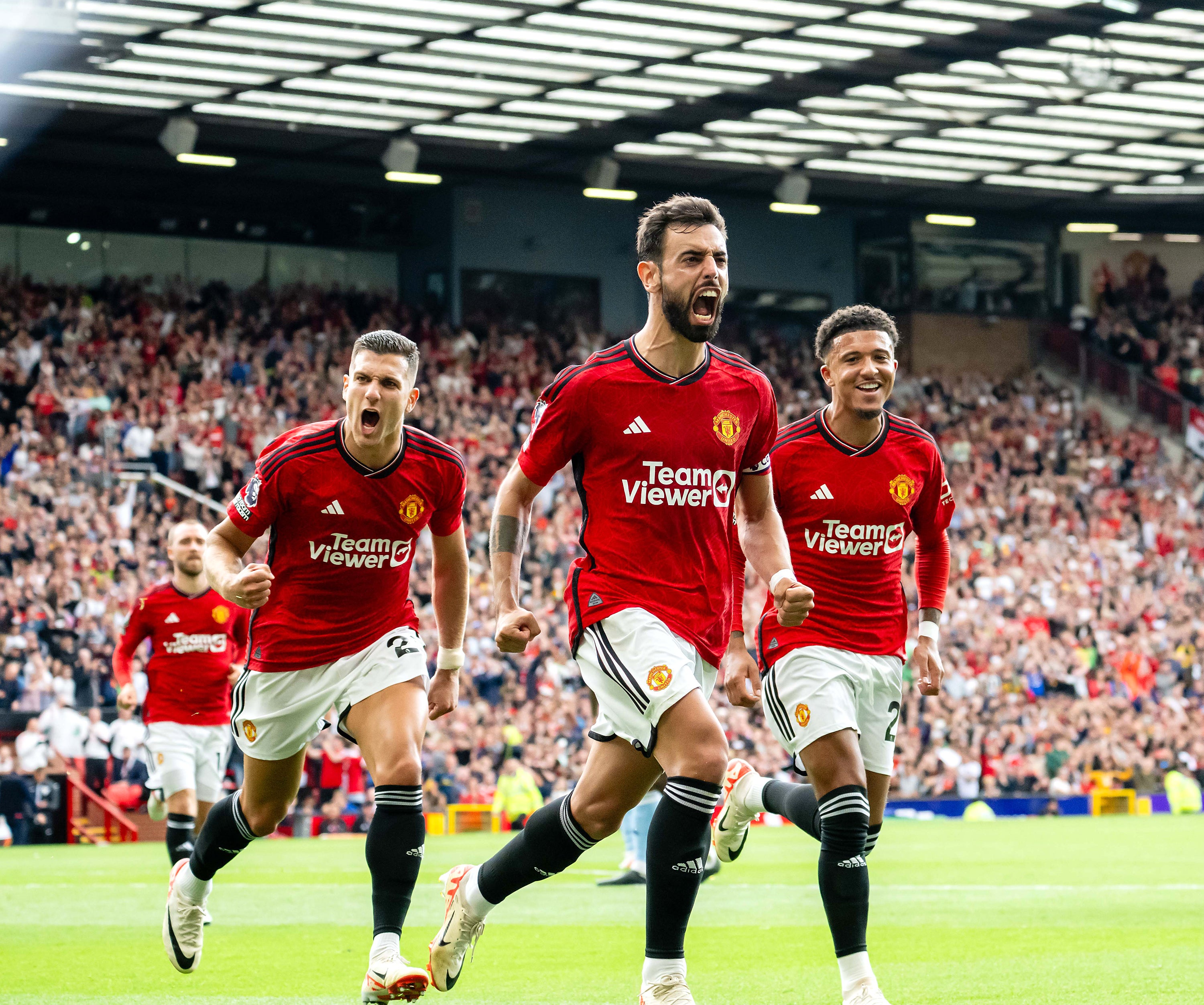 If the Manchester United captaincy used to be the preserve of the talismanic, at times in recent seasons the mantle has rested instead with the declining, the injured and the substitutes. There were reasons that Erik ten Hag promoted Bruno Fernandes from the vice-captain with the armband, ending his regency by giving him the crown, and they stretched beyond demoting Harry Maguire.
When United required leadership, when a troubled week threatened to have a terrible end, when a slow start to the season looked like it could become shocking, Fernandes offered an illustration of his inspiration. United were two goals behind inside four minutes to Nottingham Forest. If four moments ultimately secured victory, Fernandes was pivotal in each.
His shot led indirectly to United's first goal; his header set Casemiro up for the second; his penalty brought the third. In between, his run resulted in Joe Worrall's red card; one skipper resorted to dragging the other down and rugby tackling the Portuguese felt Forest's best chance of halting him. There was a dynamism to United's driving force and if his leadership was questioned after defeat to Tottenham, his tendency towards petulance pointed out, he offered the right kind of role model at here, offering charisma and a capacity to be a catalyst. Bryan Robson, United's Captain Marvel for much of a decade, looked on; that description has rarely fitted Maguire or the ageing quartet of Ashley Young, Antonio Valencia, Michael Carrick and Wayne Rooney, much as each achieved earlier in his time at Old Trafford.
There was an old-fashioned element to it, individual excellence dragging United forward but, compelling as a flawed contest proved, Fernandes's contribution should not camouflage his team's failings. If Manchester tradition of comebacks is glorious, the reasons they required the latest addition to a long list were inglorious in the extreme. On a day when United celebrated the underappreciated from their past, presenting medals to families of title-winning players who had not received them, they made history of the wrong sort.
They had never trailed by two goals so soon into a Premier League game at Old Trafford. Forest, a club with a solitary away win in the top flight this millennium, ultimately suffered an 11th consecutive defeat in their meetings with United, but only after problems multiplied for Ten Hag. After losing Mason Mount and Luke Shaw this week, the injury-prone Raphael Varane did not return for the second half.
Even with the World Cup winner on the pitch, United made a shambolic start. If Ten Hag had found much of the last 55 minutes at Tottenham unacceptable, the first four against Forest were no more palatable. It was not just the speed of Forest's goals, but the manner of them. United looked horribly susceptible to the pace of Taiwo Awoniyi on the counter-attack. They contrived to concede to set-pieces taken by both teams: first their own corner, then a Forest free kick.
They were doubly hapless, but in different ways. The 80-second opener had similarities with Demba Ba's infamous goal for Istanbul Basaksehir against United, when the striker confronted no defenders whatsoever on a solo run. This time Marcus Rashford was the last outfielder back when United lost possession after a corner, some 70 yards from their goal. It scarcely reflected well on the backtracking Andre Onana, either, when, after Awoniyi ran 60 yards, the goalkeeper went to ground before the striker shot, allowing him to roll the ball past him.
Then to say Willy Boly headed in Morgan Gibbs-White's free kick may have been deceptive; rather it hit the defender, who had not jumped, and rebounded past Onana. That Lisandro Martinez had missed his own attempt at a header contributed to a farcical feel.
But the advantages United possess come in the form of high-class players. This was not a triumph of tactics as much as one of talent. Fernandes had two allies in Rashford and Casemiro and while Anthony Martial's 300th United appearance was altogether unimpressive, his presence as the striker at least allowed the Mancunian to revert to the left wing. From there, and after the hugely unconvincing goalkeeper Matt Turner parried Fernandes's effort, Rashford sashayed clear to cross for Christian Eriksen to provide a neat finish.
Then Casemiro, who had already spurned one chance from four yards, took another after a well-worked free-kick culminated in Rashford chipping a deep cross and Fernandes heading it back across goal. Casemiro provided the defence-splitting ball from deep for the Portuguese to rush on to; until Worrall's intervention ended his afternoon. When, a few minutes later, Danilo fouled Rashford, Fernandes converted the penalty.
Comeback complete but whereas the watching Sir Alex Ferguson used to marvel about how his United sides used to make life hard for themselves, Ten Hag has scope for regret about the early wretchedness. Ferguson had begun by awarding the medals to the relatives of those who played too few games to get them at the time. Among the recipients was the actor Ian McShane, whose father, Harry, played in Sir Matt Busby's 1952 side. Fernandes ultimately earned love and brought joy, while United nevertheless suggested they have plenty of deadwood.
Join our commenting forum
Join thought-provoking conversations, follow other Independent readers and see their replies