Popular non-league club Dulwich Hamlet facing eviction from home ground this weekend over legal dispute
Saturday's home game is under threat after property developers threatened to lock the popular non-league club out of their ground this weekend
Jack Pitt-Brooke
Thursday 07 December 2017 18:56 Comments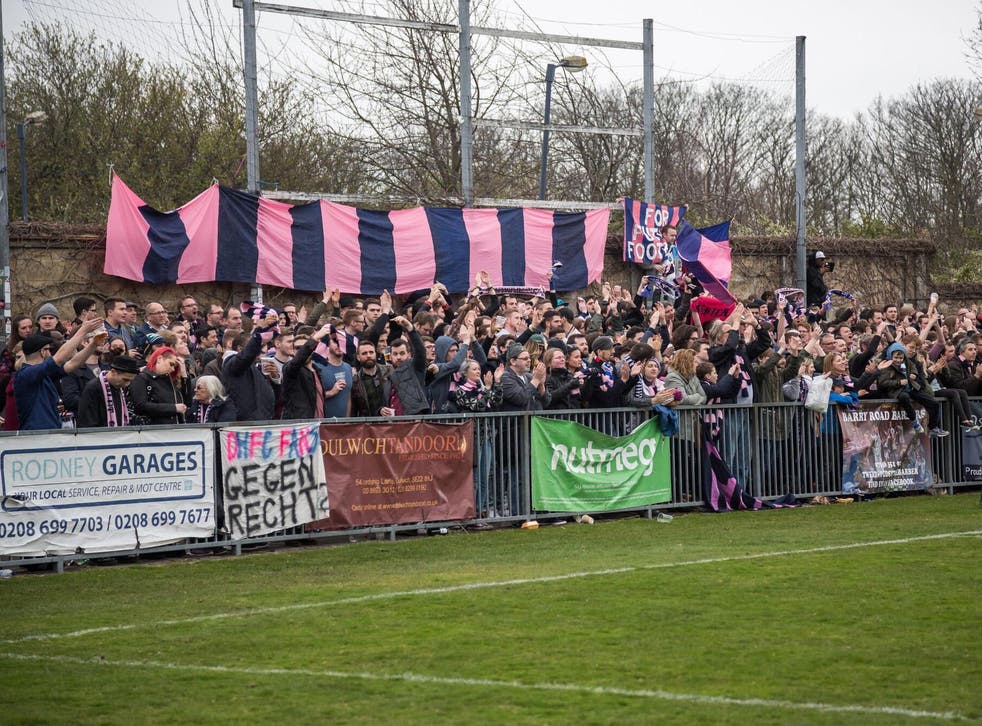 Dulwich Hamlet have been threatened with being locked out of their own ground by its owners this weekend.
Meadow Residential, the property developers who own Champion Hill, have told the football club they will lock the gates barring access unless Dulwich sign a new licencing agreement with them before 5pm on Friday. Dulwich, who are top of the Bostik Premier Division, are scheduled to host Brightlingsea Regent on Saturday at 3pm.
Meadow insist that Dulwich need to sign a new licence to play at Champion Hill because the current licence has expired. Dulwich, however, are reluctant to sign the licence Meadow have presented them because they say it contains fundamental changes from the previous licence which they have not been given time to consider. The Isthmian League hoped to broker a compromise next week but Meadow have demanded Dulwich sign on Friday if they want to play a home game again.
The view at Dulwich Hamlet is that this is an attempt to force them out and an escalation of a long-standing planning dispute that is threatening the club's survival. Meadow want to build flats on the site of Champion Hill but have been blocked by Southwark Council, leading to Meadow withdrawing their planning application on October 20 and accusing Southwark of "defamatory statements". Since then there have been peace talks between Southwark and Meadow but they have broken down, with Southwark Council leader Peter John taking a firm stance against Meadow and their plans. The chances of any future deal between Southwark and Meadow seem close to zero, leaving Meadow running out of options to develop the site.
Last month Meadow cut off funding to the football club, which they do not own, in the expectation that the football club and supporters trust would back them in planning negotiations in return for the reinstatement of funds. When Meadow met Dulwich Hamlet representatives on November 23, Meadow said that they would only restore financial support in exchange for the football club's political support.
But last week Dulwich Hamlet succeeded in paying their November wage bill in full, using only money that they had raised themselves, with none from Meadow and none from donations of fans. The fact that the football club were able to do that seems to cast doubt on Meadow's claims that it was losing £150,000 per year and was unsustainable without their development plan.
"Meadow recently became aware that DHFC's licence to play at the ground was out of date," a Meadow spokesperson said. "This licence is required to comply with FA rules. We have therefore issued a proposed new licence, on the same terms as the old licence, so the Club can remain compliant with FA requirements and this needs to be signed before the next home game at the ground."
Register for free to continue reading
Registration is a free and easy way to support our truly independent journalism
By registering, you will also enjoy limited access to Premium articles, exclusive newsletters, commenting, and virtual events with our leading journalists
Already have an account? sign in
Join our new commenting forum
Join thought-provoking conversations, follow other Independent readers and see their replies