Eberechi Eze feels injury nightmare gave him platform for England recognition
The Crystal Palace midfielder is eyeing a senior debut after being included in Gareth Southgate's squad for the Malta and North Macedonia games.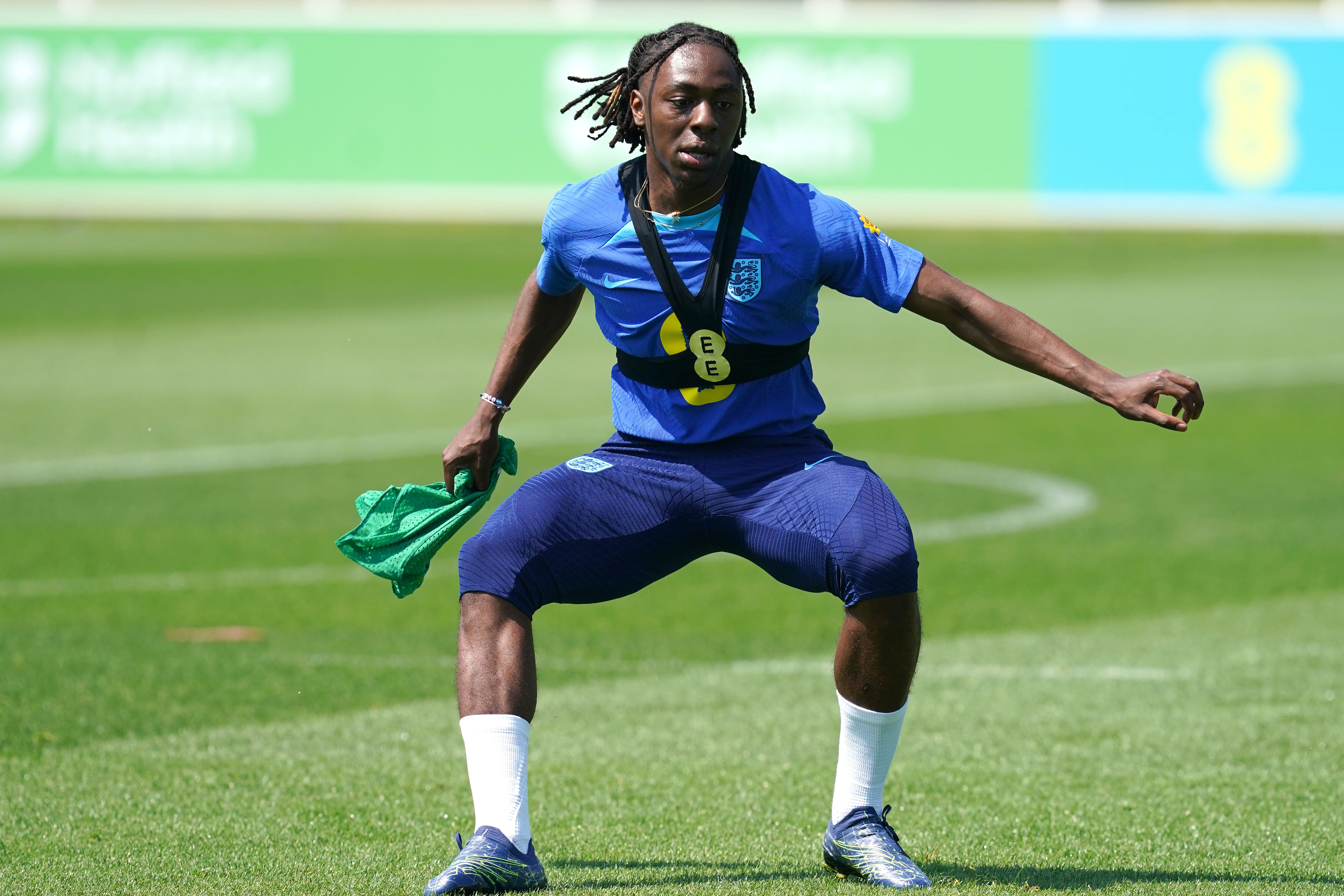 Eberechi Eze believes his injury nightmare two years ago gave him the platform for England recognition.
The Crystal Palace midfielder is eyeing a senior debut after being included in Gareth Southgate's squad for the Euro 2024 qualifiers against Malta and North Macedonia.
The call came after Eze was named in England's provisional Euro 2020 squad in May 2021 – only for a serious Achilles injury on the same day to wreck his dreams.
His has fought back and insists his six months on the sidelines only gave him strength and confidence in his ability.
Eze said: "I know without setbacks and difficult moments it's hard to grow and be the person I am today. I look back at those memories fondly because I know it has helped shape who I am.
"It's hard to put into words. I look at things a bit differently. I saw it (the potential call) as I was on the right trajectory, even though I was injured, this was the level I could get to. It gave me the motivation to keep going.
"I got a message which gave me an inkling I was going to be called up but being injured that was the end of it for a little while. It's been a journey getting back to the standard and putting in the performances but it's been a good one."
Eze scored 10 goals for Palace in the 2022-23 season – six after Roy Hodgson returned to replace Patrick Vieira in March to steer the Eagles to 11th in the Premier League.
Hodgson initially signed the 24-year-old from QPR in 2020 and Eze credits him and his assistant Ray Lewington as big influences in his fight to return to the top.
"He has got insane wisdom, it's good to talk to him and hear what he has to say," he added.
"From the first day I met them they have been improving me as a person and a player. It has opened my eyes to more. I have grown so much because of them.
"I am very grateful to Roy and Ray for all they did helping me to regain form, they helped me massively with performances and my mental state. In terms of them staying on (at Palace), it's not my decision."
England travel to Malta for Friday's Group C qualifier before hosting North Macedonia in Manchester on Monday.
Eze, who chose England over Nigeria and has eight Under-21 caps, has the chance of featuring but is not taking anything for granted.
"My main focus is training well, doing what I can do, being the best version of myself. All I can do is what I can do, that decision is for Gareth to make," he said.
"Naturally there is always something else you want, when you achieve them it's on to the next thing (a debut), I am grateful to be in this position. I know I have worked hard but no-one is doing me any favours."
Eze – released by Millwall in 2016, having already been let go by Arsenal – also feels his success is extra sweet, with his faith convincing him he would succeed.
He said: "I spoke to my mum yesterday about stories when I was younger, it is good to look back and understand I have still managed to be in this position.
"My mindset is to keep working hard. I look back with gratitude to God, he has been with me through so many difficult moments and times.
"Getting released from Millwall…that was quite tough, that was the time when everyone is getting their professional contract, you don't know where you are going to be but I have always kept faith and been positive in myself.
"There were difficult times when you don't have a contract, going on trial and not getting in but my faith in God got me through, I really believed as long as I am working hard and doing what I can do, God will find a way."