England find another blueprint for success to beat Scotland in inaugural Women's Nations League clash
England 2-1 Scotland: Three goals in five minutes at the end of the first half settled the first-ever Nations League game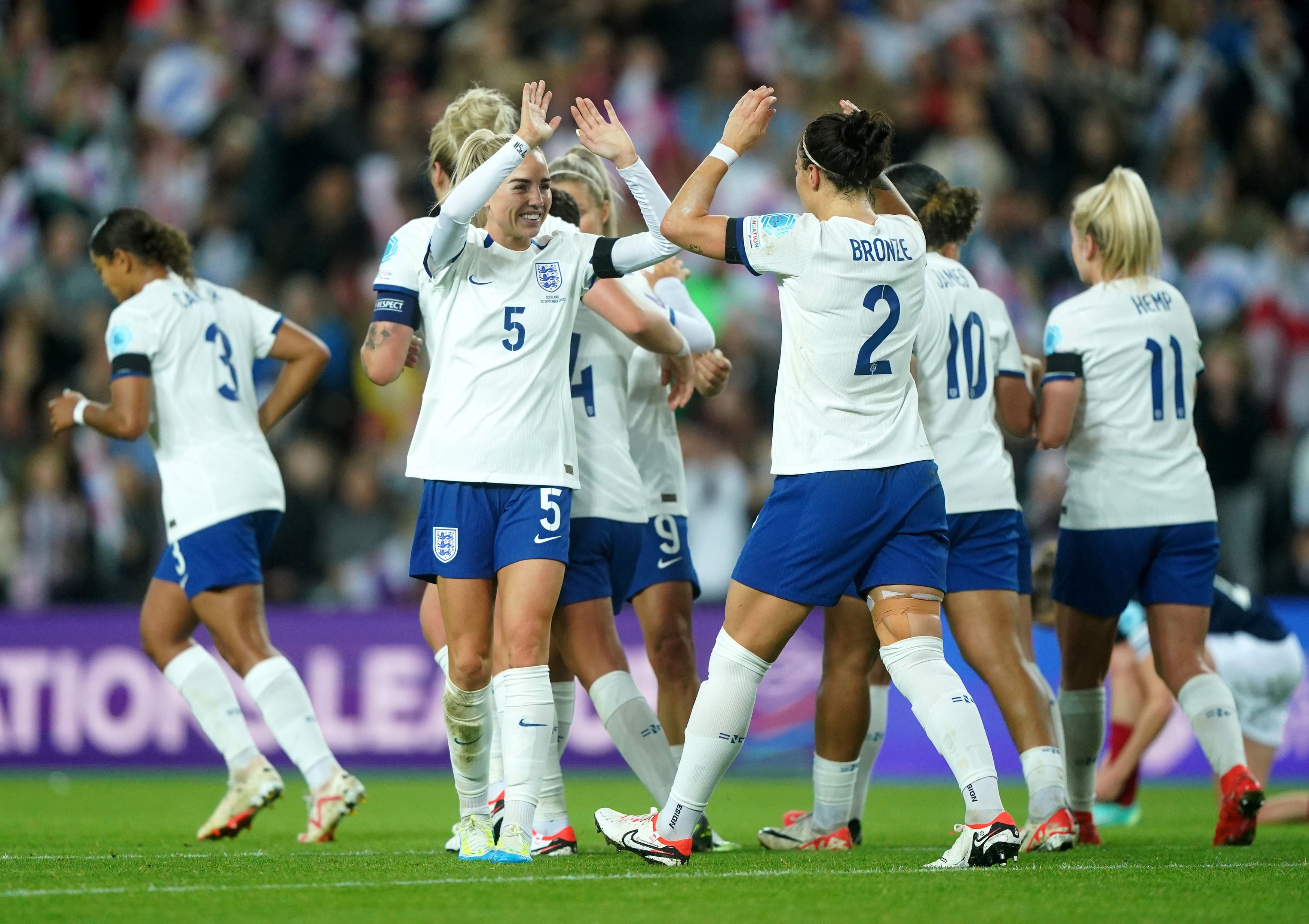 Herein lies the formula for a high-performing England team. Release the shackles, dole out the confidence, then sit back and marvel at the beast of the Lionesses without limits. There were no concerns about keeping tournament hopes alive; no headaches over managing minutes; no tactical frameworks to devise on the fly; just a chance for the Lionesses to show what they can do best.
And that is exactly what England accomplished. Scotland were far from pushovers but were thoroughly outclassed on Friday night. With an enthusiastic Sunderland crowd providing the backing and an evidently more polished shape on their side, England exuded confidence. Raw, unadulterated confidence.
From the off it was as if that was all that mattered. Georgia Stanway sized-up Scotland goalkeeper Lee Gibson whenever the ball dropped towards her feet outside the area, Chloe Kelly went on her customary weaving runs, Lauren James – with her usual precision and air of nonchalance, was finally free to toy with opponents once again. Even Lucy Bronze, usually a straight edge, was inspired to try and backheel it through the visitors' defence.
The danger of working at the disposal of a master conductor like Sarina Wiegman had always been that glimpses of individual brilliance were better left repressed than taking risks which may have been to the detriment of the team. Just follow the plan and have faith that results will ensue.
Here's a summary of how that has worked so far: England became a relentless machine, they won the Euros, opponents cottoned on, things turned stale, their winning record ended, an unexpected injuries forced Wiegman to return to the drawing board.
The abandoning of such orthodoxy and the move towards a new formation may well be the key to this team's future. Against Scotland they provided further evidence that the current set-up might just set them on a course for future success.
Rachel Daly finally converted an England set-piece after a summer of somewhat underwhelming corners, though she was denied the opener with Kelly standing offside, apparently interfering with Gibson's sight of the ball.
So it fell to Bronze to put England ahead; the fact it was a former Sunderland player coming to the rescue being much to the delight of the home supporters. Katie Zelem dinked the ball over the heads of the Scottish back line and Bronze timed her diving header to perfection, contorting herself low and connecting just on time to direct the ball past Gibson.
Then, just six minutes later, it was the turn of her former Manchester City teammate Lauren Hemp to do something rather similar. This time it was Daly who drilled in the cross and Hemp likewise adopted a dive to nod home.
Though as much as England's exuberance had been a delight for fans, at times evoking a sense that the Nou Camp had been plonked on the banks of the River Wear, there were sporadic reminders that this team remains fallible.
Real Madrid's Caroline Weir picked up the ball inside the England box and should have netted for her side were it not for the quick reactions of Mary Earps. Kirsty Hanson carved out openings on the left-hand flank and Weir should likely have had a penalty after Millie Bright brought her down.
It came as little surprise, therefore, that Hanson was able to pull one back when she tucked home a loose ball on the stroke of half-time, though after the break the hosts managed to hold back Scotland's persistence.
Zelem, the provider of Bronze's opener, was a particular standout while filling in for the absent Keira Walsh, who has missed out on a spot in this camp through injury. She hassled tirelessly in the middle of the park and tried to orchestrate chances going forwards, zipping the ball around, and looked a welcome addition.
It was somewhat cruel when Zelem, who shone when deputising for Walsh during the latter's period of absence at the World Cup, was quickly shunted back to the bench after her quick recovery, and her performance against Scotland will have staked a further claim that she is deserving of a spot in this team.
The performance of James, starting for the first time since her now-infamous red card in the quarter-finals, was also encouraging and showed that she has now surely cemented her position in the England teams of the future. That she had a late goal ruled out for offside is of little importance.
This international break is peculiar for the fact it comes before the domestic campaign begins, and takes place just over a month after the World Cup's conclusion, but two strong performances will be crucial.
If Team GB are to secure qualification for next summer's Olympics England must win their Nations League group and then progress to their final. Victory over Scotland – and further evidence of a way in which this team can delight audiences and play their top-class football going forwards – helps to set things on a positive course. Now their attention quickly turns to Tuesday's game against the Netherlands, where they will need to be at their best once again.
Join our commenting forum
Join thought-provoking conversations, follow other Independent readers and see their replies