European Super League shows football without fans is not as important as the product and its customers
The fans will again be expected to shell out to ultimately pay for the new product experience, so is it time to say 'enough'?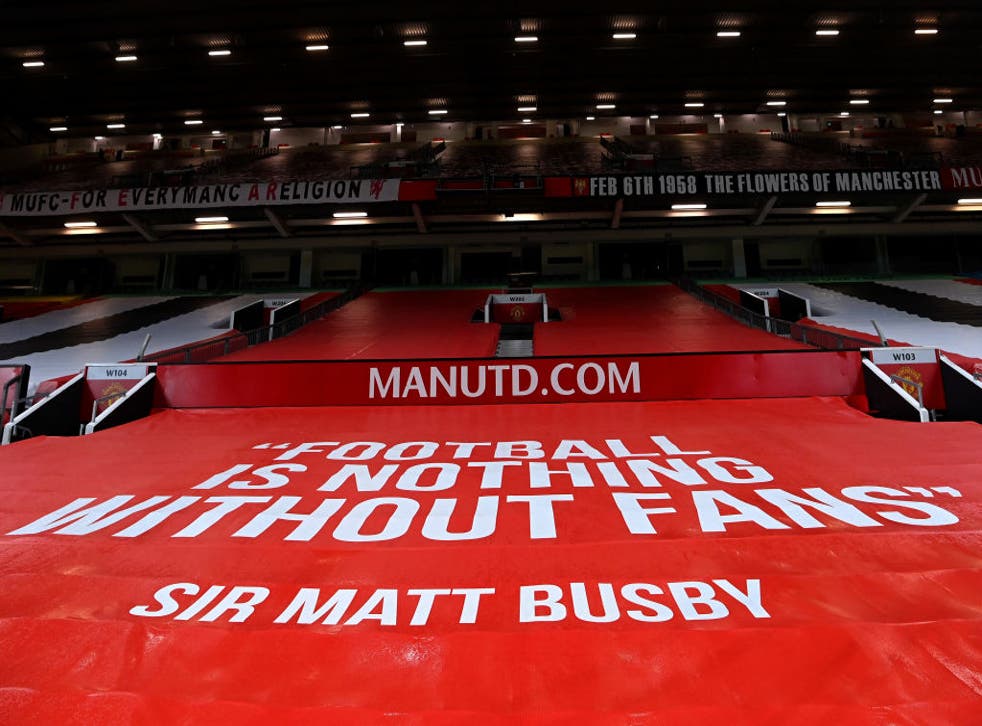 For the past year, there has been a constant stream of the same message disseminated in countless forms: football without fans is nothing. 
This has been emphasised by the soullessness of empty stadiums, stripped of the colour, emotion, community, and chorus that gives the game its meaning beyond systems and a scoreline.
The powers that be - clubs, the government, the Premier League, the Football Association, Uefa - have worked overtime on a pathway to restore supporters to the terraces as soon as safely possible. 
There has been a fear over the detachment to the game ballooning for an overwhelming majority during the pandemic. An occurrence that has been heavily assisted by the poor application of VAR by officials, which has largely scrubbed away the euphoria of celebrations and distilled play down to lines, frame rates and shirt sleeves.
But amid and undercutting this, owners discovered that football can continue without match-going supporters. Revenue from the turnstiles has been missed, but it matters not through the prism of the broadcasting pot of gold.
Pump in fake crowd noise and boom! The international viewing figures still make for sweetly profitable reading. 
The clubs with a gigantic global fanbase have played on this angle for the longest stretch, disguising pre-season tours and the like as a way of being inclusive and taking the game to the people. The truth has always been about commercial expansion and taking their money.
The owners don't care who you are, where you're from, what you do - as long as you love the club enough to part with your cash.
F̶o̶o̶t̶b̶a̶l̶l̶ ̶w̶i̶t̶h̶o̶u̶t̶ ̶f̶a̶n̶s̶ ̶i̶s̶ ̶n̶o̶t̶h̶i̶n̶g̶
The product without its customers is nothing. 
So here we are with the s**t-sandwich of a nefarious Super League or the hyper-capitalism of Uefa's expanded Champions League format. 
The 12 clubs that released a statement late on Sunday night confirming their intention to take control of European football do not care what you or I think about their decision.
They anticipated this blowback: Chelsea Supporters' Trust calling the move "unforgivable," Liverpool's Spirit of Shankly being "appalled," the Arsenal Supporters' Trust decrying their "death as a sporting institution," Manchester City's Official Supporters Club pointing out "zero regard for the game's traditions," the Manchester United Supporters' Trust going with "completely unacceptable" and Tottenham's Supporters' Trust labelling it a "concept driven by avarice and self-interest at the expense of the intrinsic values of the game we hold so dear…"
The owners have extensively monetised the loyalty, the deep and unshakable connections that "legacy fans" have to their clubs. 
They made it what it is: shaped the identity, sung the soundtrack, painted the backdrop of enduring memories and this history is now for sale to the "fans of the future."
Who wants actual competition when you can create endless expensive content? Why would you want to earn success when you can earn €3.5 billion? 
And then there's Uefa, who aren't concerned with whether we want 100 more European Cup fixtures per season. 
F̶o̶o̶t̶b̶a̶l̶l̶ ̶w̶i̶t̶h̶o̶u̶t̶ ̶f̶a̶n̶s̶ ̶i̶s̶ ̶n̶o̶t̶h̶i̶n̶g̶
The product without its customers is nothing.
Through every single football reform lies the notion that supporters will continue to tune in and pay whatever it costs to get their fix. 
Subscribe to yet another service. Buy another third away kit. Prove how much of a real fan you are via your wallet. 
The greed is all-consuming, discounting more than just us.
It can be difficult to remember this given their enormous pay packets and erroneous portrayal as robots, but players and managers at their very root are supporters too. 
Their feelings about these advancements have also been ignored. Jurgen Klopp - the man to break a 30-year title drought - has been vocal against it, but Liverpool are a founding member and driver of the Super League.
READ MORE: Klopp will be questioned on Super League tonight - what he says is crucial
Sir Alex Ferguson finds the idea of removing the very essence of the sport - the joy of winning, the jeopardy of losing - abhorrent and yet Manchester United are not only all in, their co-chairman Joel Glazer is one of the men running what will essentially become a Reality TV show.
Arsene Wenger called it. "We are in the age of owners that are investors and what is the first target of investors? It is to make money."
It's all about the bottom line and making obscenely rich owners that much richer. How long you've supported a club is not as significant as how much you'll put into its pockets moving forward. 
Players and managers, however much they detest this direction, will be well compensated - even more so - moving forward.
They've sacrificed too much in their careers, especially on a personal scale, to hit the eject button. 
You, however, will have to shell out greater sums for a bastardisation of the game ridiculously and wrongly summed up as "the best players, the best clubs, every week" when there's no Robert Lewandowski, Kylian Mbappe, Erling Haaland, Neymar, Bayern Munich, Paris Saint-Germain… 
Park how boring that situation would quickly become, can you ignore the obvious erosion of the fundamentals of the sport for the sake of manufactured entertainment?
Can you hit the eject button?
Or will you prove the owners right and pay, pay some more, and then pay even more?
Register for free to continue reading
Registration is a free and easy way to support our truly independent journalism
By registering, you will also enjoy limited access to Premium articles, exclusive newsletters, commenting, and virtual events with our leading journalists
Already have an account? sign in
Register for free to continue reading
Registration is a free and easy way to support our truly independent journalism
By registering, you will also enjoy limited access to Premium articles, exclusive newsletters, commenting, and virtual events with our leading journalists
Already have an account? sign in
Join our new commenting forum
Join thought-provoking conversations, follow other Independent readers and see their replies