Liverpool's Alex Oxlade-Chamberlain has transformed his season and reputation like no other England midfielder
In January Oxlade-Chamberlain doubted whether he would play at this summer's World Cup for England. Now he probably goes to Russia now as a guaranteed starter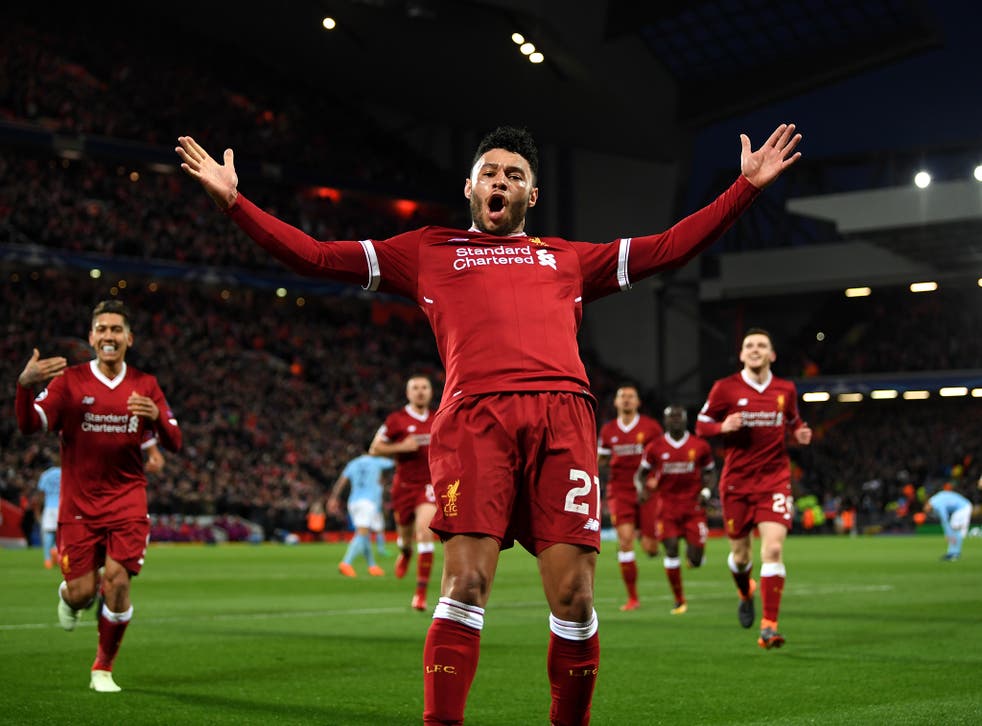 There was an intoxicating stew of energies in Anfield's packed mixed zone on Wednesday night. More Manchester City players stopped to talk than you might think after such a crushing defeat. Listen to them, remembering it will be an achievement to play so poorly against a team for the second time that might be without key figures in the second leg, and you quickly begin to think they still have a chance of progression even from 3-0 down.
Liverpool's players, indeed, were not celebrating, as Jürgen Klopp had announced in the room next door a few minutes earlier. Instead, there was a mix of exhaustion and defiance because they know too this tie is not over. Alex Oxlade-Chamberlain? He left a different impression, making you believe that if Klopp told him to run all the way home from the stadium carrying Jordan Henderson on his shoulders, he'd still be able to do it.
No English footballer this season has turned his season and perhaps reputation around quicker than this midfielder; someone who arrived at Liverpool on the final day of the transfer window in August with many critics. By January, he was still on the fringes of Klopp's team. Philippe Coutinho's exit left him with an opportunity and in the next game, a league fixture against City – he scored. He scored again on Wednesday, of course, in a similar manner, larruping a shot that Ederson did not seem to think was coming, despite more or less the same thing happening a few months ago.
In January, Oxlade-Chamberlain doubted whether he would play at this summer's World Cup for England. Having started the last two friendlies under Gareth Southgate in the centre of midfield, having heaved himself back into contention at international level through his energetic and influential performances for Liverpool, he probably goes to Russia now as a guaranteed starter.
"The manager [Klopp] has been pushing me all season and shouting at me for not taking the game by the scruff of the neck at times and providing those kinds of moments, being the one shooting and making the difference," Oxlade-Chamberlain admitted. "Slowly it is starting to pay off…"
He continued, without prompt, on an introspective path. Oxlade-Chamberlain was annoyed with himself, "disappointed", for not being better on the ball, particularly in a second half when City's dominance of possession was absolute but without the necessary level of purpose to really hurt Liverpool. In the haze of victory, it had escaped him that City had not managed a single shot on target in any game for the first time since December 2016.
Steven Gerrard had labelled it the perfect European performance from Liverpool because they had shown two faces. It felt like two legs in one game – establishing a lead safe enough to invite pressure, knowing risks mean opportunities for counter-attacks. Liverpool must do it all over again in Manchester next Tuesday but if City pour forward too much too early, and leave gaps in defence, Liverpool know they can score again and settle the tie.
What Liverpool won't have in Manchester is the home advantage. The won't have Anfield. The atmosphere on Wednesday, Oxlade-Chamberlain said, "was the best I've ever played in – one that set the tone for us".
"I've never witnessed anything like that," he continued. "Coming into the stadium for a game which was not a final it almost set it up to be like a final… it definitely got us going and you could see that."
Vincent Kompany, the City captain, was adamant the pyretic surroundings had not affected the team he leads but then, why did Pep Guardiola leave Raheem Sterling on the bench at a stadium where he has never performed to the standards he's capable of reaching since leaving Liverpool in 2015? That alone was an admittance that Anfield is a problem at least one player, and this was before City's team bus was pelted with objects on the way to the ground.
"If you are the away team and the crowd gets going like that [inside Anfield], it is horrible," Oxlade-Chamberlain insisted. "City are an amazing football team but they are only human and you put anyone in a pressure environment in an atmosphere like that, maybe it can disturb them."
Register for free to continue reading
Registration is a free and easy way to support our truly independent journalism
By registering, you will also enjoy limited access to Premium articles, exclusive newsletters, commenting, and virtual events with our leading journalists
Already have an account? sign in
Register for free to continue reading
Registration is a free and easy way to support our truly independent journalism
By registering, you will also enjoy limited access to Premium articles, exclusive newsletters, commenting, and virtual events with our leading journalists
Already have an account? sign in
Join our new commenting forum
Join thought-provoking conversations, follow other Independent readers and see their replies