Frustrating Manchester United concede late on but take crucial away goal back to Old Trafford
Anderlecht 1 Manchester United 1: Leander Dendoncker equalised after Henrikh Mkhitaryan's opener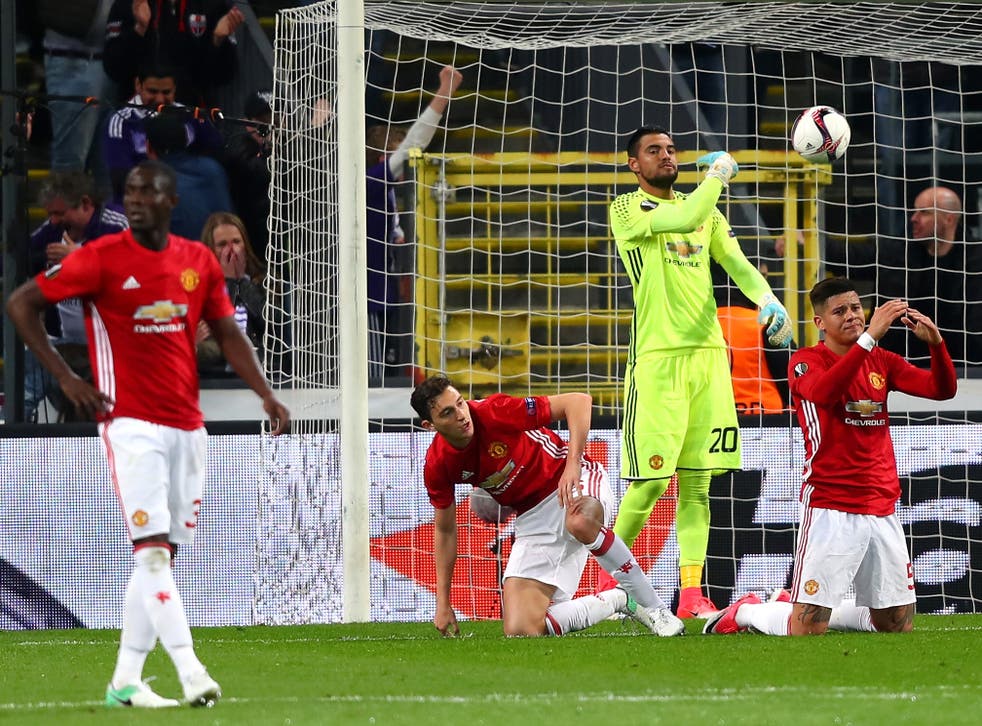 There will be tougher tests than this down the line, but Manchester United's best hope of qualifying for next season's Champions League may well be by winning the continent's second-tier competition, with a draw at Anderlecht putting them in the box seat for the Europa League semi-finals.
Jose Mourinho's side will still need to finish the job at Old Trafford, but they took a big step towards the final four even despite Leander Dendoncker's late equaliser for the hosts.
Henrikh Mkhitaryan's first-half goal had looked like handing them a narrow win in Brussels and United were settling for 1-0.
But an away goal and a draw still leaves Mourinho's men in good shape, given United's record at the Theatre of Dreams in this competition.
United may have controlled this game and rarely conceded a good chance, but a late goal gave hope to a packed-out Constant Vanden Stock, which had spent much of the evening noisy but disappointed.
In the stands, the game was boisterously soundtracked at both ends, with the Anderlecht ultras behind each goal needing only the slightest encouragement to erupt with excitement.
And the pattern of the game went broadly the same way, with two suspect-looking defences both appearing exposed when retreating in the face of attack.
The hosts' main threat came through their band of young midfielders, nifty on the ball and dangerous on the dribble.
United's wasn't that different, Mourinho's men looking most likely to score whenever Marcus Rashford got on the ball. Rashford was included ahead of Anthony Martial because he offered Matteo Darmian more defensive cover on the left-hand side.
And while Mourinho's selection was vindicated by a committed performance in that regard, it is in attack where he needed the teenager to do most damage. Rashford did not let him down.
The England forward created the first major chance of the tie when he broke free down the left flank, whipping a low in-swinging cross for Zlatan Ibrahimovic to poke goalwards. The Swede's effort was saved, falling to Jesse Lingard, but his instinctive prod only found the post.
Goalkeeper Ruben had got away with one but it would turn out he had used up his lifeline. Just before the break United would come forward again and Rashford's vicious close-range effort was parried once more.
This time there was no mistake, Mkhitaryan tucking home the rebound from a tight angle to grab his fourth goal in United's last four European ties – and a potentially crucial away goal.
Given United have won all of their Europa League games at Old Trafford this season, anything but a defeat was always going to be enough to install the Premier League side as overwhelming favourites and, in truth, they looked a cut above Anderlecht.
As much talent as the Belgians have, particularly in 19-year-old captain Youri Tielemans, as time wore on it was United's big-game experience that began to show through as much as their quality.
While Anderlecht started the second half as they had the first, with a lot more energy and buzz, there simply wasn't enough quality to regularly create chances against what was a makeshift but vastly-improved backline.
Frank Acheampong volleyed their clearest opportunity – in terms of position, at least – straight at Antonio Valencia but even that rare sight at goal stemmed from a deflection. When it came to breaking United down and threading an incisive pass, energy and buzz proved to be no substitute for technique.
That spell just after the break would end up being Anderlecht's best, with a trio of aggressive substitutions only serving to break their rhythm rather than reinvigorate their attacking threat.
But against a side happy to sit on their lead, the Belgians were encouraged. And throwing everyone forward in the dying stages, it was Leander Dendoncker, who had anchored the Anderlecht midfield so well all night, who arrived unmarked to power home a header with just five minutes left.
Anderlecht, of course, still face an uphill battle going to Old Trafford and, for all the wild, late celebrations, remain big underdogs.
Mourinho however, ever the pragmatist, will undoubtedly be less blasé about those chances.
Join our new commenting forum
Join thought-provoking conversations, follow other Independent readers and see their replies