Anelka pops up to pick Porto's pocket
Porto 0 Chelsea 1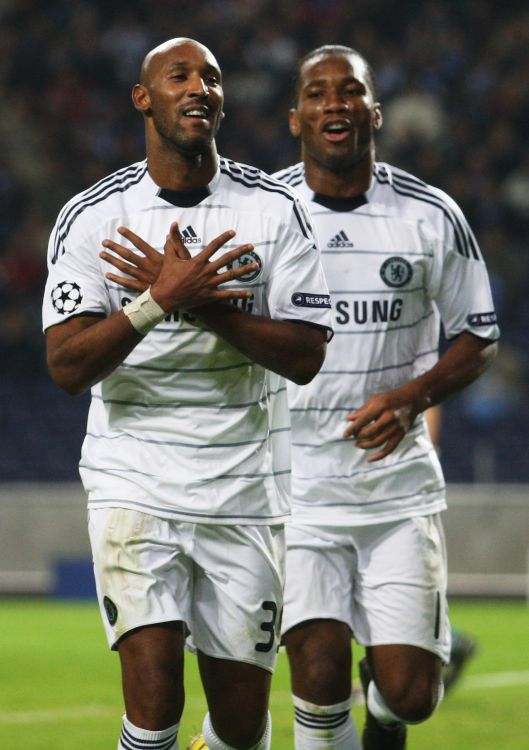 A pattern is starting to develop in Europe, one that gives credibility to the idea that Carlo Ancelotti is the man to deliver the coveted Champions League trophy to Chelsea owner Roman Abramovich.
The game plan is pretty simple: keep it tight and then Nicolas Anelka poaches the winner. The blueprint worked last night here, as it has done in three out of five European matches this season, and it ensures Chelsea will finish top of Group D and will be one of the seeded clubs when the competition goes to a knockout format.
Anelka's goal, a close-range header after 69 minutes, was his first in eight games. The Frenchman has become Chelsea's pickpocket, the man who can steal a goal to win a close contest. It could be a priceless knack if Anelka can keep doing it all the way to the final in Madrid in May.
Ancelotti's Chelsea side are proving to be a very different proposition in Europe than the side that has taken the Premier League by storm. In the domestic game they have blossomed into a free-scoring team that play with a real flourish.
In the Champions League however they have become far more cautious, one that is content to keep its shape, bide its time and take whatever the chance when it comes, like Anelka's simple finish that decided this match. This is Continental Chelsea, when goal-mouth excitement is at a premium. The key is not to lose.
The goal was pretty much Chelsea's one and only real chance to score. Their only other opportunity was a long-range effort from Anelka, again, that reserve keeper Beto kept out with a flapping arm.
The Italian instincts of their manager, who led Milan to the Champions League title twice, come to the fore whenever Chelsea face European opposition. Ancelotti had asked for "courage and personality" from the team on the eve of the match and said: "I didn't see it for the whole game but there was personality and courage in the team. If we want to win the Champions League and to arrive in the final then those are qualities we need."
With Sunday's visit to Arsenal at the back of his mind, Ancelotti made six changes from the side that beat Wolves 4-0 last Saturday. He recalled Didier Drogba for the first time since the Ivorian bruised a rib during the 1-0 victory over Manchester United earlier this month.
Yuri Zhirkov, the man signed for £18m in the summer, was also given a rare outing, playing at left-back and had a part to play in the goal. His pass released the dashing Florent Malouda and the Frenchman crossed for compatriot Anelka to score with his head.
Not that Chelsea managed to keep Porto at arm's length for the whole game. In fact Chelsea looked horribly out of sorts in the first half. Petr Cech fumbled a long range effort from the inventive Fernando Belluschi but redeemed himself with a point-blank save to deny Falcao. The Argentine midfielder Belluschi, the best player on show last night, also rocked the Chelsea crossbar with a stinging drive from 25 yards.
Lampard saddles up to take on Arsenal after placenta healer trip
Frank Lampard is set to play for Chelsea against Arsenal on Sunday, after seeing the horse placenta healer Marijana Kovacevic for treatment on his torn thigh muscle.
Lampard remained at Chelsea's Cobham training ground while his team-mates were in Porto for their Champions League tie and the Chelsea manager, Carlo Ancelotti, said: "He will train with the team on Thursday. We hope he'll be fit for Sunday."
Lampard tore a thigh muscle two weeks ago before England's friendly against Brazil in Qatar. Last weekend he flew to Belgrade to visit Kovacevic who uses fluids derived from horse placenta in internal and external processes to speed up the healing process.
Chelsea claimed the player would be out of action for two weeks, although privately it was feared it would be six. The news that Lampard may face Arsenal gives them a huge lift before a game that could put Ancelotti's side 11 points ahead of their London rivals. Didier Drogba also returned after a rib injury last night. Ancelotti said: "The players are in good condition and form and we know that Sunday will be a very difficult match but we also know that we are in a very good moment to play Arsenal."
Mark Fleming
Porto (4-1-4-1): Beto; Sapunaru (Farias, 80), Rolando, Bruno Alves, Pereira; Fernando; Varela (Hulk, 59), Belluschi (Guarin, 71), Raul Meireles, Rodriguez; Falcao. Substitutes not used: Nuno (gk), Valeri, Maicon, Costa.
Chelsea (4-1-2-1-2): Cech; Ivanovic, Carvalho, Terry, Zhirkov; Mikel; Ballack (Essien, 68), Malouda; Deco (J Cole, 76); Anelka, Drogba. Substitutes not used:Turnbull (gk), A Cole, Kalou, Alex, Belletti.
Referee: J Eriksson (Sweden).
Group D
Results so far: Chelsea 1 Porto 0, Atletico Madrid 0 Apoel Nicosia 0; Porto 2 Atletico Madrid 0, Apoel Nicosia 0 Chelsea 1; Porto 2 Apoel Nicosia 1, Chelsea 4 Atletico Madrid 0; Apoel Nicosia 0 Porto 1, Atletico Madrid 2 Chelsea 2; Apoel Nicosia 1 Atletico Madrid 1, Porto 0 Chelsea 1.
Remaining fixtures: Tue 8 Dec: Atletico Madrd v Porto, Chelsea v Apoel Nicosia.
Apoel Nicosia 1 Atletico Madrid 1 With the qualification spots already decided, Apoel and Atletico were left to fight for third and a Europa League spot. Nenad Mirosavljevic volleyed home in the fifth minute for the home side but Simao Sabrosa's 62nd-minute equaliser then rescued a point for Enrique Flores' side, who reclaimed third spot ahead of next month's game against Porto.
Join our commenting forum
Join thought-provoking conversations, follow other Independent readers and see their replies