Manchester City vs PSG: Angel Di Maria warns City Parisians will hit them where it hurts
Winger in confident mood ahead of second leg at the Etihad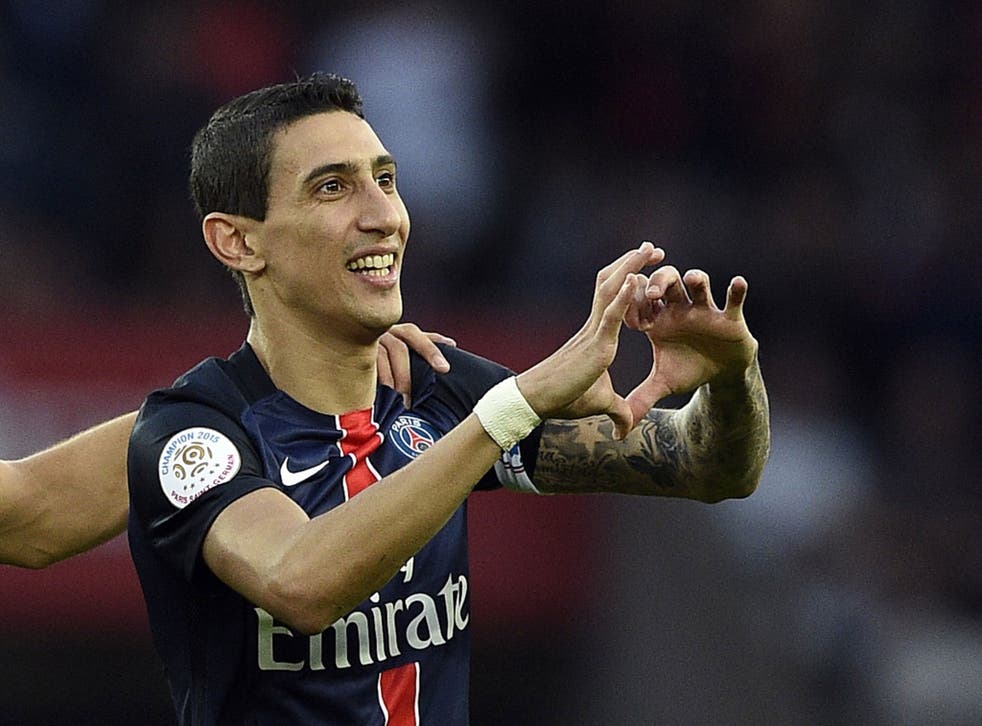 Angel di Maria has warned Manchester City that Paris Saint-Germain plan to "hit them where it hurts" in order to deny Manuel Pellegrini's team a place in the Champions League semi-final on Tuesday.
City, who will be without injured captain Vincent Kompany despite his return to training following a calf injury, face the French champions at the Etihad Stadium having emerged from the Parc des Princes with a 2-2 first-leg draw in last Wednesday's quarter-final first-leg in Paris. But despite the advantage of two away goals, which means PSG must either win or draw by a margin of 3-3 or greater to progress, the former Manchester United winger Di Maria claims that Laurent Blanc's team have the gameplan to reach the semi-finals for the first time.
"We need to play the way we know how," Di Maria said. "Control the ball, attack and take the chances that come our way. That's how we've won our matches up until this point. It's our style. Our opponents use up a lot of energy chasing the ball and then we hit them where it hurts.
"It is easier knowing that we have to win to go through. We don't have any other choice, even if we are up against a quality opponent. But I think by doing things the way we know how, we can win this match."
The PSG manager Blanc has admitted that the French title-winners are under pressure to deliver Champions League glory for the club's Qatari owners. But he insists that PSG's performance last week is enough to offer encouragement for the second leg. "No one won 3- or 4-0," Blanc said. "We scored two as well, it will come down to little details. When you look at the chances we created, we had a few and pretty good chances as well. We also missed a penalty.
"We scored two, which was no mean feat, and created five or six chances in a Champions League quarter-final. I would be happy if we created as many chances again."
Kompany, meanwhile, will miss the game after being ruled out of the second-leg by Pellegrini. The City captain has been out of action since suffering a calf injury during the round of 16 second-leg tie against Dynamo Kiev a month ago. The Belgian returned to training last week and appeared fully fit in open training on Monday morning, leading the warm-up jogging in front of the cameras. But City manager Pellegrini insisted that he is not prepared to gamble on the defender's fitness, leaving Nicolas Otamendi and Eliaquim Mangala to continue their partnership.
"In the squad list, there is no Samir Nasri because he is not eligible and Raheem Sterling is still injured, so he is not in the list," Pellegrini said. "And the last one is Vincent Kompany, whot is not 100 per cent. That is not possible [for him to play]. Nico [Otamendi] twisted his ankle in the last game. He has some pain but it is not dangerous. He is OK.
"But of course we are confident because with this defence we played a lot of games here in the Premier League and in the Champions League and, if we are in this stage, it is because we have good defenders."
Despite the loss of Kompany, City full-back Bacary Sagna insists the club have the players to make up for his absence. "Vincent is our captain," Sagna said. "We know he is a quality player and quality defender. He is a very important, but we have quality players also. Mangala has done very well in recent games. We have a good defence."
Pellegrini added: "We start this stage against PSG, but I don't think one team can be favourites. I continue thinking exactly the same. We have to play a tough game against a very good team. We try to win from the beginning in the first game and we do the same."
Join our new commenting forum
Join thought-provoking conversations, follow other Independent readers and see their replies