Petr Cech tells Arsenal teammates they have a 'big responsibility' to win the Europa League
Arsenal reached the semi-finals last night with a 2-2 draw at CSKA Moscow, thanks to late goals from Danny Welbeck and Aaron Ramsey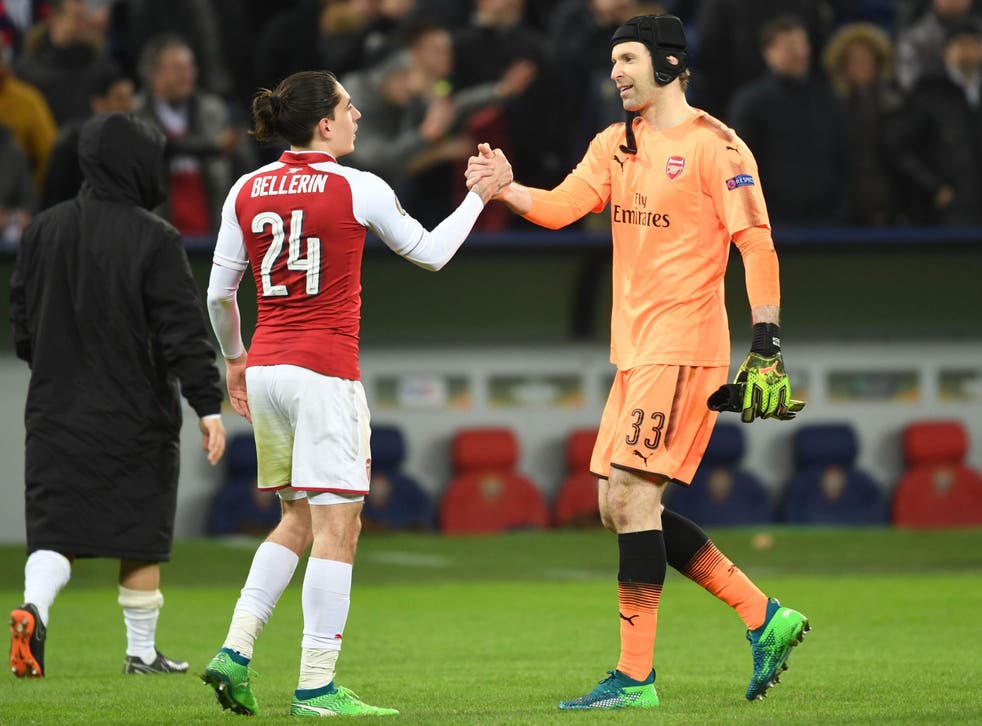 Petr Cech has told his Arsenal team-mates that they have a "big responsibilty" to win the Europa League, the only way for them to save their season.
Arsenal reached the semi-finals last night with a 2-2 draw at CSKA Moscow, thanks to late goals from Danny Welbeck and Aaron Ramsey. But before Welbeck's goal they were one goal from elimination and had lost control. Cech, in an honest assessment of the evening, admitted that his team had put themselves "in a very bad position" before getting out of it. But he also pointed to the fact that at this stage of the competition, it is only progress, not performance, that matters. And on that score Arsenal can be happy enough.
When Arsenal joined this competition they were one of 48 teams and now they are one of four. Yes, it will be difficult with Atletico Madrid still here but at least they can now envisage winning in Lyon on 16 May. That would mean Champions League football again next season and would effectively make sense of what had otherwise been a disappointing and frustrating season, in which the team has drifted even further off the pace in the Premier League.
Which is why Cech has told his team-mates that they now have a duty to bring this trophy home. "You can feel it, there is a big responsibility for everyone because we know with the position we are in the league," Cech said. "It is difficult, someone would have to have a big meltdown in the last seven games to give us a chance to sneak into the top four through the league."
"We know this is our chance to book our Champions League spot. But not only that, you play a European competition for a cup and for a cup the club has never won. This is another opportunity to add a great trophy to the cabinet."
As Cech knows, if Arsenal do not win then they will be back in the Europa League again next season, again facing the indignity of these long trips to eastern Europe while Tottenham Hotspur host Europe's elite in their shiny new home. That would be another blow to Arsenal's already-bruised esteem.
"You need to keep the progression," Cech said. "You keep that not only on the pitch but by winning things. Obviously it will be very important for the club to finish the season with a European success and most importantly, if we can book the spot in the Champions League for next season. A club of Arsenal's size and history belongs in the Champions League. Hopefully we can progress another round and give it a shot in the final."
Clearly Arsenal have come very far from the start of the season, when they were playing FC Koln, Red Star Belgrade and BATE Borisov and this competition was just a chance to play youngsters and fringe players they were lining up for a move. This is their priority now and while Cech talked about the importance of just getting through and winning now, there is no better way to win than by playing well.
"We know that the start of this game was not what we planned to do," he said. "But I think in a European competition you don't ask how well you played each round. You can play beautiful football but when you are knocked out, you are knocked out. So I think in any European competition you need to play well enough to go through. This is sometimes the most important than playing beautiful football."
Register for free to continue reading
Registration is a free and easy way to support our truly independent journalism
By registering, you will also enjoy limited access to Premium articles, exclusive newsletters, commenting, and virtual events with our leading journalists
Already have an account? sign in
Register for free to continue reading
Registration is a free and easy way to support our truly independent journalism
By registering, you will also enjoy limited access to Premium articles, exclusive newsletters, commenting, and virtual events with our leading journalists
Already have an account? sign in
Join our new commenting forum
Join thought-provoking conversations, follow other Independent readers and see their replies