Arsene Wenger rates Arsenal's chance of beating Bayern Munich at 'one or two per cent' but calls for 'lucid rage'
The Gunners at 5-1 down from the first leg in Munich
Miguel Delaney
Chief Football Writer
Monday 06 March 2017 23:37 Comments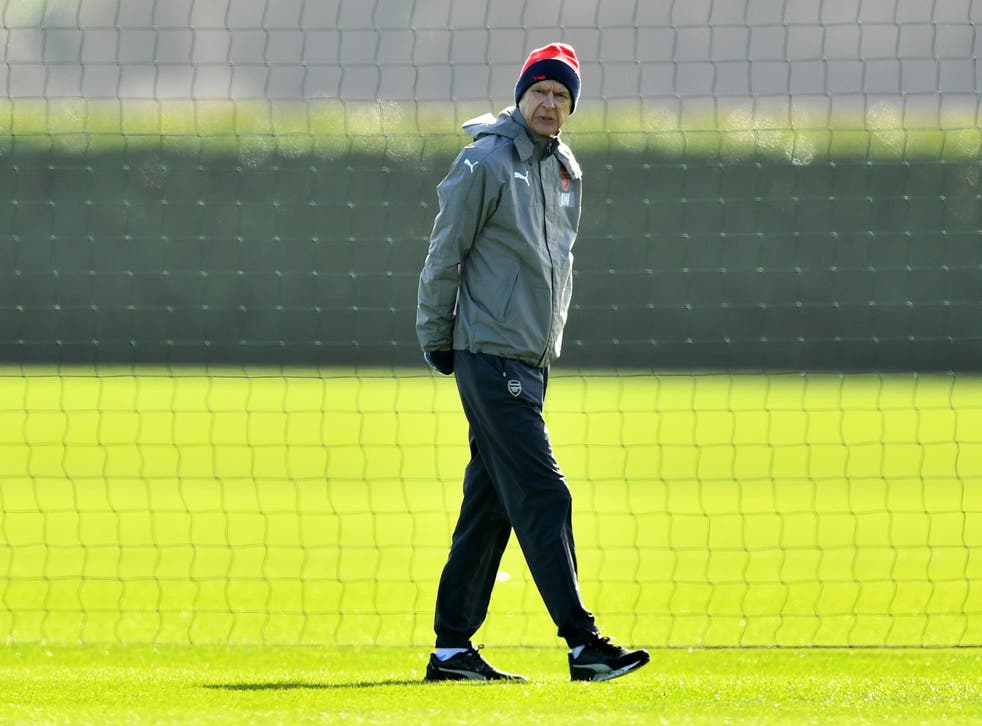 Arsenal Wenger says he wants to see a display of "lucid rage" from Arsenal at the Emirates on Tuesday, for a Champions League last-16 leg that he believes his side have a "one or two per cent chance" of qualifying from.
With Arsenal 5-1 down from a first leg that kicked off a dismal few weeks and culminated in the furore around Alexis Sanchez getting dropped for the 3-1 defeat to Liverpool an angry bust-up in training, Wenger's words were all the more conspicuous and delivered with a smile, but he was serious about his side now needing to offer a display of focused aggression amid a "difficult climate". His words also followed on from Per Mertesacker's demand earlier in the day that Arsenal need to show "a different face" and that they are ready for a fight.
Wenger had been asked what he expects of his team when the deficit is so great.
Who could Arsenal eventually replace Sanchez with?

Show all 6
"What you expect is that you go out there with a mixture of lucid rage… Total commitment, but not a silly one because you have as well, in our game, always to make intelligent decisions, to make the optimal decision and for that you need a good combination of commitment but as well I think to keep your vision," he said.
"Look we missed 45 minutes at Bayern Munich and we have an opportunity to put it right. Let's not fool ourselves, we have a one or two per cent chance. But you never know.
"That's why we have to focus on the quality of our performance and our commitment as Per outlined. You can miss 45 minutes and we paid for it. So we have to show 90 minutes of commitment. We finished top of the group, PSG finished second and they beat Barcelona 4-0. Why? Because Barcelona missed the game completely.
"We have to give our best. It's in a difficult climate at the moment because we have just lost at Liverpool so as Per said it's a bit more tense. So we have to earn our freedom to play because at the moment we play a little bit with the handbrake. In this game, maybe because we have nothing to lose, we can let the handbrake off and play with more freedom."
While Wenger was clearly speaking about his side, it was impossible not to put the words in the context of the Sanchez situation, and the ongoing debate about his ostentatious shows of frustration and how helpful they actually are. The Chilean himself put up an Instagram post with the words: "The true warrior fights not because he hates the ones in front of him, but because he loves those behind him."
Wenger earlier straight up denied that there had been a bust-up, describing the reports as "completely false" and his relationship with Sanchez as "honest and normal". When asked about the much-photographed handshake between the two at the start of training on Monday, the Arsenal manager said: "You know, I shook hands with him on Saturday morning and after the game as well. You decided that I did not shake hands. I shake hands everyday with Alexis Sanchez."
Wenger had said Sanchez "sometimes has excessive behaviours" due to his commitment, but insisted the interpretation of this was dependent on results.
"Excessive commitment is maybe sometimes when he shows [throws arms up in the air] on the pitch. It's always interpreted that he's not happy but it could be interpreted as well that he wants everyone to be with him. I think when it doesn't go well these things are interpreted negatively."
Pressed on how they were interpreted internally, Wenger said: "Internally is internally, like you said. I don't know what happens inside your newspapers, maybe you love and kiss each other everyday but I'm not completely convinced.
"You have to accept that a team is made up of 25 different personalities. So I don't want people to change. I just want them on board to achieve something together."
Wenger was directly asked whether Sanchez has higher standards as his teammates and responded: "No".
"Look, you have all the informations available on the performances of the players after the game and you can decide yourself - without me - what is going on in the pitch. Every physical data, every pass, the number of times a player touches the ball, how much he runs, how much he sprints, how much doesn't sprint. You have all that available, you don't need me."
Arsenal will meanwhile take on Bayern without Mesut Ozil, with Wenger confirming the playmaker is unlikely to be fit until the weekend.
Register for free to continue reading
Registration is a free and easy way to support our truly independent journalism
By registering, you will also enjoy limited access to Premium articles, exclusive newsletters, commenting, and virtual events with our leading journalists
Already have an account? sign in
Join our new commenting forum
Join thought-provoking conversations, follow other Independent readers and see their replies