Chelsea vs Arsenal: Of course I'm scoring more now - I'm not playing on the wing, says Danny Welbeck
The £16m summer signing led the charge in the Gunner's best attacking performance of the season on Wednesday night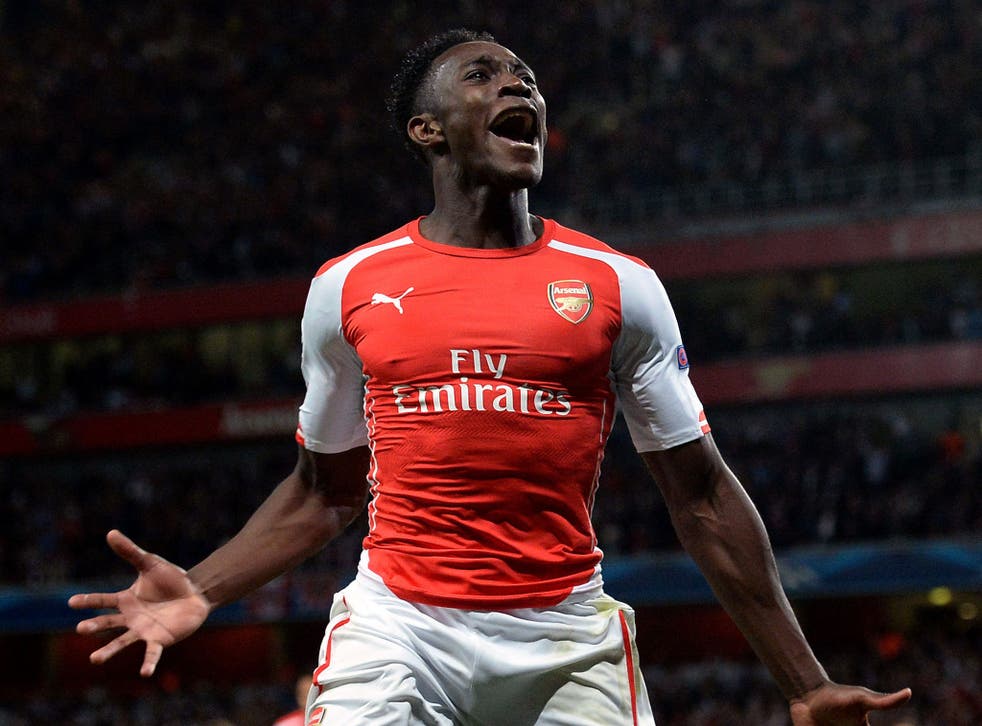 Danny Welbeck felt a sense of vindication on Wednesday night after scoring the first hat-trick of his senior career, and said his recent good form in front of goal was simply a result of his getting to play up front.
Welbeck has scored six goals for club and country since sealing his £16m move from Manchester United to Arsenal a month ago. When asked about his goal-scoring record on Wednesday night, after his hat-trick in the 4-1 win over Galatasaray, Welbeck said criticism did not matter if they applied to his years playing on the wing of a four-man midfield.
"Nobody can really criticise my finishing because they don't really see me playing in a forward position too often," Welbeck said. "But now I am getting into these positions I want to be sticking the ball in the back of the net. I'm sure it's the same with every other striker."
Louis van Gaal, the Manchester United manager, said Welbeck did not "have the record" of Robin van Persie or Wayne Rooney when he sold him, but Welbeck responded that any striker's goal-scoring record would suffer with the responsibilities he was given.
Arsenal 4 Galatasaray 1 - player ratings

Show all 11
"Obviously people can say I've not scored enough goals," he said, "but you stick the best strikers on the wing in a four-man midfield and see if they score goals."
Playing as the main centre-forward, as he has been doing for Arsenal and England recently, has provided far more goal-scoring opportunities as well as the confidence to take them.
"Maybe beforehand, sometimes I wasn't getting through on goal if I was coming from a four-man midfield," Welbeck explained. "Obviously it's difficult to leave your position and go and get goal-scoring opportunities. But I'm getting into these positions much more regularly now, and I'm looking forward to sticking the ball in the back of the net.
"If you're getting goals and getting a run of games in your preferred position, your confidence is going to grow and performances are going to grow as well."
Welbeck would not engage too readily with the comparisons with Thierry Henry, though. "You can't start making comparisons like that," he said. "Obviously Thierry Henry is someone I've looked up to ever since I started playing football."
Welbeck led the charge in Arsenal's best attacking performance of the season on Wednesday. They were 4-0 up when goalkeeper Wojciech Szczesny was sent off early in the second half and had that not happened, they would likely have won by six or more. Arsène Wenger kept with the 4-2-3-1 system, with Mesut Özil as a No 10, rather than his previous 4-1-4-1 line-up.
Özil was excellent on Wednesday, as was Santi Cazorla, with the two creators both benefiting from the options they had with Alex Oxlade-Chamberlain, Alexis Sanchez and Welbeck running beyond them. Özil looked back to his subtle best, always picking up the ball in dangerous positions and playing a perfect through pass for Sanchez's goal.
Paul Merson described Welbeck's runs in behind as the best movement by any striker this season, and Welbeck said that he had been darting behind the Galatasaray defence to get through on goal. "When I am playing with these sorts of midfielders, they are looking to slip the ball in behind.
"I am always ready for that, looking to make the movement right and get in behind the defenders. Tonight I did that a couple of times and scored a few goals. I'm looking to build an understanding with the players and getting to know them better. It's good to play with these calibre of midfielders, they are only going to create chances."
Chelsea on Sunday will be a rather different challenge from Galatasaray, though. Welbeck was not part of the 6-0 defeat last season but said he hoped for a different outcome. "We're a confident group, and going into Sunday's game we are going to have to prepare physically, mentally and tactically well. The determination we've had going into every game has been good, and there is no difference with Sunday."
Register for free to continue reading
Registration is a free and easy way to support our truly independent journalism
By registering, you will also enjoy limited access to Premium articles, exclusive newsletters, commenting, and virtual events with our leading journalists
Already have an account? sign in
Register for free to continue reading
Registration is a free and easy way to support our truly independent journalism
By registering, you will also enjoy limited access to Premium articles, exclusive newsletters, commenting, and virtual events with our leading journalists
Already have an account? sign in
Join our new commenting forum
Join thought-provoking conversations, follow other Independent readers and see their replies