Ferland Mendy snatches win for drab Real Madrid over 10-man Atalanta
The Spaniards took a 1-0 advantage back to the capital after Remo Freuler's red card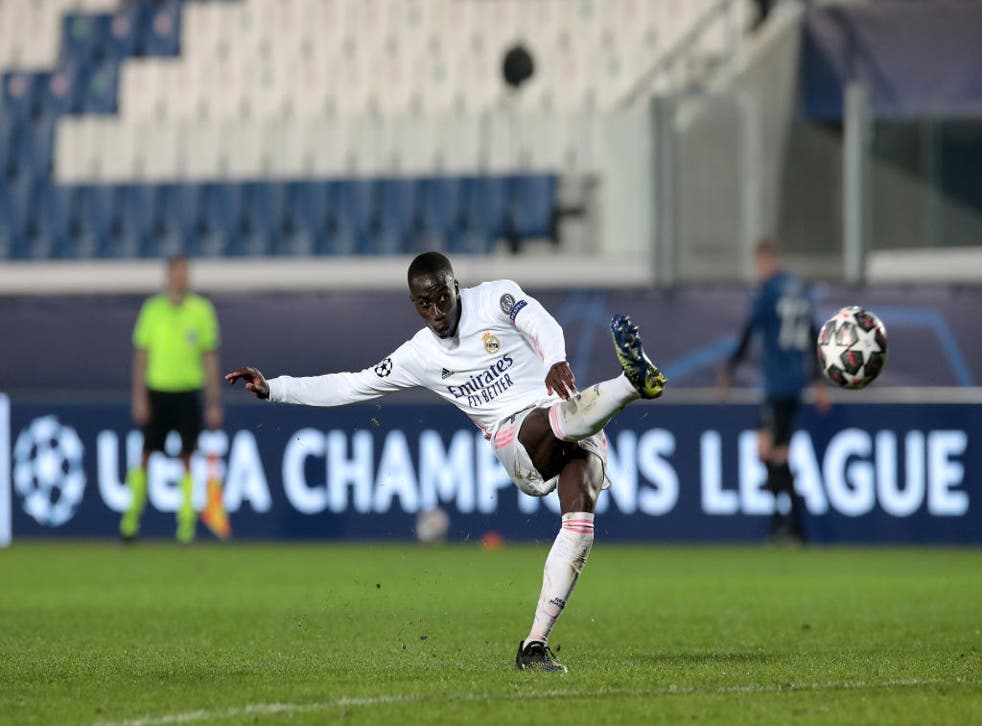 A goal out of nothing, that gives Real Madrid something they maybe didn't deserve, but one of Europe's great clubs really don't look like all that much.
There are grander discussions to be had there, from a match where so little happened, other than a controversial red card and a winning goal that ultimately resulted from it. Ferland Mendy eventually broke 10-man Atalanta's supreme resistance with a fine goal, in what was a rare moment of quality from an utterly dismal game.
That also gives the Spanish champions an away goal, and the advantage, although maybe not that much assurance.
Atalanta should still feel like they have a real chance. For the moment, they will only feel a sense of grievance, from that early decision that conditioned the whole game.
Mendy was put through on 17 minutes, only for Remo Freuler to bundle him over. It was a clear foul, but a clear goalscoring opportunity? That was harder to say. There was a covering player in Cristian Romero, and the direction of the ball would have ensured the striker either had to pull off an improbably good shot, or take another touch as the Atalanta defender closed in on him.
READ MORE: What has happened to Spanish football?
A red card was given, to the detriment of the game.
And maybe to the detriment of Madrid, too.
The frustration for the Italians, and pretty much anyone who anticipated a classically entertaining Champions League tie, was that Atalanta play exactly the type of football that would have put it up to Madrid, and that tends to exploit the excesses of the big club. The red card completely undercut that, forcing Gasperini to adapt. It made a team that can often be wondrous in attack were instead forced to withdraw, often watching Madrid playing the ball in front of them.
From there, the Spanish champions had to figure out a way through.
Much of the discussion was over whether the red card was actually a "goalscoring opportunity" but an issue for Madrid was that they so struggled to create one thereafter. That move was probably their best from open play in the first half.
The immediately started struggling against 10 men. Most of first half saw only half chances. Nacho and Luka Modric attempted shots that were at best speculative, at worst wild, Isco had one effort deflected wide.
It said much about Madrid's recent issues, as well as this current team, that their best opportunity came from a set-piece. Toni Kroos curled in a typically perfect free-kick, that just invited Rafael Varane to finish, only for Pierluigi Gollini to show stunning reflexes and strong hands to keep it out.
Madrid had the advantage of an extra man, but didn't have any extra imagination. It was a blunt display.
Modric and Kroos were controlling the middle of the pitch, but there was little release.
Atalanta were making it too congested.
This was not just compromising their approach - especially with Duvan Zapata having gone off. It was also hugely creditable adaptation, given the impressive shift in emphasis. A team that usually adore attacking, and are so proactive, had to switch to all-out defence and reactive play.
Madrid didn't seem to know where to switch the ball to, or where to go.
Their bench was strikingly callow for such a club, a consequence of restricted resources, and the effect of the crisis. That can be seen across Spanish football, since this was the only La Liga team to get a result - let alone win - in the Champions League this week.
It thereby isn't an exaggeration to say this might be the most feeble Madrid squad - most lacking in star quality - since the late 1970s.
They were still winning the occasional Liga title at that point, too, but restrictions in Spain meant they couldn't buy the same level of world star. A low point was when they finished ninth in 1976-77, won nothing, and only really had Paul Breitner offering a bit of international class.
Modern football economics mean it won't reach those depths this season, but the relative circumstances mean it might feel similarly drab.
This was certainly a drab game, with Madrid just unable to elevate it, or get in behind Atalanta.
Zidane was ultimately reduced to bringing on youth in Sergio Arribas and Hugo Duro, while Madrid's senior players were reduced to just falling over in the box.
Casemiro was lucky not to get a second booking, to join Freuler in the stands.
Madrid were hugely lucky to get something at all.
That's what the goal was: a Hail Mary of a strike; a speculative shot from the left-back.
It gives Madrid the advantage, but not that much assurance.
Atalanta have a lot to do, but not as much as you'd usually expect from a trip to the Bernabeu.
Join our new commenting forum
Join thought-provoking conversations, follow other Independent readers and see their replies