Atletico Madrid beat Leicester at their own game, proving 'British football' can triumph
It was only this version of Atletico's second big trip to England but it was just as impressive and almost as important as their first one
Jack Pitt-Brooke
King Power Stadium
Tuesday 18 April 2017 21:41 Comments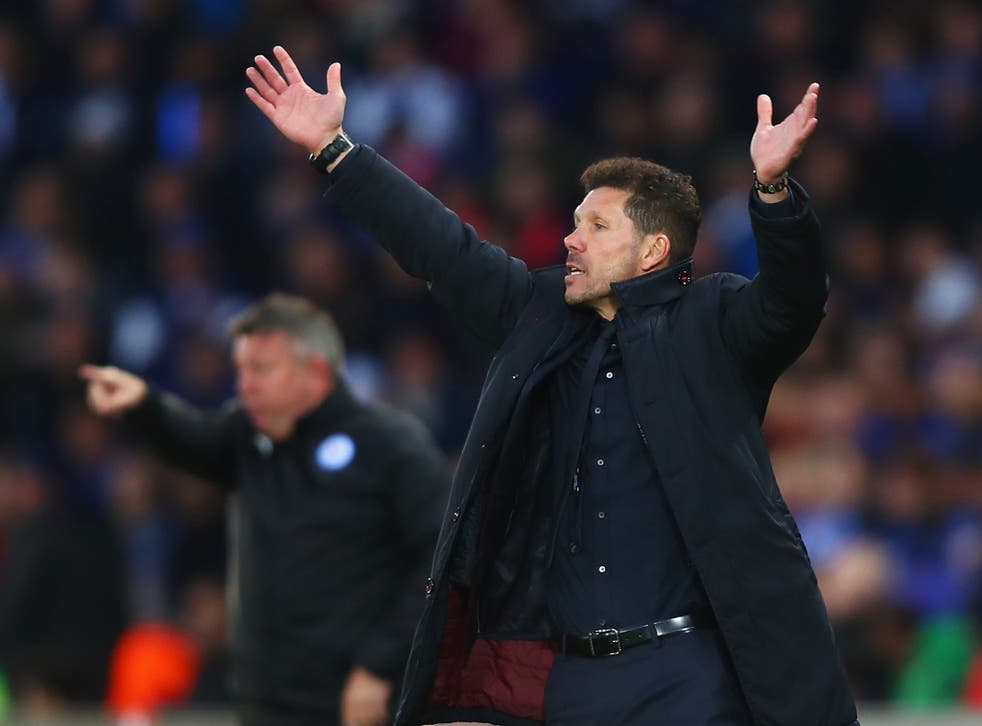 Hard work is certainly not a uniquely British trait, but anyone who wants to see what 'British football values' triumph in Cardiff on 3 June must be praying for an Atletico Madrid triumph. Here in Leicester tonight they knocked out the Premier League champions by doing everything they do but better. The 2-1 margin of their win does not do full justice to their two legs of superiority.
Our national football psyche has long made its peace with being out-played and out-thought by talented foreigners. That happened here but more, as Atletico ran, tackled, blocked and pressed their way to a 1-1 draw under immense second half pressure. Leicester threw everything they had at Atletico but it was not enough and in truth it never felt like it would be.
It was only this version of Atletico's second big trip to England but it was just as impressive and almost as important as their first one. Back in April 2014, before they had even won La Liga, they went to Stamford Bridge to play Jose Mourinho's Chelsea in the semi-final second leg, after drawing 0-0 at home. They dismantled Chelsea, a masterclass in smelling blood and then pouncing, to win 3-1. Afterwards in the press conference Diego Simeone thanked his players' mothers, for giving birth to sons with huevos big enough to play for him.
Three years on this Atletico team is even further advanced down the Simeone road, a testament to his values and conviction. This is Simeone's fifth full season as a Atletico coach and, in a football world where nothing has the chance to take root, that counts for a lot. For Leicester this was a once in a lifetime opportunity, a night to be treasured for the rest of their careers. For Atletico this was their fourth straight season in the quarter-finals. They know what it takes now, and if it looks uncomfortable for them at times they are even more uncomfortable to play against.
Here they had to work desperately hard to make it through and there were times during the second half Leicester siege where almost any other team would have wilted under the pressure and the momentum that Leicester had behind them. They had to suffer, scramble and put their bodies on their line, just as Simeone himself always used to. But they did, as they always do, and now they are back in the semi-finals.
Filipe Luis said after the first leg that Atletico would have to be "defensively perfect" in the second leg if they were to go through. In the first half here they were, following Simeone's plans to the letter. They defended ferociously as a team, and not just Diego Godin and Stefan Savic, good as they were at centre-back, and Jose Gimenez, drafted into midfield.

Manchester United are prepared to pay more than £100million for Antoine Griezmann this summer for his goals, sharpness and penalty box instincts. And yet here he was not just the first but often one of the last lines of defence for a team where everyone is prepared to get his hands dirty. Griezmann was snapping into tackles and blocks on the edge of his own penalty area, once crucially on Jamie Vardy, surging at goal, just before the break. After half-time he even cleared one cross from his own penalty area with an overhead kick. It was the ultimate example of sacrifice, an individual subsuming himself for the group.
That might sound like a minor point, but Diego Godin said before the game that Atletico train every day to focus on the "one thousand tiny details" that decide these games. All of the Atletico players defended, and it was the fatal failure of the Leicester wingers Riyad Mahrez and Marc Albrighton to stop Filipe Luis' cross or Saul Niguez's run that gave Atletico their decisive away goal.
That goal ultimately killed the game, even if there were times in the second half when it did feel very much alive. Atletico suffered, as they always do in these big games, especially when Juanfran went off and their re-adjusted back four struggled to handle the new aerial threat of Leonardo Ulloa.
Leicester 1 Atletico 1 player ratings

Show all 22
But Atletico have been playing this way for years and they have beaten better teams than Leicester City playing like this. They know that they do not need the ball to win once they are ahead. They know they can survive almost anything in the second half of a second leg, because they trust each other and they trust their plans. Last season, remember, they held off Barcelona in the quarter-finals and then the full blast of Pep Guardiola's Bayern Munich in the Allianz Arena to win the semis.
That run took them to Milan for the final, which ended in tears, trauma and the unforgettable sight of a shattered Juanfran receiving a standing ovation from thousands of heart-broken fans. There were no tears in front of the away end tonight, only jubilation, and the clear sense that these players and these fans will be back in Britain in less than two months' time. Who would bet against them?
Register for free to continue reading
Registration is a free and easy way to support our truly independent journalism
By registering, you will also enjoy limited access to Premium articles, exclusive newsletters, commenting, and virtual events with our leading journalists
Already have an account? sign in
Join our new commenting forum
Join thought-provoking conversations, follow other Independent readers and see their replies