Michy Batshuayi's last-gasp winner seals Chelsea memorable Champions League victory over Atletico Madrid
Atletico Madrid 1 Chelsea 2: Blues fight back from Antoine Griezmann's first-half penalty, first through Alvaro Morata and then with Batshuayi at the death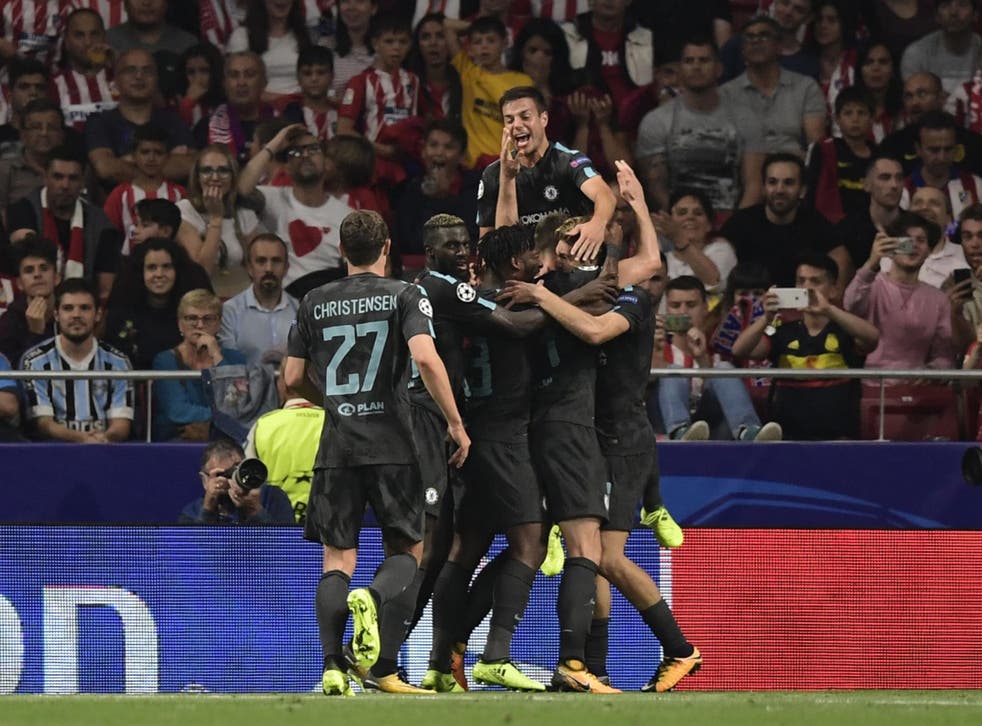 Michy Batshuaryi's last-gasp winner sealed Chelsea a memorable win over Atletico Madrid and ensured the advantage is now theirs in what amounts to effectively a three-team group.
Qarabag, who Chelsea comprehensively put away in their opener and Roma beat earlier on Wednesday evening, are not expected to make a dent in Group C but the Italians, Chelsea and Atleti will battle tooth and nail for those two precious spots in the last 16. The Blues had looked happy with a point, and well they might have been against one of Europe's best sides and, significantly, likely its finest defence.
For all the quality in the Premier League, no side on English soil has a backline as unforgiving and impenetrable as Atletico and Alvaro Morata's equaliser, headed of course, had the sneaky feeling of one that might have proved vital in December when this three is narrowed to two.
But Michy Batshuayi, a late substitute and a man developing a knack of scoring important goals, stabbed home Andreas Christensen's drilled cross with the last kick of the game to cap a memorable comeback after an engrossing European premiere for Atletico's new stadium, the Metropolitano Wanda.
Perhaps predictably this was a game that had started with backlines dominating and midfields focused more on destruction than creativity.
The danger with a meeting of two such strong sides in the early stages of the Champions League is that both are more naturally inclined to play conservatively. With Diego Simeone and Antonio Conte, two immensely talented coaches but ones who prioritise tight defence, that danger is somewhat multiplied and most of the first half had been cagey with both sides relying on their magic men to provide a spark.
Atletico Madrid vs Chelsea player ratings

Show all 22
Eden Hazard had looked the most likely player to do so from either team, a neat backheel setting up Alvaro Morata for a half-chance that he drove beyond the far post in his second opportunity of the opening 20 minutes.
But that was about it from Chelsea whereas Atleti grew in confidence, though still unwilling to risk overcommittal. It was going to take a spark or an error and in the end it would be the latter as David Luiz was caught flat-footed at an Atletico corner and couldn't resist grabbing Lucas Hernandez. With the Frenchman about to beat him to the near post, a healthy fistful of shirt caused Hernandez to go to ground and the penalty was given.
While the subsequent yellow card had the feel of a referee trying to justify their decision, replays suggest Cuneyt Cakir got it right. By the time Chelsea had stopped complaining, Antoine Griezmann had already fired home to hand the hosts a lead.
With the Wanda Metropolitano now rocking, Atleti were emboldened and Chelsea, rather than being fired up by injustice, were more like moping teenagers. Standing aside as Koke drove through midfield minutes later, they were caught out by his fizzing drive that stung the palms of the diving Thibaut Courtois.
Saul's technique was good enough that he hit the rebound first-time, and his side-footed effort was clean but the direction was slightly, agonisingly off and the ball whistled by the post as referee Cakir whistled for half-time.
Chelsea had started the first half as slightly the more dangerous team and they did so again in the second. They come up against quality opposition in the Premier League but rarely teams of this calibre, particularly defensively, and outside Morata and Hazard nobody seemed to have an idea of how one might break down a wall like that.
Fortunately for Chelsea, they didn't need anyone else.
With Hazard increasingly strangled for space in the middle, he drifted out wide and was found by a crossfield ball by David Luiz. Such a raking pass gave Hazard the extra half-second he needed to make the difference and his deliciously-whipped cross was glanced home by Alvaro Morata.
The Atleti fan was playing his seventh game against his boyhood club for his third different team but had always been frustrated, but his first goal set his newest team on course for a memorable comeback. A second goal, when sent through one-on-one, would have buried the club of his heart but instead his head was in his hands as for the third time on the night he rolled a finish past Jan Oblak but also the far post.
Replaced with thoughts of what could have been, Morata left the field wondering if he had cost his side three valuable points and shook hands with Michy Batshuayi.
And incredibly it was the Belgian, the man whose goal won Conte the league, who stabbed home from close range to hand Chelsea what might become a famous win, but what will likely prove an important one when this group is settled.
Join our new commenting forum
Join thought-provoking conversations, follow other Independent readers and see their replies