Barcelona into the Champions League last eight after Lionel Messi's magic touch downs Chelsea
Barcelona 3 (4) Chelsea 0 (1): The Argentine, who scored his 99th and 100th Champions League goals, single-handedly fired Barca into the quarter-finals of the competition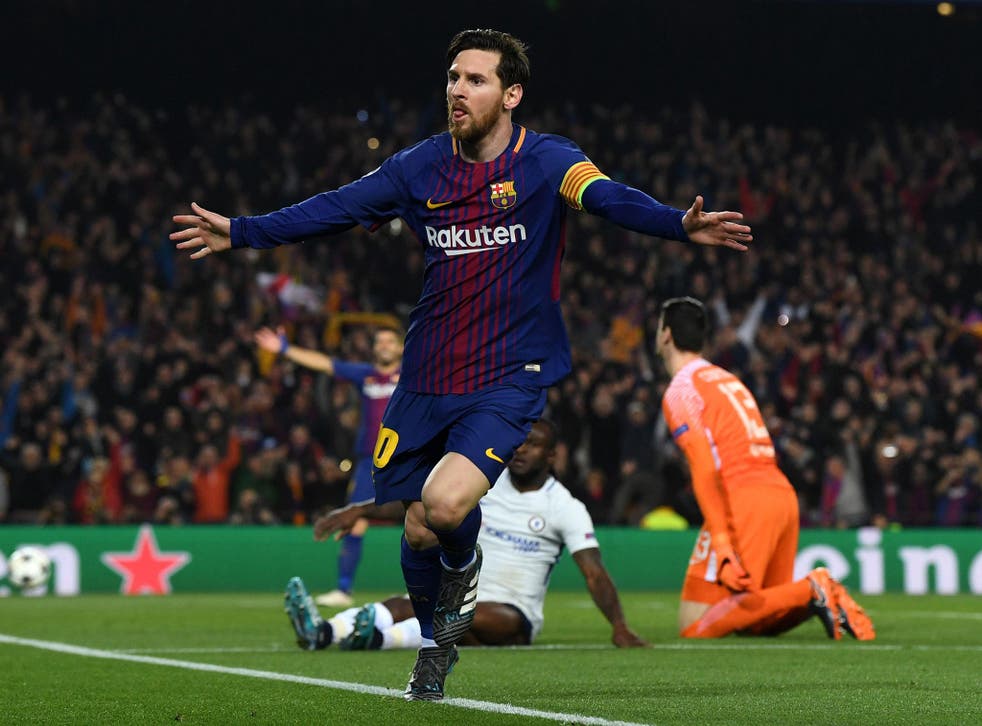 Of the handful of truths that generally govern football as a sport, there is one that has conditioned much of the modern game, and undeniably settled this tie.
It is that if Leo Messi is in any kind of mood and in any kind of form, you can forget about it. He will produce something truly memorable.
That was really the story of Barcelona's 3-0 win and Chelsea's European elimination. It was a story embellished by the detail that Messi scored his 99th and 100th goal Champions League goals, but merely citing such records doesn't do full justice to how genuinely special he was.
It also meant it was difficult to say how much of this defeat was down to Chelsea or Antonio Conte, even if Roman Abramovich may decide otherwise.
The English champions have a lot of problems right now, but the problem in this game was something that football as a whole has found unsolvable: how to stop Messi when he's performing like this. That was the divine simplicity of it.
Chelsea were just sliced open on every slip, and those slips weren't even that frequent.
That isn't the to say there wasn't some frustration for Conte, too. Both of the early goals involved big mistakes, one from Thibaut Courtois and another from Cesc Fabregas.
While the first could be someway written off because it didn't really change Chelsea's task, the second was all the more galling because of when it came. Conte's side had responded well to the opening goal, and were the better side for the 18 minutes until the next one. Eden Hazard even looked the best player on the pitch at that point, and properly up for it himself, as he repeatedly cut through the Barca half.
That will now naturally be forgotten, but not Barca goals nor Messi's performance.
This is the thing with that team, and that star in the centre, as Conte so warned his players. If you make any kind of mistake, they will punish with extreme prejudice.
Courtois did leave his legs wide open for that second-minute goal, but the reality was that the shot was still from a very difficult angle. Or, at least, a difficult angle for most players. A Messi running at speed still just picked his spot, leaving the goalkeeper to pick the ball out of the net.
If that goal displayed Messi's divine precision, the second showed how utterly devastating he is. And he didn't even score it.
It again came from a situation that just wouldn't have been as serious with almost any other player. There was still an entire half of the pitch to cover when Fabregas gave away the ball, but Messi had rampaged over it in milli-seconds, having taken out most of the Chelsea defence. It was breathtaking, and at once brutal and so brilliantly visionary.
There was the pounce, the pace, the ability to effortlessly beat people and then the presence of mind and awareness to pick out a run by Ousmane Dembele that others just won't have been able to spot.
The speed alone emphasised how this was peak Messi, a sight that should be considered a privilege. The movement showed everything else about him: the vision, the technical ability, the speed, the audacity.
It was left to Dembele to finish, and he duly offered up something worthy of Messi as he drove the ball into the roof of the net. Such unhesitating excellence hardly suggested this was the winger's first goal for Barcelona.
Against that kind of extra-level sharpness, Chelsea became increasingly sloppy and shapeless. That was summed up when they finally fashioned another chance through an N'Golo Kante run, only for the midfielder to get into a mix-up with Fabregas just when the opportunity to shoot presented itself.
It was far from a special moment, in a stadium where Chelsea have many special memories.
This was not that. After that 20th-minute masterclass of a goal, it actually became one of their weaker displays here, down there with the first half before Ramires' game-changing strike in 2012.
There was no such moment this time, but there was one throwback to one of their most controversial epics. Just as in 2009 at Stamford Bridge, Chelsea were denied what seemed a clear penalty just after half-time, when a Gerard Pique push saw Marcos Alonso go down in the area.
Damir Skomina, just like Tom Henning Ovrebo nine years ago, waved away complaints. Olivier Giroud was even booked.
Who's to know what might have happened had Chelsea scored at that moment.
What we do know for certain, though, is how definitively decisive Messi is. This game proved it, the third goal added to it. Messi once again brutally punished a Chelsea error, to once again drill the ball through Courtois' legs.
Chelsea hadn't even been that bad. Messi had just been that good.
It may yet prove Conte's final undoing at Chelsea. As he likely heads for a new club by the season's end, Barca look like they could be headed to the final.
Messi certainly looks in the mood.
Register for free to continue reading
Registration is a free and easy way to support our truly independent journalism
By registering, you will also enjoy limited access to Premium articles, exclusive newsletters, commenting, and virtual events with our leading journalists
Already have an account? sign in
Register for free to continue reading
Registration is a free and easy way to support our truly independent journalism
By registering, you will also enjoy limited access to Premium articles, exclusive newsletters, commenting, and virtual events with our leading journalists
Already have an account? sign in
Join our new commenting forum
Join thought-provoking conversations, follow other Independent readers and see their replies