long read
Remembering la remontada: Barcelona 6-1 Paris Saint-Germain
As the two sides prepare to meet again in the Champions League knockout stages, Miguel Delaney looks back at the greatest comeback the competition has ever seen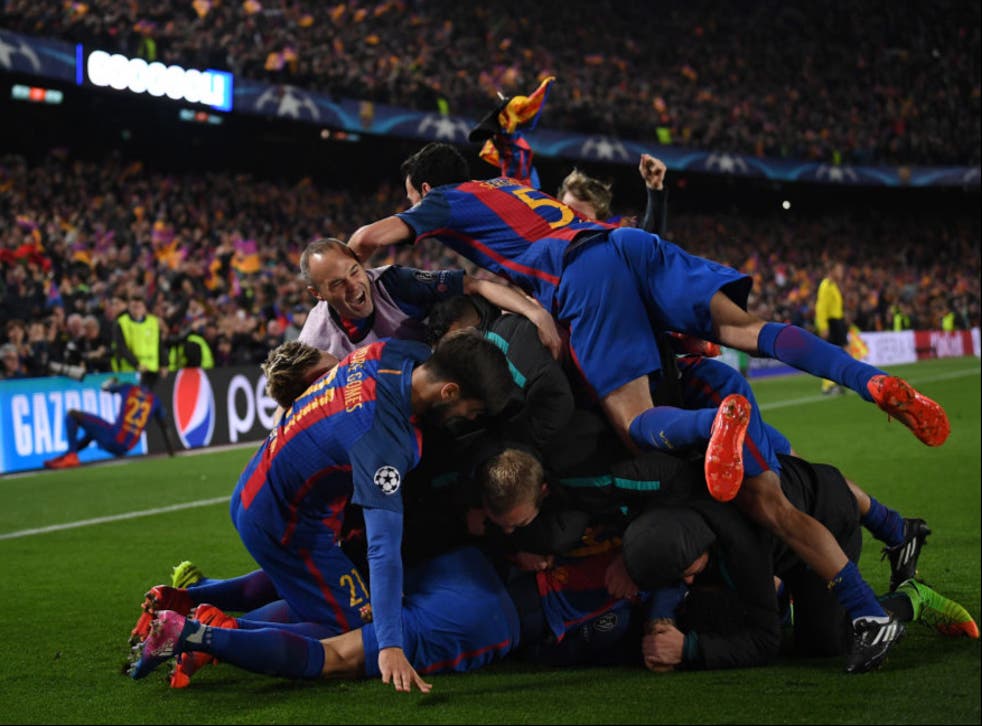 Leer en Español
At half-time in the Camp Nou dressing room, Luis Enrique uttered a line the Barcelona squad came to consider prophetic.
"Boys, even if there are only five minutes left, you'll still be able to score three goals."
Those words fired the Barça players as they went into that fateful final stage of an incredible evening. They have stuck with many since that night, the 8 March 2017, and the second leg of the Champions League last-16 meeting between Barcelona and PSG. Some point to how Luis Enrique's line fostered a sense of destiny, to go with the sense of possibility that crackled around the stadium.
Mere metres away, there was only a sense of doom in the Paris Saint-Germain dressing room. The French champions had conceded a second goal at the very end of the first half, and the prospect of their 4-0 first-leg lead being overturned was becoming all too real. A comeback of such a scale had never happened in 62 years of the European Cup and Champions League. It would thereby have been a humiliation, and choke, on an entirely different scale to any ever seen as well.
Their players seemed almost frozen with fear. None were speaking.
"Everyone," according to one source, "was staring at the floor."
Unai Emery attempted to enliven them with some uncharacteristically aggressive shouting. When that didn't get a response, the Basque manager asked Thiago Motta to talk. The midfielder was an influential figure in the team, and attempted an inspirational speech of the type that had worked before.
"Now we have to choose how we die," Motta said. "Either we give up, or we hold our heads high."
It is actually a forgotten part of an unforgettable night, but there were times when it could really have gone either way. Enrique later said he'd never experienced a "tension" like that evening.
The Camp Nou manager said the game sometimes felt like a "horror film", while Neymar more excitedly described it as "putting on a show". The night involved the emotions of both, from gripping suspense to gratifying awe, as well as so many others. It had the sublime, the ridiculous and the historic, on an evening that fully displayed the immense effect of psychology on sport.
All of that, and the night's many repercussions for the game as a whole, naturally inform so much of this week's grand rematch at the same stage. That tie will have to go some way to match the spectacular theatre of 2017.
And all because Barcelona had to go some way to match that 4-0 first-leg deficit.
History suggested it was impossible. The night remains unbelievable.
***
If the first leg had been the European night the PSG project had been waiting for, it was seen as the start of the end for this Barcelona era.
They had been humbled, with so many of the 2016-17 season's many complications collapsing in on each other like their crumbling defence. It was as if they just couldn't cope with the speed of Edinson Cavani and Angel Di Maria. The atmosphere around Camp Nou reached such a point of crisis in the weeks between both legs that Luis Enrique announced he would be departing at the end of the season.
It was to be one of many developments that actually focused Barça, and changed the atmosphere. Neymar had said after the first leg they only had a one per cent chance of qualifying but that admission soon became an allowance of hope that widened into a mindset where a comeback started to seem entirely logical, rather than absurd.
It started with references to that year's Super Bowl, that some of the squad's NFL fans brought up in the aftermath of the first leg. Just two weeks beforehand, the New England Patriots had come back from 25 points down to beat the Atlanta Falcons 34-28.
Barca's form also ramped up. The last two games before the second leg saw the kind of scorelines that would guarantee progress against PSG; a 6-1 over Sporting Gijon and 5-0 over Celta Vigo. Much was made of how they'd scored four or more in 15 different games that season.
"Everyone was happy, nobody was down or worried," Neymar said of training that morning, in a revealing 2019 interview with Dazn. "Our conversation was about playing football as it had always been Barcelona's way.
"We didn't know if we would go through to the next round, but we knew we would win because we knew we would play our part very well."
Luis Enrique had already been working on transforming that new confidence into concentrated focus. He and his staff set about a plan where it became much easier for the players to visualise how they could go through. Part of the idea was basic motivational psychology. They would go "goal by goal", and stage by stage, so a monumental task instead seemed manageable. The 4-0 no longer felt a chastening scoreline but a chase, where every step also increased the pressure on PSG.
Luis Enrique reinforced this at every opportunity. His pre-game press conference also came to seem prophetic, and the conviction with which he spoke similarly convinced the players.
"If a team can score four times against us, we can score six times against them," Luis Enrique assertively told a packed media room. The eve of the game really didn't seem like it was a dead rubber. The sense of an event filled the air.
"In 95 minutes, an infinite amount of things can happen," he continued. "I am convinced that at some point we will be close to qualifying. And when you are close, our confidence will soar, and theirs could start to diminish."
These were targeted comments.
In the other press conference, Cavani said he was primed for "battle". It was a revealing line about a 4-0 lead. The wonder was whether enough at his club were in the same mood. The book 'Cavani El Matador' reveals that two PSG directors were discussing what celebratory bottle of wine to have set out, just before they left the luxury Fairmount Rey Juan Carlos I hotel.
That also happened to be when everything changed.
There had been a calmness among the PSG squad as they got on to the bus, only for that to be completely disrupted by the chaos that greeted them on the road. The streets were lined by thousands of Barça supporters hurling abuse and even projectiles. Some of the players found it "intimidating". Again, none were speaking. It got worse when they reached the Camp Nou, which was filling up early.
A tetchiness was illustrated, Molina reports, when goalkeeper Kevin Trapp complained the balls were too "new".
In the Barcelona dressing room, Luis Enrique was asking his players to do something new. He went around each of them and asked whether they'd ever been involved in a 'remontada'. This was the Spanish term for comeback, that had really come to mean these vintage European recoveries. The majority said no. The manager told them they would pull off the remontada.
Everyone involved felt Luis Enrique caught and created exactly the right mood, that was also rising in the stadium.
"We could feel the Camp Nou was buzzing," Sergi Roberto later said.
From kick-off, Barça immediately started with an immense intensity, pressing PSG all over the pitch. Neymar admitted they felt unrecognisable from the first leg.
"I was challenging everyone, running more than ever," he told Dazn.
PSG were the opposite. They immediately retreated, a series of bad touches and bad passes forcing them further back.
"It was difficult to play, to make passes," Verratti said after the game. "They pressed too much in the first period."
Blaise Matuidi later wondered whether PSG played with "too much fear" and admitted "they did not know how to approach the match properly".
Some privately wondered whether Emery's reactive approach fostered this. For his part, the Basque could be seen immediately getting up to implore his players forward, with exaggerated gestures that only exposed frustration.
It quickly gave to worry, and exactly the start PSG had feared. It was also what any big comeback required: an early goal.
In the third minute, Rafinha curled in a cross that Thiago Silva could only head into the air awkwardly. The way the ball bounced around the box only laid bare the hesitation of every PSG defender, allowing Luis Suarez to react decisively. He got in under Trapp to deftly head the ball over the goalkeeper so it dropped just inside the line.
Barca had that first goal, and that first step.
It was no longer 4-0, nor was it a 4-1 like anyone had ever seen before. It was a psychodrama testing whether PSG could cope with the mounting pressure.
There were long spells in the first half when the French champions seemed to have nine players in a line across the box, with only Cavani forward. A further problem was they could barely put three passes together to get it to him. One counter did see Gerard Pique cut through Cavani, for a foul that might have been worse than a yellow. It was the first of a number of decisions PSG were to complain about.
There was at least one thing Emery's side were doing adequately. They were crowding out Leo Messi to the point he was toiling to create. As is ever the dilemma when facing him, though, that merely created space for the rest of Barca's stars.
Neymar, pointedly, sensed an opportunity to seize the stage. He was inspired.
On 41 minutes, the Brazilian decisively combined with Suarez and Andres Iniesta. Neymar first clipped a ball through that Iniesta left to run, allowing Suarez to lift it over Marquinhos for Iniesta to surge into. Just about to run out of pitch, Iniesta displayed typically divine footwork to somehow turn while also diverting the ball back to the centre of the area. It didn't get back to Suarez, because such class reduced Layvin Kurzawa to utter clumsiness. The defender somehow hooked the ball into his own net.
The Camp Nou roared, and really believed. "Si, se puede!" came the chant. "Yes, we can! Yes, we can!"
The players felt the same. They went into the dressing room "focused but relaxed". Luis Enrique re-asserted his message to go "goal by goal" but this time added that fateful caveat.
"Boys, even if there are only five minutes left, you'll still be able to score three goals."
He felt it was crucial his players didn't get desperate or panic. This was about maintaining focus. PSG had to rediscover theirs. They were looking a mess. This was why Emery asked Motta to speak. The midfielder had inspired the players at the same stage in 2015, when David Luiz had been sent off against Chelsea.
This time looked different. Some PSG players were seen in intense discussion in the tunnel afterwards, to the point they actually kept the Barça players waiting on the pitch. It was another little moment loaded with narrative. Luis Enrique's players were raring to go. It ensured they weren't waiting long for a third.
Within five minutes of the restart, Iniesta played another angled ball that just opened up so much space, inviting Neymar into the box. Thomas Meunier could only fall over as he attempted to keep up, inviting the Brazilian to trip up. German referee Deniz Aytekin initially seemed to doubt whether it was a penalty, but pointed to the spot after consulting the goalline official.
There was no doubt about Messi's finish. It was devastating, the noise again deafening. The ball was only ever going one direction.
It was at this exact point, though, the course of the game changed for the first time. So close to actually going level so quickly, Barça suddenly slackened off. Maybe this was a natural psychological response of its own. Maybe it was an inevitable ebb and flow even in a chase as intense as this.
PSG had their first meaningful attack of the game immediately after the penalty. Meunier this time outstripped Neymar, to cross for Cavani to hit the post.
Barça had been given warning, but didn't heed it. The defending that had been a problem all season buckled under the first bit of pressure.
On 61 minutes, Verratti launched a ball forward, with Kurzawa stealing in to head it back for Cavani. The Uruguayan hit first-time, and ferociously. The ball soared into the top corner. Verratti leapt into the arms of Emery. Many of the PSG players and staff seemed overcome with emotion.
That's what it meant to them, the avoidance of total embarrassment. Angel Di Maria, a former Real Madrid player, unashamedly made a shushing gesture to the Camp Nou crowd. They were already silent. The obvious feeling was that was it.
Many Barcelona players felt the same - but not all. After conceding, Marc-Andre ter Stegen started screaming. "We never die! We are Barcelona! We will win! We will win!"
Javier Mascherano turned to Sergio Busquets and wondered whether the goalkeeper was OK.
Verratti later said some Barça players told him it was "finished". Neymar looked around and saw most of his teammates had "that face". "We're f***ed."
"It was practically impossible," the Brazilian later said.
This was what was all the more remarkable about the game, that made it about more than even the greatest of comebacks. This twist ensured it really required two comebacks.
Barça had started the evening needing four goals, managed to score three, and still needed another three. That just didn't seem possible at that point.
"At 3-1, nobody could have imagined the change," Cavani said last year.
PSG were now making challenges rather than missing them, making chances rather than conceding them, and clearing the ball off the line rather than sending it in. Cavani should have made the tie secure just three minutes later, but could only place a one-on-one into the feet of Ter Stegen. Di Maria then squandered the chance of the game 20 minutes later.
That was something else that was so incredible about the night. For a game as packed with incident and intense emotion as any in history, there was a long spell - almost a quarter of the match - when little happened other than Barca toiling. The media present were left to report on what was looking like a grand anti-climax.
How wrong that was but only after Di Maria - and maybe the referee - got that last chance wrong. Having started on the bench because he wasn't at full fitness, the Argentine wasn't quite at full pelt as he was put through on goal. That allowed international teammate Mascherano to get in behind him, and try to get around him. Just as Di Maria closed in, there seemed to be contact between moving legs. The forward fell to the ground as his finish bounced meekly wide.
Not for the first or last time that night, the PSG players were left complaining. Mascherano admitted later they had good reason.
"I made contact with Di Maria," he told AS. "It's obvious it was a foul."
Obvious to most, apparently, except the referee.
During lockdown last year, Emery found himself in an idle moment "zapping around the TV", and actually came across the game being shown again. It was the 50th minute and, since the Basque naturally hadn't watched it back since that night, he decided to keep it on. He came to the same conclusion.
"There are lots of details in that game that can be scrutinised," Emery said during an interview with Granada manager Diego Martinez. "But if I start from the end, I'd change the referee and that's it."
In another interview, Emery added "we were eliminated because VAR did not exist yet".
Many PSG players from that night still agree with him, four years on. Cavani recently described it as an "injustice".
Emery did criticise some of the opposition over that, too. "The Barcelona players, especially Suarez, were going down in the box continuously, pressuring the referee until he fell into their trap."
Two years later, when Messi complained about lenient refereeing towards Brazilians at the Copa America, Silva snapped back that the Argentine "played the referee" on that fateful night.
Many on the Barcelona side would argue this was merely playing the game, in all its senses. That is top-level football.
"If you're close to pulling off something like that," says one source who knows Suarez well, "you're not going to just play a match like that out. You're going to fight to the bitter end for any advantage possible. You're going to go to the limit."
That's what was about to happen with the game. There remain questions over whether some of the PSG players went to the limit - not least from Emery.
"In that section of the game, I saw that one of our important players, who had had injury problems during the season, was hiding," the Basque told Martinez. "Maybe I would substitute him now."
Many involved believe he was talking about Silva. If that is true, Emery would probably be backed by former PSG defender Dominique Bathenay, who heavily criticised the Brazilian the next day.
"He's not a leader," Bathenay said. "He's incapable of getting his teammates to surpass themselves or come to the fore during difficult moments."
Silva's agent, Paolo Tonietto, naturally had other ideas when discussing the game with L'Equipe last August.
"The person foremost responsible for la Remontada is Emery," he said. "He's a good coach to play in the Europa League, not the Champions League. The suit was too big for him. He was a terrible coach for PSG."
While there may be merit to that argument, what is certainly true is that a number of different factors came together to produce that incredible finale.
Among them was the psychological collapse of the PSG players. Against that, there was also the belief of the Barca players. They had been poor for the previous 20 minutes, but hadn't given up. Neither had the supporters.
"Usually people leave 10 minutes before the final whistle," Luis Enrique said. "Nobody left early."
The players sensed this, while some kept in mind the words of the manager - that even with five minutes left, they could still score three goals.
Umtiti and Neymar were among those recalling Luis Enrique's words, and urging players on. The Brazilian was about to lead by example, setting the pace on 86 minutes with a volley brilliantly blocked by Serge Aurier. It served as an opening salvo, in a closing spell that probably represented Neymar's crowning Barcelona performance.
The fact it was against PSG came to be loaded with all kinds of meaning in the months afterwards. On the night, he only wanted it to mean one thing: victory.
It was a piece of individual inspiration that instigated a mass effect. On 87 minutes, with Neymar again pushing forward as he tried to drive on his team, Di Maria fouled him.
"That's when I turned it off," Emery said.
On the night itself, he could only look on. The next moment ensured the entire football world was about to tune in. Some of those involved in the Champions League elsewhere were among them. Over a thousand kilometres away, Thomas Tuchel rushed to his office from his Borussia Dortmund side's 4-0 win over Benfica. He had to see what was next. Neymar was about to turn it on.
Near the left corner of the box, about 20 yards from goal, the Brazilian curled a divine free-kick into the top corner of the net. It was so good a strike that Trapp barely raised his hands before realising it was futile, and then just resignedly fell onto the post. That was to symbolise what followed for PSG.
"When we scored, it did them damage mentally and I think they gave up easily," Umtiti told RMC.
Suarez certainly went down easily in the very next minute. He fell to the ground under the challenge of Marquinhos in the box, but it was just another example of how - in the words of Julian Draxler - everything was falling Barcelona's way. "You could feel it coming," a breathless Tuchel said on German TV.
It still required decisive action. Aytekin first pointed to the spot, in what was probably the most controversial call of the night. Messi then made a call of his own, in another moment later weighted with even more significance. He told Neymar to take the penalty. Messi thought the Brazilian seemed "more confident" and "felt at that moment" he would score.
Neymar was certainly in the mood. He didn't just power it, either, but had the presence of mind to send Trapp the wrong way.
There was real composure amid this compelling drama. There was also the swell of belief. Neymar immediately grabbed the ball and beckoned the crowd on.
"Yes we can!" reverberated around the stadium again. It got even louder when the board went up for five minutes' stoppage time. Barca were so close to completing the comeback, PSG so close to completely collapsing. Their kick-off after that Neymar penalty was just the third pass they completed in the last 10 minutes, and one of those was a kick-off too. You couldn't have a better example of a team no longer able to execute the very basics of the sport.
Now, they immediately gave the ball away again. Barcelona nevertheless still needed to score again. A period that seemed endless for PSG was now evaporating for Barça, as they wasted one more big chance. Gerard Pique tried a knock-down for Suarez only to send it into Trapp's hands. The defender put his head in his own hands.
It was exactly the kind of desperation that summed up the situation. So was the goalkeeper rushing up. It did create chaos, as often happens in such situations. Deep into the 94th minute, with Ter Stegen deep into PSG's half, Verratti fouled him.
Neymar stepped up for the free-kick, again taking centre stage. The entire PSG team lined up at the edge of the box. The entire Barca bench lined up by the side of the pitch, willing the ball in. This was live human theatre.
Neymar sent his free towards the area, but Cavani's defiant header sent it straight back for what was going to be the last play. Rather than immediately cross it, Neymar again displayed that presence of mind. Verratti tried to close the Brazilian down, only for Neymar to feint inside. It didn't just take the midfielder out of the game, but also took many PSG defenders out of position. Three Barcelona players were instantly left free. Neymar this time clipped in the most tantalising of passes. It went past Messi, went past Pique, but didn't go past Sergi Roberto.
"I threw myself at it with everything," he said.
It meant everything. Completion. A moment in history. It meant 6-1. La remontada.
Barcelona had pulled off the impossible. It was the first and only time anyone had come back from 4-0 down, but all the weighted facts and stats were in that moment drowned out by emotion and the loudest sound anyone at Camp Nou had ever heard.
To be in the famous old stadium that night was a privilege. For the PSG players, it was a nightmare. As they lay flat on the Camp Nou grass in utter despair, the Barcelona players displayed that universal sign of utter joy: running around arms outstretched until they came across someone else to embrace.
It was a night, briefly but brilliantly, when everything came together for them. Everything fell apart for PSG. Everyone else was just transfixed.
***
In events of such profound emotion, where there is almost too much to take in, it is often only scattered images and impressions that stand out.
There was most famously that photo of Messi by Santiago Garces, standing on a hoarding and raising his arm to the adoring crowd like a victorious Roman general. There was then the line from Pique.
"We need to start hiring midwives," the centre-half said. "A lot of love is going to be made tonight."
Luis Enrique's own response to it all was much more innocent.
"I can only imagine what it must be like for a child coming to the Camp Nou tonight, because an adult would never forget it," the Barca coach said. "This is a crazy, unique sport."
Those words were used a lot. It was a crazy and unique night, with so many repercussions.
Amid all this, there wasn't quite silence in the PSG dressing room. There were instead a lot of tears, and utter disbelief.
Matuidi was so affected he considered retiring on the spot. "I was ashamed of myself," he told RMC last year.
Lucas Moura later admitted crying all night.
The worst part for many involved with PSG was that it seemed to confirm all perceptions about the hollowness of the club, the lack of any kind of meaningful identity, that had allowed this to take place. It was just humiliating. The Qatari owners, intent on influencing the sport given this was part of a political project, were never going to stand for that. Emery, surprisingly calm on the night, was surprisingly spared another year. Deeper recriminations soon began, though.
"We are primarily responsible," Verratti said. "The main problem is that we played too defensively," Draxler added.
Others questioned the character of the players, amid reports they felt they were already through before it began. PSG later had to publicly deny a story that Matuidi and Verratti had been at a private nightclub with Rihanna less than 48 hours before the game.
Most of the focus, however, was on the referee. PSG lodged an official complaint with Uefa over Aytekin's performance, that involved a video dossier on 10 perceived errors. The German hasn't been given a Champions League knockout game since.
Some at the top levels of European football believe that night reinforced the arguments for VAR.
Either way, there was a feeling among some of the PSG hierarchy that the "bigger" club had been given the benefit of the doubt in the knife-edge moments.
Much of the commentary inevitably reflected this difference in status between the clubs. If the nature of the match exposed the hollowness of PSG, it emphasised the greatness of Barca.
Pique proclaimed that the 6-1 surpassed their inspired Champions League moments of the past, like coming back from 3-0 down against IFK Gothenburg in 1985-86, or the crucial last-minute goals against Kaiserslautern in 1991-92 and Chelsea in 2008-09.
"Gothenburg wasn't this big, nor the Iniesta goal nor [Jose Maria] Bakero's in Kaiserslautern. This is the greatest. There is no comparison."
He was right, but only to a certain degree. There was no comparison because there was no next step. In 1986, Barca at least got to a final. In 1992 and 2009, they went and won the competition.
Here, they meekly went out in the very next round to Juventus, having been beaten 3-0 in the first leg.
They didn't have another comeback in them, despite so much expectation.
There are bigger philosophical discussions to be had over whether a win like the 6-1 was actually better than winning some trophies, or whether it has a legacy all of its own. This was something so special it enriches the entire identity of a club. It is something people will always remember, always look to.
What happened next is still relevant to the legacy of the game. It didn't lead to anything greater for this team.
It wasn't quite the end of an era, but it was the last hurrah, literally.
The 6-1 represented the last win, and the last goals, that the famous 'MSN' - Messi, Suarez, Neymar - enjoyed together in Europe. This was because of the most famous repercussion of that match: PSG wanted a statement. They wanted Neymar.
Many sources involved insist the Brazilian left because he "wanted to be his own man", the star in the team, and to win the Ballon d'Or. It is impossible not to think his central role in this victory - one of only a few times when he overshadowed Messi - played some part in the thinking.
By the same token, PSG's main motivation was the glory of their club, but also to "short squeeze" the transfer market. They knew only a handful of clubs could compete if fees and wages were driven up, and Barcelona were not one of those clubs. The effects of that can still be seen today, amid so much controversy surrounding their finances going into this game. It could yet lead to Messi following Neymar to PSG. Many similarly believe there was just an element of revenge to the signing.
Neymar still hasn't got his Ballon d'Or, though, and PSG still haven't got their Champions League. They still haven't eliminated another superclub in a knock-out tie, either, despite reaching last season's final. They have instead suffered similar humiliation to that night, most infamously in the 2019 elimination to Manchester United.
Barca meanwhile suffered similar embarrassment in the next two seasons: to Roma and then Liverpool.
This was actually something else the night did. A comeback of that scale shifted the thinking on what was possible in Europe. It directly influenced a series of similar "miracles" since. Anfield 2019 may not have happened without Camp Nou 2017. The 6-1 precipitated an era of glorious chaos in the Champions League, where it really was impossible to predict what was next. That was because teams felt anything was possible, amid this electric new atmosphere.
And yet there's still been nothing to compare to that night, nor a comeback of that scale. No one else has overturned a 4-0 lead since.
It shouldn't have been possible. Nothing has yet possibly matched it. The scale of it all was far too great.
Register for free to continue reading
Registration is a free and easy way to support our truly independent journalism
By registering, you will also enjoy limited access to Premium articles, exclusive newsletters, commenting, and virtual events with our leading journalists
Already have an account? sign in
Register for free to continue reading
Registration is a free and easy way to support our truly independent journalism
By registering, you will also enjoy limited access to Premium articles, exclusive newsletters, commenting, and virtual events with our leading journalists
Already have an account? sign in
Join our new commenting forum
Join thought-provoking conversations, follow other Independent readers and see their replies