Barcelona put one foot in Champions League semi-finals after rout of Roma
Barcelona 4-1 Roma: Barca just don't look like kings of Europe in waiting, strange as that may sound after such a big win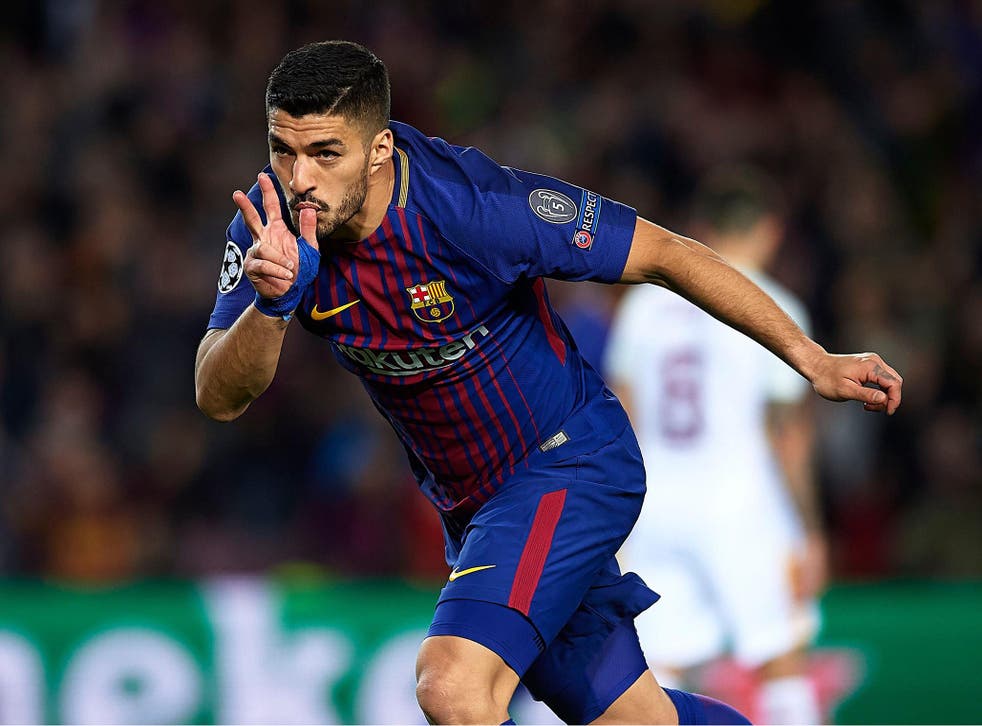 Barcelona put four past Roma but, result aside, there was nothing here to strike fear into any of the sides they will meet in the semi-finals.
Daniele De Rossi and Kostas Manolas were the first two names on their scoresheet and having been beaten twice by his own players, Roma keeper Alisson Becker then pushed a Luis Suarez shot into the path of Gerard Pique who made it 3-0.
Eden Dzeko scored an away goal 10 minutes from time but with his first Champions League goal for over a year Suarez made it 4-1 and Barcelona will surely now go through. They just don't look like kings of Europe in waiting, strange as that may sound after such a big win.
The first half had been as flat as the pre-match atmosphere. Supporters were slow to take to their seats and it felt like one of those La Liga games Barcelona take for granted they will win.
Ivan Rakitic's long diagonal shot came back off the post midway through the first half and finally the noise levels lifted. But that had more to do with the fact that hundreds of yellow balloons had been released in protest at the imprisonment, so far without trial, of pro-Catalan Independence politicians for their part in last year's illegal referendum in the region.
For several moments afterwards the players became as preoccupied with bursting the balloons than with trying to pick away through the Roma defence. A defence that had cut off the supply to Messi and smothered the Argentinian whenever the ball did reach him.
It was one of those attempts to cut the supply line that gave Barcelona a lead they barely deserved. With just seven minutes to go before the break Andres Iniesta played the pass in Messi's direction and just before it reached him De Rossi's right boot intercepted it but sent it flying past Roma keeper Alisson Becker.
Roma so nearly levelled immediately when Umtiti went diving in at Lorenzo Pellegrini's feet and gave away a foul on the edge of the area.
The desperate challenge's only merit was that it was just outside the area. Pellegrini put the free-kick into the wall with Roma players still complaining to the referee that it should have been a penalty. Umtiti's form continues to dip with every story linking him with a move away from the Camp Nou. But his below par performance was one of many and things got no better at the start of the second half when Diego Perotti inexplicably headed wide of Marc Ander ter Stegen's goal with a free header at the back post.
Rakitic's cross from the right was then knocked on to a post by Manolas. The ball came straight back out to him and in a tangle with Umtiti he turned it over the line.
The defender claimed the goal and after a week in which he has helped to fuel stories he could leave the club he made plenty of grabbing the Barca badge on his shirt as he ran to the nearest camera.
Pique scored when Alisson pushed out Suarez shot to make it 3-0. And Suarez finally broke his Champions League drought but only after Dzeko got between Umtiti and Jordi Alba to score what will surely be an inconsequential away goal.
Roma have done well to get this far. Barcelona will need to find another gear, or just a revitalized Messi, if they are to go any further.
Join our new commenting forum
Join thought-provoking conversations, follow other Independent readers and see their replies