Barcelona's Xavi hails Atletico Madrid's Koke: 'He is extraordinary...he will be my successor for Spain'
The player's teams meet in the Champions League next week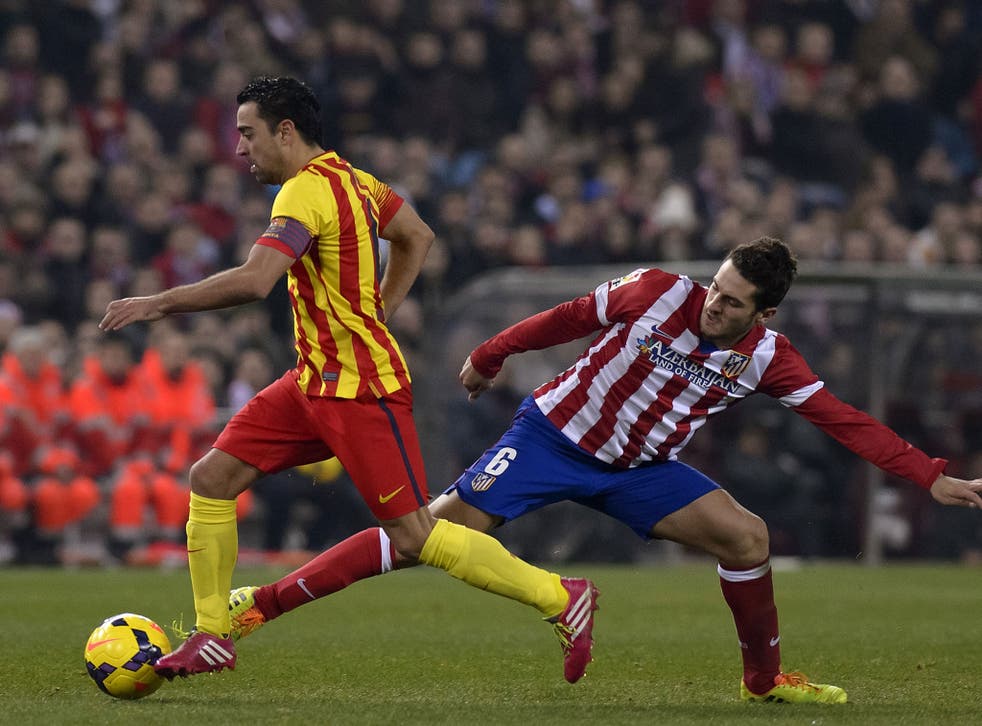 Spain and Barcelona playmaker Xavi has singled out Atletico Madrid midfielder Koke as his successor as the man at the heart of the world and European champions' possession-based playing style.
Xavi, 34, is winding down his fabulously successful career for club and country and the 22-year-old Koke has emerged as one of the best of a rich crop of Spanish creative midfielders alongside the likes of Bayern Munich's Thiago Alcantara and Isco of Real Madrid.
Regarded as one of the finest players ever in his position controlling play in the middle, Xavi is likely to announce his international retirement after the World Cup finals in Brazil and believes Koke has what it takes to fill his shoes.
"Koke is an extraordinary footballer," Xavi said in an interview published on Atletico's website (www.clubatleticodemadrid.com) on Sunday ahead of Tuesday's Champions League quarter-final, first leg between the La Liga rivals.
"He has everything: talent, physical ability, he is a footballer of the present and the future," Xavi added.
"He has been marked out as the conductor of Spain's orchestra for the next 10 years.
"I have a special affection for him because we play in the same position and I think he is an extraordinary player."
Both Xavi and Koke are likely to feature in Vicente del Bosque's 23-man World Cup squad and Spain play their opening Group B match against Netherlands in Salvador on June 13, a repeat of the 2010 final which Spain won 1-0.
They play Chile in Rio De Janeiro on June 18 and Australia in Curitiba five days later.
REUTERS
Join our new commenting forum
Join thought-provoking conversations, follow other Independent readers and see their replies