Barcelona versus Real Madrid: Catalan flag to fly at El Clasico
Nationalist fans will use the flagship game to rise the standard for independencia – as Pete Jenson reports from a highly-charged Barcelona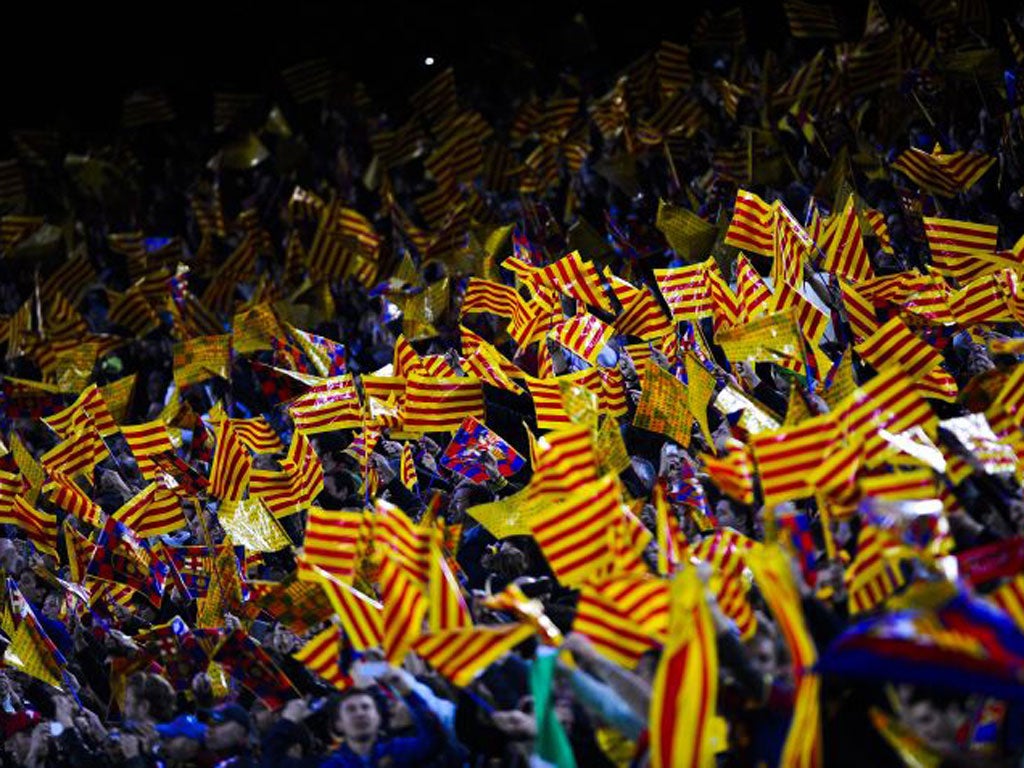 El Clasico has always been like no other fixture. Tomorrow's encounter promises to be like no other clasico.
Barcelona supporters covering their eyes as Alex Song and Javier Mascherano pair up in centre defence; Jose Mourinho covering his mouth as he surreptitiously passes comments to his players – all that we have seen the like of before. But a national government covering its ears as 98,000 people chant for independence in front of a global television audience of 400million – that would be a first.
This game has been billed as the most politically-charged meeting of these two sides since 1975, when Real Madrid visited the Camp Nou just a month after the death of Franco and Barça could barely get the Catalan flags (previously banned inside the stadium) sewn fast enough, for a match watched in Spain by around two million. Tomorrow the global TV audience will be bigger. So will the flag. The 98,000 home supporters will hold aloft cards at the start of the game, turning the traditional mosaic into one enormous image of Catalonia's La Senyera flag.
After 17 minutes and 14 seconds of each half supporters will voice their desire to break away from Spain with chants of "Independencia" – 1714 being the last time Catalonia was independent; before the kingdom of Castile defeated all surrounding territories, imposing its own central law and gradually its language.
Franco's death in 1975, followed by democracy, decentralisation and the restoration of Catalan as the official language of Catalonia, has been enough for many, but with austerity biting and central government demanding its autonomous regions drastically cut their deficits, independence is increasingly being seen as a way out of the mess.
A recent poll from the Catalan's parliament's own Centre of Opinion Studies recorded 51.1 per cent of Catalans saying they would vote for independence, up from 45 per cent in the previous poll. Regional President Artur Mas has called elections for 25 November and if he wins he will then request a referendum.
Clause Eight of the Spanish constitution explicitly orders the army to guarantee national unity – it would be legal to send in the troops to stop the country being broken up. Many believe Mas is just postering to push for greater autonomy but he has said that he plans to lobby in Europe for support and proceed with an unofficial vote if the referendum is denied. "There are not only Spanish laws but also European legislation," he said this week.
Against this political backdrop, the decision to make the Catalan flag the pre-match mosaic has been seen as provocative in spite of the fact that La Senyera represents the region and not the demand for independence – for which there is another flag. Representing the more reactionary extremes of Spain's political spectrum, the editor of Spanish daily El Mundo, Pedro J Ramírez, tweeted "Sieg Heil!! Mosaic Catalan style" in response to the decision to use La Senyera.
The Barcelona president, Sandro Rosell, knows he must represent Barça's many non-Catalan supporters but he took part in a march of around 1.5m people on 11 September, Catalonia's national day, and said this week: "This club will always stay faithful to its history."
It is a history in which it has been a refuge for Catalan nationalist sentiment. Club membership had grown to over 12,000 as early as 1924 as then dictator Miguel Primo de Rivera ruled the country. Real Madrid did not reach 5,000 members until 1933.
During Franco's reign the stadium was seen as a haven for Catalan expression, although it did not escape the enforced use of Castilian Spanish in all public announcements. That first post-Franco game between Madrid and Barcelona was the first time stadium announcers and the new electronic scoreboard that debuted the same day used Catalan. All of which does not really bring us to Cameroon midfielder Song, but then football has a habit of making supporters forget about everything else and once the mosaic is lowered the greatest worry for any Barça-loving Catalan will be how their defence copes with Cristiano Ronaldo, who now has 12 goals in his last 10 games.
Barcelona – for whom this will be the first Clasico under new coach Tito Vilanova – were torn in the summer between buying a central defender or a midfielder who could also play in defence. They chose the latter, not reckoning on Carles Puyol dislocating his elbow and Gerard Pique twisting his ankle.
Puyol is out but Pique will rejoin full training today for the first time in almost three weeks. He was filmed hobbling to his car on Thursday night after light training. Optimistic supporters hope he will shake off the limp en route to tomorrow's game. If he fails to make it, Mascherano will partner Song, one converted midfielder alongside another.
Barcelona are the only side in Europe who have won all their league and Champions League games this season but just as their defensive resources are stretched Real are running into form. Their midweek victory over Ajax was the first time this season they have won three consecutive matches and Ronaldo took his tally to 158 goals in 154 games.
Mourinho also appears to be keeping a lid on simmering dressing-room discontent. He has shaken up perceived complacency in the champions, dropping vice-captain Sergio Ramos earlier in the season, and last weekend taking Germany midfielder Mesut Özil off at half-time. Ramos appeared in the second half with Özil's No 10 shirt just about visible under his own. The plan was to show it if he scored, in an act of defiance to Mourinho, whose decision to replace Özil had created such tension that Mourinho had left the dressing room early to cool off alone in the dug-out before the restart.
Ramos has never been afraid of taking Mourinho on. It was after a clasico last season that the two argued over who should have been marking Puyol at a corner.
"We had to change [marking duties]; these things happen but you would not know because you never played," Ramos told his coach.
Mourinho has come out on top this time, with Ramos – after a phone call from the president – apologising to the squad before the midweek game against Ajax for having created pre-Clasico tension.
Such friction is usually Mourinho's speciality, but he has behaved impeccably so far this season, perhaps aware that certain incidents last season were being frowned upon by possible future employers.
The Madrid coach will arrive with his players in Barcelona tomorrow morning, forsaking the usual pre-match stay-over favoured at almost all other away grounds. And the two club presidents will exchange pleasantries over the traditional pre-match lunch this year at the Liceu operahouse. No one will be travelling Roy Hodgson-style on the underground because in keeping with the turmoil of a country in economic free-fall, there's a strike on.
The two presidents are in a strange position. On different sides of the fence on the national debate but joined at the hip when it comes to taking a 50 per cent share of all television revenue from the game.
Would Catalan independence make El Clasico a thing of the past? Article 99 of the Spanish FA's rulebook states that a team needs to be registered with a regional federation to take part in the league.
Barcelona could register with another regional federation or they could simply ask for special dispensation – Andorra, after all, play in the third tier of Spanish football. Such moves would probably not be vetoed by a league that needs the appeal Barça brings. And if there was resistance Ligue Une might see the chance to boost its revenue, Barcelona being as near to Paris as it is to Seville.
The Real Madrid president, Florentino Perez, will be hoping the status quo is maintained. It takes two to clasico; and this remains – as Mourinho said this week – "the game the whole world stops to watch". No wonder certain people want to use it to make a political point.
Slow starters: Real's season so far
* While Barça have won all six league games, Real stuttered into life.
19 Aug PL Valencia (h) Drew 1-1
23 Aug SC Barcelona (a) Lost 3-2
26 Aug PL Getafe (a) Lost 2-1
29 Aug SC Barcelona (h) Won 2-1
2 Sep PL Granada (h) Won 3-0
15 Sep PL Seville (a) Lost 1-0
18 Sep CL Man City (h) Won 3-2
24 Sep PL R Vallecano (a) Won 0-2
30 Sep PL Deportivo (h) Won 5-1
3 Oct CL Ajax (a) Won 1-4
Join our commenting forum
Join thought-provoking conversations, follow other Independent readers and see their replies