Bayer Leverkusen vs Tottenham: Heung-Min Son prepares for emotional return in the form of his life
The South Korean striker had a difficult first season at White Hart Lane but now he is showing why Tottenham paid Bayer Leverkusen, Tuesday's opponents, £22million for him in 2015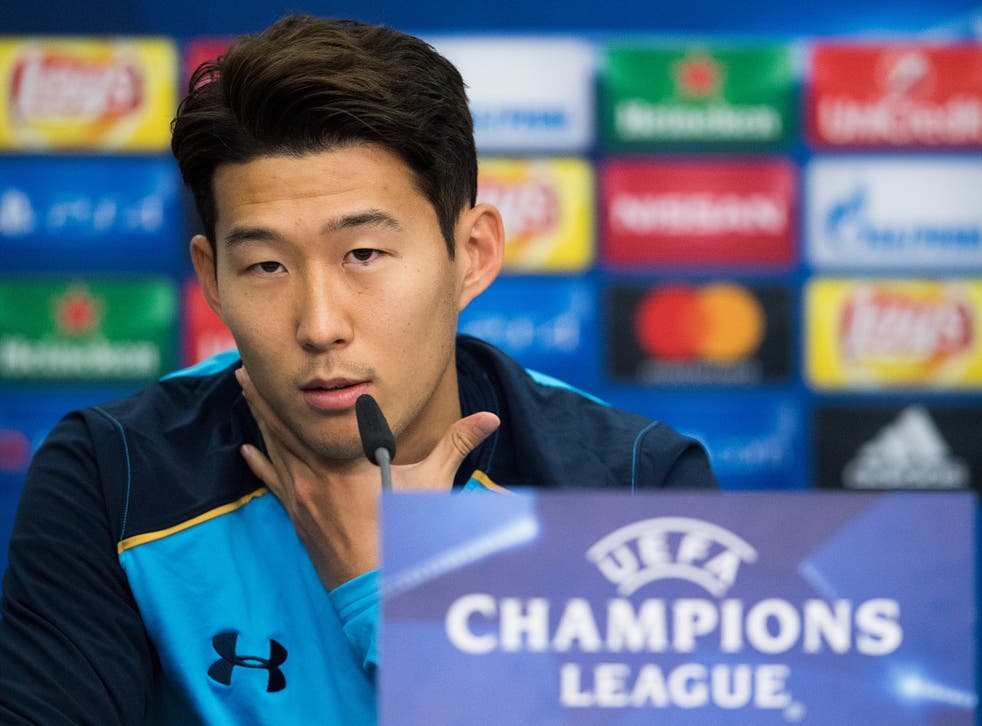 There was a time earlier in the summer when Heung-Min Son was looking for a return to Germany. This week he has got it, but not in the way first expected.
Son learned his trade in Germany, joining Hamburg at the age of 16 before moving to Bayer Leverkusen, where he earned his £22million move to Tottenham Hotspur. But his first season at White Hart Lane was not what he hoped for, and when Wolfsburg offered him a route back into the Bundesliga in August, Son was open to taking it. It took the intervention of Mauricio Pochettino to keep him at White Hart Lane.
Pochettino knew that he would need Son, and he was right. The ankle injury to Harry Kane means that Son is now Spurs' best forward, more dangerous and incisive than anyone else in their frontline. That is what he has proved with his five goals already this campaign, including the crucial winner at CSKA Moscow, rescuing Spurs' Champions League campaign that desperately needed a lift-off.
So on Tuesday night he returns to Germany, and to Leverkusen itself, not as someone who tried English football briefly and came straight back, but as the spearhead of one of the Premier League's most exciting teams.
Tuesday night will be an emotional one for Son, who still holds the chemical giant club just outside Cologne deep in his heart. Leverkusen coach Roger Schmidt and centre-back Jonathan Tah spoke warmly about Son at their press conference at the BayArena on Monday afternoon, and Son was just as positive about his old side. "It's a special game for me because I played there for two years," Son said yesterday. "I had some great times there and made so many friends, also. I am very excited to be going back." If he scores tomorrow night he has said that he will not celebrate out of respect, just like Nacer Chadli against Spurs at the Hawthorns on Saturday.
There are too many memories here for that. Son will always remember taking the field at Old Trafford for a Champions League game with Leverkusen, only his sixth game for the club, back in September 2013. He picks that out now as an "exciting first memory", and treasures his two Bundesliga hat-tricks, against Hamburg and Wolfsburg, as his best moments on the pitch.
Certainly he is fondly remembered here, and Schmidt said that he is delighted to see Son flourishing now in his second season in the Premier League. "He spent a year here with me," Schmidt said yesterday. "He is a great player and a great person as well."
Son's time in Germany, though, pre-dated Leverkusen. He started off at Hamburg, leaving South Korea at just 16 to join the big club in north Germany. It was a daunting move for a teenager who spoke no German, but Son was committed to making it in Europe. It was not a move that he could turn down.
"At 16 it was difficult," Son remembered. "When I came I knew no English and no German, nothing. But I wanted to play in Europe, this was my goal and I came to achieve it. The first year was really difficult because I didn't have any friends. No-one came with me. I felt so alone and so humble because everyone was helping me, but it was tough. Sometimes I missed Korea. But I wanted to play in Europe, and this is what I had to do."
Help came from an unlikely source. In January 2010 Hamburg signed a 33-year-old Ruud van Nistelrooy from Real Madrid. A 17-year-old Son was just starting to make his way in the first team and the veteran Dutch striker took him under his wing. "He helped me a lot," Son remembered. "He saw my first training session and he talked to me. He told me I was a good player. He gave me confidence and I want to thank him for that. We had a really good team and were successful for a time with him."
That set up Son's big move to Leverkusen for what was then a club-record fee. He settled in fast, with 10 Bundesliga goals in his first year and 11 the year after. When Roger Schmidt arrived from Red Bull Salzburg in 2014, bringing his intense aggressive pressing with him, Son found a perfect system for his skills.
Schmidt loved working with Son and explained to The Independent why the South Korean was such a perfect player for pressing football. "He has a big heart, and all the things you need for pressing: intelligence, ability to read the match and read situations," Schmidt said. "He has good anticipation for passes of the opposing team, and he can win the pass. He has very good physical condition. After winning the ball he can transition to the offensive, then he can use his speed to score."
But while the fundamentals were in place for Son to succeed at Spurs, he still needed his first year to adjust to the pace of the English game. After scoring three goals in his first four games he soon lost rhythm, suffering from a foot injury and never fully winning his place back. That was what made his first season so frustrating and why he wanted to return to Germany. But now he is flourishing and both Pochettino and Schmidt, his last two coaches, are vindicated for knowing that he would succeed.
"He was fantastic for Leverkusen and I was sure he would be a very good player for Tottenham," Schmidt said. "After a tricky first year, he is now showing his real potential, and I hope he carries on in that vein. With the possible exception of tomorrow night."
Register for free to continue reading
Registration is a free and easy way to support our truly independent journalism
By registering, you will also enjoy limited access to Premium articles, exclusive newsletters, commenting, and virtual events with our leading journalists
Already have an account? sign in
Register for free to continue reading
Registration is a free and easy way to support our truly independent journalism
By registering, you will also enjoy limited access to Premium articles, exclusive newsletters, commenting, and virtual events with our leading journalists
Already have an account? sign in
Join our new commenting forum
Join thought-provoking conversations, follow other Independent readers and see their replies