Arsenal prove they remain pushovers as Arsene Wenger's strengths transform into weaknesses
Wenger's time at Arsenal has gone full circle, but the complete lack of a backbone in any of his players leaves them horribly exposed against any club of a similar level
Miguel Delaney
Munich
Thursday 16 February 2017 08:26 Comments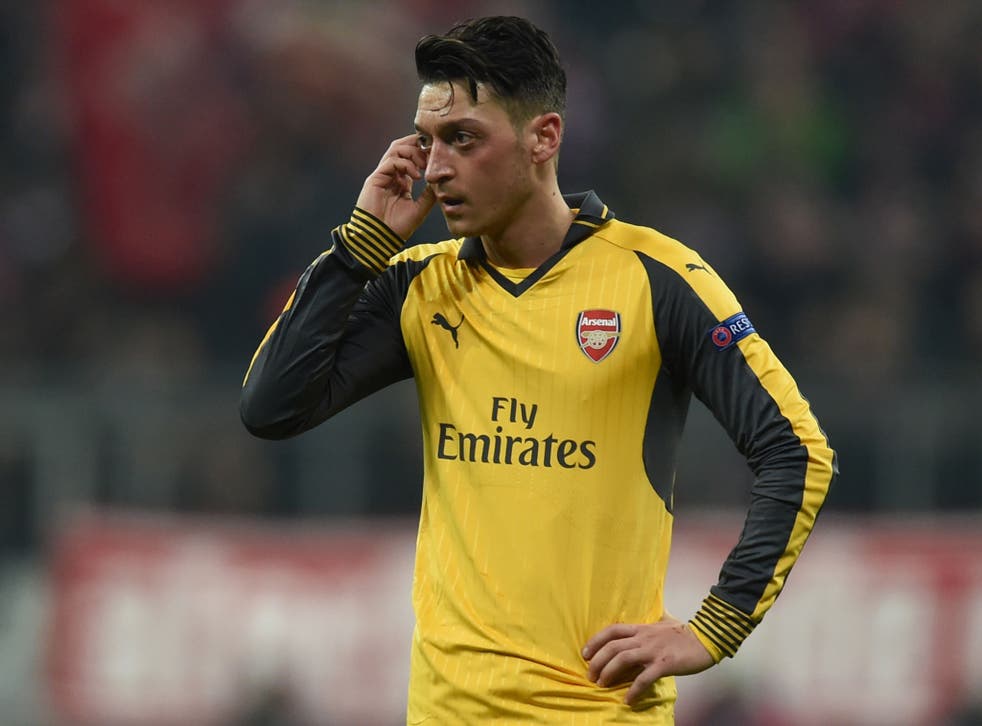 It's almost impossible to even imagine at this point, but there was a time when everything Arsene Wenger was doing now felt fresh; felt different; felt productive… felt revolutionary.
It is now so revolutionary, of course, that it has gone full circle. Strengths are weaknesses.
Take the story from his very first Arsenal game, when Ian Wright scored twice at Ewood Park to beat Blackburn Rovers 2-0. After that match, Wenger went up to his striker and enthusiastically praised him for the quality of his finishes. It didn't even seem like man-management either. It was just a genuine football supporter's appreciation for good play.
Wright never got that from previous manager Bruce Rioch, and certainly never got it from George Graham. That was a different era, when the prevailing mood driving teams in the sport was that growling anger; the ultimate school of hard knocks. British football was an often brutal pace.
Wenger was different, and it had a hugely distinctive - and thereby arguably disproportionate - effect. His approach gave Arsenal a creative expressiveness to their hard edge, as could be seen on the pitch with how a team that had that granite-hard Tony Adams backline was so brilliant and elegant going forward. It was the perfect mix.
Now it is so imperfect.
That hard edge is almost non-existent, especially on the Arsenal training ground.
Some close to the squad say that "niceness" - that trust in talent - is no longer seen as strengthening players. It is perceived as a weakness, a trait that allows under-performing squad members to get away with too much.
Arsenal have many problems, and Wenger many flaws that have been discussed to an exhaustive degree by now, but the Bayern Munich humiliation emphasised one of the biggest problems; a ruinous flaw that is a consequence of all this: a softness; a fragility. The team are pushovers.
Bayern 5 Arsenal 1 player ratings

Show all 22
They don't have the right type of resilience because they don't have that hard edge. There is a culture of indulgence that leads inevitably to nights like this.
Look, after all, at how many times they have been utterly thrashed by clubs of a notionally similar level and certainly of similar resources. In the last four seasons alone, they have conceded five goals or more in five different "big games": to Manchester City, Liverpool, Chelsea and twice to Bayern Munich.
This match felt like a nadir in so many aspects, but particularly in terms of the scale of the defeat. It may not have been as bad as the 6-0 to Chelsea but that's only because of blind luck and David Ospina's series of spectacular saves.

Otherwise, this could have been way worse. There were actually so many moments that had the feel of Brazil's historically seismic 7-1 collapse to Germany in the 2014 World Cup, and it so often looked like that game, especially when many of those same German players - Thomas Muller, Philipp Lahm - were just walking through Arsenal's abdicating defence. It was just so pathetically easy for them.
As Wenger admitted afterwards, "the real problems were after the third goal".
"We lost our organisation and we looked mentally jaded and vulnerable from that moment onwards. The last 25 minutes were a nightmare for us. We looked like we had no response."
But how can that be? How can players with notions of challenging for the top trophies so embarrassingly fall apart on one of the biggest and most testing nights of the season, when they were still in the tie. How could they just collapse like that?
It's difficult not to put it down to that softness that has been conditioned by an indulgent culture. They haven't been hewn into shape. They're too cosseted. There are too many players that have got away without doing it, or only doing it at a surface-level, for too long. There are so many, in fact, that feel like they could easily be cleared out by a new manager. It is actually damning that a half-decade of careful construction of a team has left Wenger with no trophies beyond the FA Cup but a large group of players that could be discarded without any detrimental effect to the team. That was made abundantly clear in this game.
Even more damning is another story from the Arsenal training ground.
One member of Arsenal's backroom staff actually privately commented in frustration recently that there are many times where he would like to angrily castigate the players but then he'd look at some of them and "think they'd cry".
That has never made champions.
What makes champions is a culture of winning; a culture of doing things the right way. Every repeatedly victorious club - from Alex Ferguson's Manchester United to Wenger's best Arsenal sides - has had a core of players who carry through certain expectations and ensure that no players ever drop from the standards required without being more than told.
That is not the case at Arsenal. They don't have that. They don't have that hard edge.
They have a softness that proper winners like Bayern Munich find so easy to get at; that is brutally punished; that allowed the Germans to produce the kind of finishes that could only be appreciated.
There is nothing to appreciate at Arsenal right now, only to lament. It's gone full circle.
Register for free to continue reading
Registration is a free and easy way to support our truly independent journalism
By registering, you will also enjoy limited access to Premium articles, exclusive newsletters, commenting, and virtual events with our leading journalists
Already have an account? sign in
Join our new commenting forum
Join thought-provoking conversations, follow other Independent readers and see their replies