Bayern Munich crush Barcelona in Champions League quarter-final
Barcelona 2-8 Bayern Munich: Barca were eliminated from the Champions League in disgrace for the fourth successive season. But, as bad as it's been, this was still the worst yet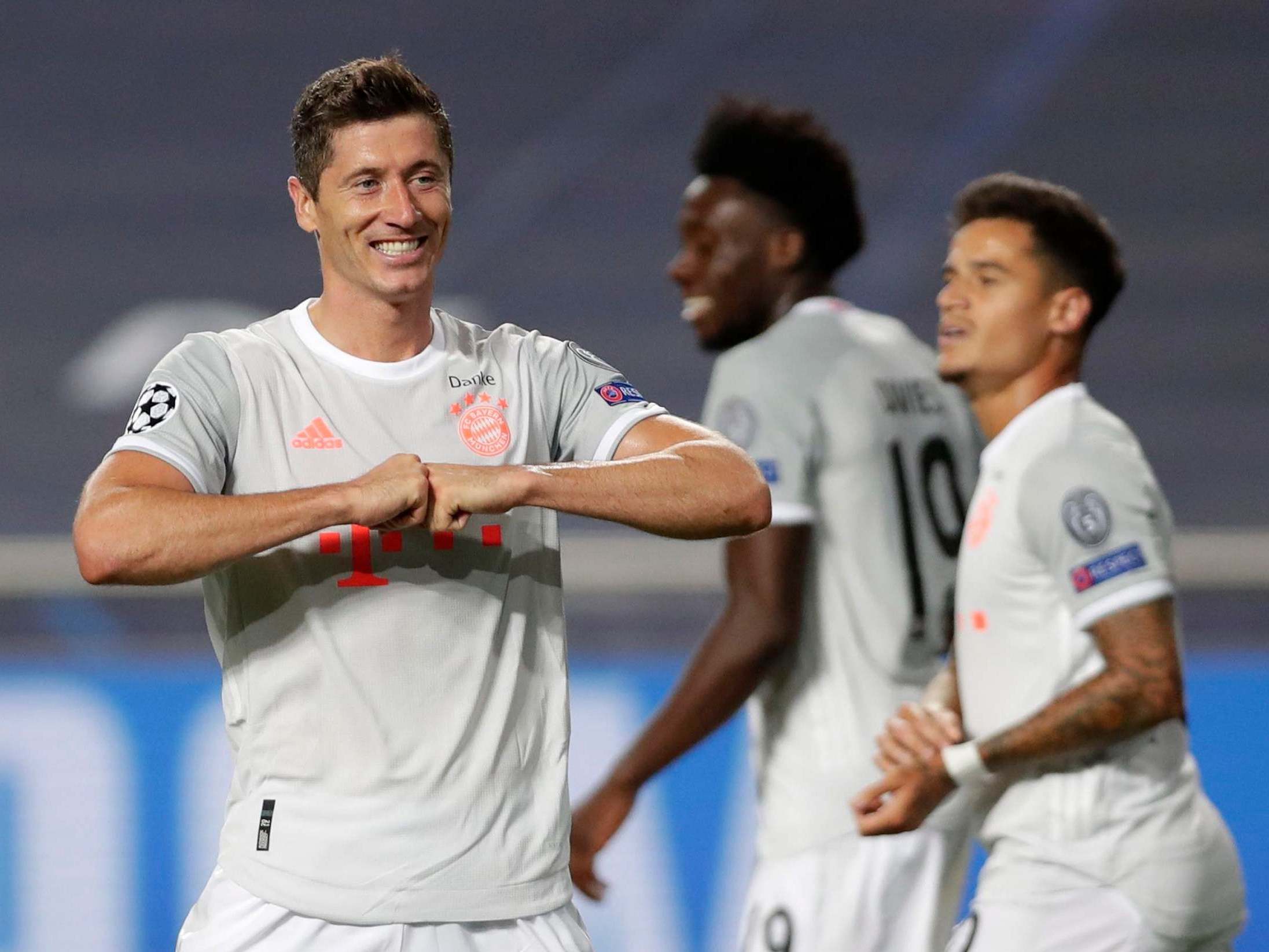 What was supposed to be the biggest game of these quarter-finals only ends up as a defeat of historic proportions, and may have immense consequences.
Bayern Munich proved their standing as Champions League favourites with a thoroughly commanding win where they didn't even need to assert much control. And that's why even that – the potential destination of the game's finest trophy – paled next to the significance for Barcelona. Bayern's ascendance only confirmed the downfall of this club, in another defeat of such magnitude it will surely be the last stand of this regime, and this era. It may well be the last straw for Lionel Messi, who is surely now considering his future.
The reality was the Argentine great was again left a mere passenger, as his team once more collapsed around him.
Barca were eliminated from the Champions League in disgrace for the fourth successive season. But, as bad as it's been, this was still the worst yet.
It is damning to think that the 8-2 win Bayern eventually won by felt conservative, as if they had played within themselves.
Barca were so bad it was hard to read much into the German champions' late procession.
More telling – particularly for Pep Guardiola, maybe on Wednesday – is what came before.
The story of this 90 minutes and this side can really be reduced to nine minutes, and a storm of stunning intensity by Bayern, as they illustrated they may well be the team of the season.
It was remarkable to think they looked someway easy to get at in the period before that. Easy to forget now, but there was a spell when Barca looked like they could hurt Bayern, as every ball in behind seemed to create a chance. One of them brought an own goal from David Alaba to make it 1-1, but it was merely the eye of the storm.
The lightning strike in the third minute was the sign of the deluge to come. It was executed at quite a pace. Taking advantage of the huge gaps left by a Barca attack, Thiago played through Ivan Perisic, he crossed for Thomas Muller, and the stalwart forward exchanged deft touches with Robert Lewandowski before thumping it past Marc-Andre Ter Stegen.
It was clean, clinical, and a clear indication of what was to come.
Bayern essentially sustained that kind of speed for a phenomenal spell between the 22nd and 31st minute, when they just brutally rampaged through an ominously fragile Barca.
Perisic's own goal betrayed Bayern's sheer confidence in how they could bully Setien's side, as he hammered the ball through Ter Stegen after more lax defending. The goalkeeper almost gifted Bayern another two in the next few minutes, but it's not like they were waiting long. They were too quick for that, as well as too quick for Barca.
On 26 minutes, aware Serge Gnabry was surging through, Ivan Goretzka flicked a wondrous one-touch ball over the top for the forward to run onto and just slam past Ter Stegen. They found a gap in another area six minutes later, this time out wide. It was one that was almost beautiful in its basic functionality, as Joshua Kimmich played in a cross, and Muller hit a classic striker's goal at the near post.
Barca looked in shock. They were also now looking for the kind of comeback they've been subjected to over the past few seasons, which is itself an indication of the deeper problems at this club.
A half decade of bad decisions caught up with them in less than one half of football. It's got so bad that Messi now only adds a bit of decoration to inferiority like this, rather than actually overcome it. That's what Luis Saurez's admittedly fine goal was: decoration, consolation, as well as brief respite from a destruction.
The brief rally from that was ended by Kimmich's easy finish. It was only a matter of time until Lewandowski got his goal. Not even that rounded it off. He injured Barca's pride with another, courtesy of the insult of on-loan substitute Philippe Coutinho crossing for the seventh and then scoring the eighth.
Eight! It was the first time any had scored eight in a single game from the Champions League quarter-finals on since 1957-58. You had to go back 62 years for something this bad. For Barca generally, you only had to go back a few years for awful defeats that were precursors: a 3-0 to Juventus in 2017, a 3-0 to Roma in 2018 and a 4-0 to Liverpool in 2019.
By the sixth – sixth! – Messi wore the thousand-yard stare. There must have been a lot going through his head.
The club have wasted his prime years, as he will now go at least six years without a Champions League, having failed to win one past the age of 27. It is likely to be much longer.
This is a club that needs a total reset, from bottom to top, where that rightly criticised hierarchy reside. It is not even a question of whether Setien is good enough for the job. It is how the club that were the European model a decade ago have got so bad.
Messi in the second half carried the kind of haunted demeanour that he did in the second half against Liverpool last season, as if he knew the game was up. The contest was certainly over. Barca did not play like they believed they could muster a comeback.
Bayern played like they could now save themselves for the semi-final, probably against Manchester City, although there were some defensive concerns and slackness that Hansi Flick will have to consider. And yet it was still 8-2.
That's how bad it was for Barca. That's how good it got for Bayern, particularly for those nine minutes. That was all that was needed. Barca thereby need a long hard look at themselves.
Bayern look like they'll give City one hard game.
Join our commenting forum
Join thought-provoking conversations, follow other Independent readers and see their replies